Public Meeting for Input on Issue set for May 26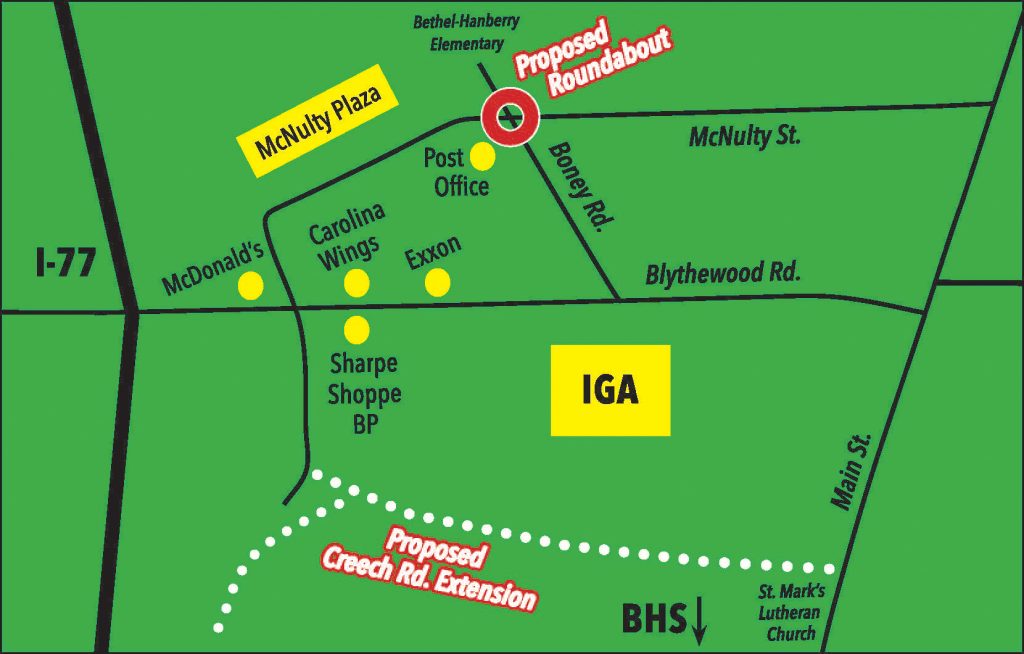 BLYTHEWOOD – In a follow up to a discussion by council last month about the Richland County Penny Tax program's plan to construct either a small roundabout or a 4-way stop at the corner of Boney Road and McNulty Street, town hall staff recommended to council last week that a 4-way stop would be more pedestrian friendly and less disturbing to the surrounding properties than a roundabout.
Council followed that recommendation and recommended unanimously to recommend a 4-way stop to the Penny Tax committee.
Town Administrator Carroll Williamson explained that the committee is looking for a recommendation from council so they (committee) will know better how to prepare for a public input session at the Manor on May 26.
Councilman Sloan Griffin suggested council might want to wait until after the public input to recommend a choice to the Penny Tax committee, saying council's vote might sway the public input.
"They are looking to make a change to the intersection," Williamson said, "and want a recommendation so they can prepare for the public input session."
"I think Richland School District Two may have already had a little bit of influence for the 4-way stop," Planning Commission Chairman Rich McKenrick said.
"After seeing the map of the roundabout in [The Voice] newspaper," Councilman Eddie Baughman said, "if something has to be done, most people I've talked to who saw it want the 4-way stop, Those who come to the May 26 input session will be looking to get the 4-way stop if something has to be done."
"I spoke with Allison Steel, the assistant director the Richland County Transportation Department, and your vote tonight will affect how they present this particular design," Williamson said.
Mayor Bryan Franklin said it's not simply about putting up four stop signs.
"They will be taking considerable portions away from each side [of the intersection] to make a larger intersection in general," Franklin said. "But they won't have to take over the car wash property, the post office parking lot and portions of the two church properties."
McKenrick emphasized that the enhancement of the intersection is part of the overall McNulty Penny Tax improvements.
Baughman recommended the council recommend a four-way stop and council unanimously agreed.
In other business, council voted 5-0 to extend the playground at Doko Meadows and accept a bid from Ryan Brewer Fencing to install fencing to enclose the extended area. The entire playground will then be enclosed with fencing identical to the original fencing that was also installed by Brewer.
Because the bid exceeded $5,000, it had to be approved by council, Williamson said.
Council chose Brewer at $14,502 for 265 feed of fence, two walk gates and a 12-foot double drive gate – the lowest bid – over Seegars Fence at $14,633 for 243 linear feet of fencing, 2 walk gates and a 12-foot double drive gate.