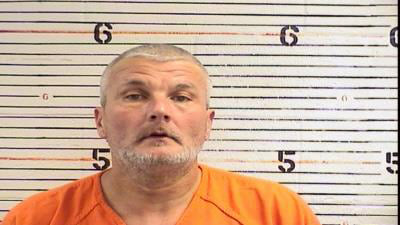 WINNSBORO – An Elgin man was arrested and charged with distribution of methamphetamine to an undercover agent on July 3, 2018.
Tommy Gene Tolbert, 50, was scheduled to stand trial on the charges in the 6th Judicial Circuit Court in Winnsboro on Monday, but did not appear. The trial proceeded without him, and he was found guilty.
The sentencing is sealed until Tolbert is located and brought back to court. An outstanding warrant has been issue for his arrest.
Tolbert is traveling with his wife, Tara Gerbert Tolbert. They are driving a 2010 black For Expedition with a S.C. tag # SKG371. A decal, "Only Girls Squat" is displayed on the black window of the truck.
Tolbert has a tattoo on his upper right arm.
Anyone with information about the Tolberts' location is asked to call the Fairfield County Sheriff's Office at 803-635-4141 OR contact Crime Stoppers at 1-888-CRIMESC (888-274-6372) or visit www.midlandscrimestoppers.com to email a tip. The caller's identity will be kept anonymous and, if a tip leads to an arrest, you could be eligible for a cash reward of up to $1,000.00.