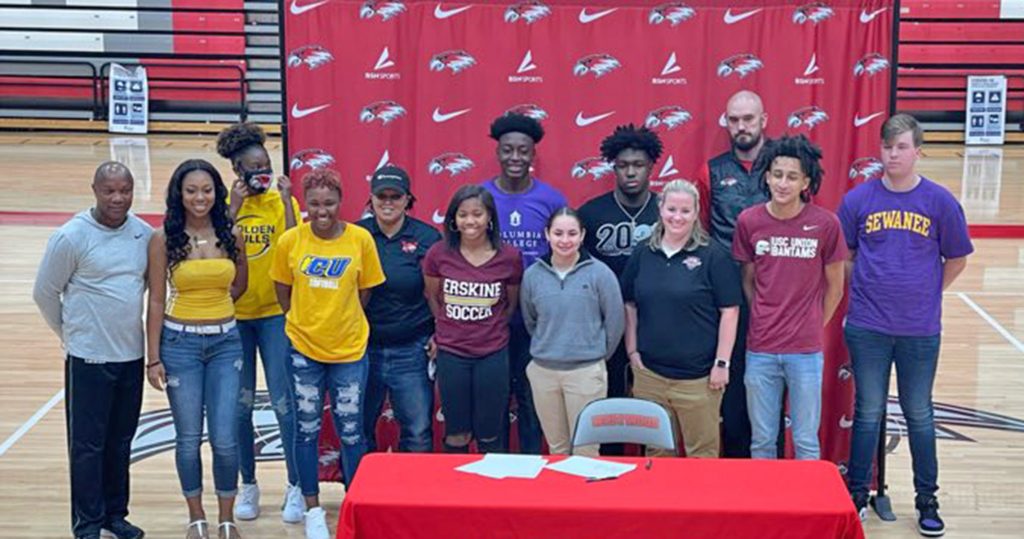 BLYTHEWOOD – Westwood held a signing ceremony May 12 for 9 graduating athletes.
Kyndall Ragins, daughter of Ricky and Lavernda Ragins, committed to play tennis at Johnson C. Smith University. Ragins played #1 singles for Westwood for four years. She was a 2017-2018 and 2019-2020 All Region selection and Region Player of the Year for 2019-2020. Ragins led Westwood tennis to their first ever Region title in 2019 and is the only Redhawk in program history to be selected to compete in the SCHSL Singles Tournament. She was also Westwood Tennis's first player to be selected as a North/South All Star.
Griffin Young, son of Gil and Julie Young, will continue his football career at the University of the South at Sewanee. An offensive lineman, Young has won Offensive Newcomer of the Year and Most Improved awards for Westwood football. He is a member of the SOARS Honors Program.
Syone Beckford, son of Stephen and Nathaly Nash, committed to play football at Methodist University. Beckford, a Defensive Lineman, was selected as Westwood's "Wings Up" Player of the Year. He is a National Society of High School Scholar.
Kyle Murray, son of Jayne Reed, will continue his soccer career at USC-Union. Murray, a four-year letterman, was a midfielder for Westwood. He was the 2021 team captain and a member of the CAT program.
Katelyn Williams, daughter of Anthony and Joselyn Williams, signed to play soccer at Erskine College. Williams, a midfielder and 2020 team captain, is a four-year soccer and cross country letterman. She is in the National Society of Black Engineers, National Honors Society, and is a member of Westwood's SOAR and CAT programs.
Brionna King, daughter of Lloyd and Juanna King, committed to play softball at Carolina University. King, a four-year starter, played shortstop and second base for Westwood. She was the 2021 Most Valuable Player and was a 2020-2021 All-Region Selection.
Malayziah Etheridge, a combo guard, is the daughter of Timothy Etheredge and Krisha Wright. She signed to play basketball at Coker College. At Westwood, Etheridge was a four-time Region Champion, a three-time Upper State finalist, a three-time All Region selection, a North-South All-Star (2020-2021), named to the 2021 All State Team, and ranked a Top 5 Senior in SC.
Herrid Edwards, son of LaTosha Glisson, committed to Columbia College's track and field program. Edwards was a top-three Discus thrower in the region and an Upper State qualifier.
Nevaeh Villanueva, daughter of Javier and Cartressa Villanueva, signed to Brevard College's soccer program. A midfielder for Westwood, Villaneuva is a four-year letterman and 2020 Team Captain.