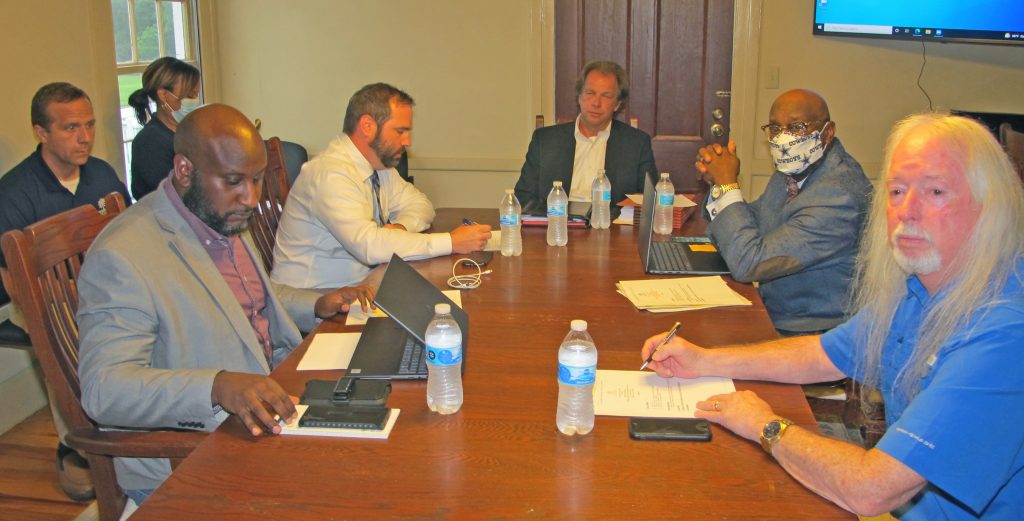 BLYTHEWOOD – The nine-month long Blythewood town council/marketing fiasco continued Tuesday night with a special called meeting that ended with council filing a countersuit against MPA Strategies and terminating the firm's contract with the Town.
The countersuit follows a complaint filed by MPA against the Town on June 28, after Mayor Bryan Franklin failed to submit documents to MPA in response to MPA's FOIA request dated April 15.
While MPA received those documents on July 9, that was after MPA had filed suit.
"There is a violation of the SC Freedom of Information Act by not responding within the statutorily-required time and when information is turned over after a lawsuit is served. That usually means prevailing party status is given to the requester which almost assures they will win and their attorney's fees and costs will be paid by taxpayer money," Taylor Smith, attorney for the S.C. Press Association, said in an email to The Voice.
Going into executive session Tuesday night with the town's newly hired outside counsel David Black, Mayor Bryan Franklin, who was not present but attended virtually, said council would receive legal advice relating to claims and potential claims received by and against the Town and other matters covered by attorney client privilege.
After an approximately two-hour executive session, council resumed public session and Franklin read a prepared statement.
"We have learned tonight that our attorney is working for the town's best interest, not for individual council members or the mayor.
"We have learned and understand that it is our duty and obligation as elected officials of the Town to conduct business using conduct that is beyond reproach and with businesses that also meet that standard.
"I am of the opinion that we have not done this with the marketing contract," he said. "We have a duty tonight to correct this mistake and re-establish harmony in our town ahead of on-going legal actions," Franklin concluded.
"What say you, council members?" Franklin asked from the monitor screen.
Councilman Sloan Griffin spoke up immediately and strongly, saying, "With the advice of our legal counsel and with the health and harmony amongst this council and your office, I am making a motion to execute in accordance with the advice of our attorney, our 60-day opt-out clause in the MPA contract."
Councilman Eddie Baughman seconded the motion.
Town Attorney Shannon Burnett spoke up to clarify Griffin's motion.
"We can opt for the 60-day opt out clause and pay her that money we had talked about, but request that money be held in escrow pending the litigation and also that we go ahead and pay her that but not use her services beginning now," Burnett said.
Sloan Griffin corrected his motion.
"The Town would enter into the 60-day opt out and pay MPA what is owed but terminate services immediately and request to hold the money in escrow per litigation," he said.
Baughman once again seconded the motion.
The vote in favor of the motion was 3-1, with Sloan Griffin, Franklin and Baughman voting for and Councilman Donald Brock voting against. Councilman Larry Griffin left the meeting early due to a death in his family earlier in the day.
Following the meeting, Sloan Griffin said he based his vote on the attorney's legal advice.
The countersuit was filed in Richland County Circuit Court on Tuesday afternoon, but it was not made available to The Voice, and had not been posted on the public index at press time on Wednesday. After the meeting, neither the council members nor the town administrator would reveal what the countersuit addressed or why MPA's contract was being terminated.
The Voice was told that affidavits were signed earlier on Tuesday by Town Administrator Carroll Williamson, Town Attorney Shannon Burnett and Franklin, attesting that the information in the complaint is correct.
Ashley Hunter, owner and CEO of MPA Strategies, started her work marketing the Town and writing grants on May 1. During her first month on the job, she brought in a $10,000 grant for the Town from International Paper Company.
"The first round of funding for the grant automatically makes us eligible for the second round [another $10,000] as well," she said. "So it will be a two-part pot of funding for our park here in Blythewood."
Hunter reported at the May council meeting that engagement on the Town's Instagram account has more than tripled.
"I've also been spending time meeting with various non-profits, associations and corporate teams about reserving this beautiful space (the Manor). Lots of people are asking for proposals so I've been working closely with Carroll [Williamson] on this."
The Voice will make more information available about the Town's counter suit against MPA as it is made available.