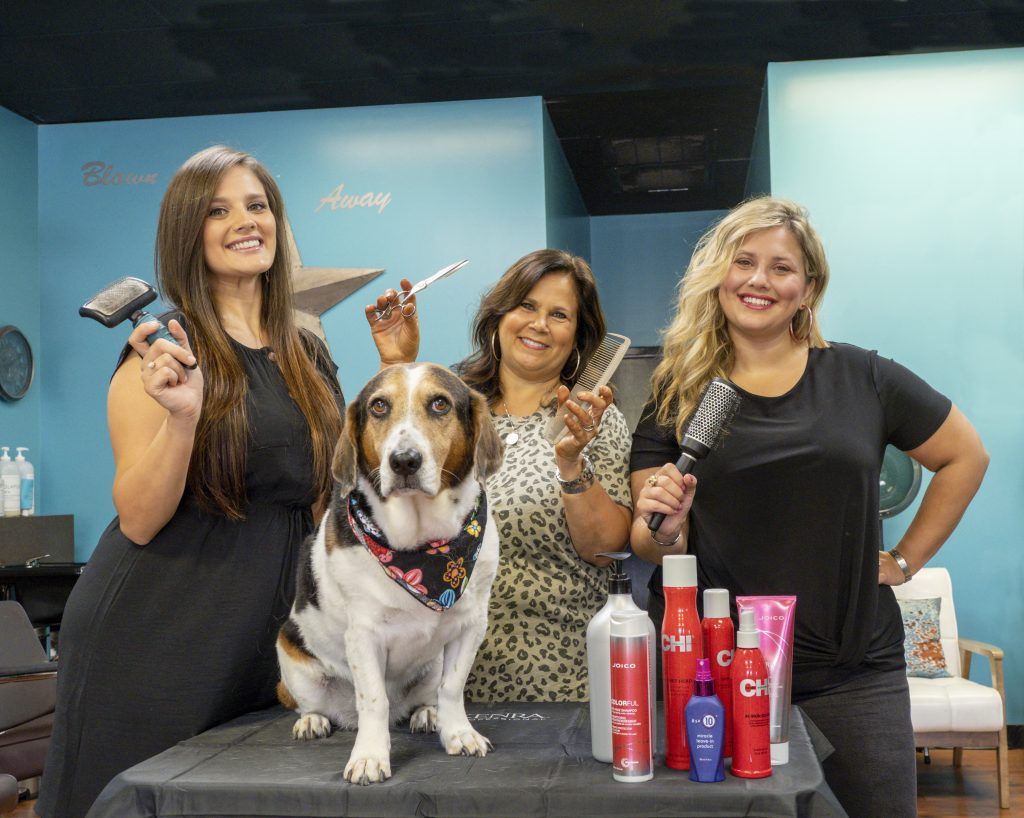 BLYTHEWOOD – When Missy Clementi was growing up in Blythewood, she says, there was just one stoplight. The town has grown so fast that she's lost count of how many stoplights there are now.
But she says her salon is still what it's been for the last 13 years: a gathering place, a welcome mat, a kind of therapy. Clementi, who owns Blown Away Salon in Blythewood, says there's nowhere she'd rather be than in her hometown.
"I like the feel of it," she says of her small business in the IGA shopping strip on Blythewood Road. "I like having that loyal client base and our clients coming in and [us] knowing who they are and knowing about their kids or about their families. That's rewarding."
Clementi, 49, has been cutting hair for 28 years. And to her delight, it's a family business.
Her older daughter Taylor, 28, has been working there with her for nine years. Her younger daughter Blythe, 22, also a stylist, but for dogs, not humans, and owns her own mobile dog grooming business with a list of about 300 four-legged clients. She says much her business has grown quickly and that much of that growth has come by word of mouth through her mom's and sister's clients at Blown Away.
The Clementi women came naturally to owning hometown businesses. Missy Clementi's parents owned a convenience store just 8 miles from where her salon is located now. She recalls being inspired as a child by an older cousin who was a hair stylist. And by the time Clementi was in elementary school, she was planning to go to school to cut hair.
"My cousin was a single mom. She hustled, she made good money cutting hair. People still talk about her and who she was," Clementi says. "Plus, being a girl, I always liked doing hair and makeup and helping people with theirs, helping them feel better about [themselves]."
After first working at a salon in Columbia, where she stayed for 15 years, she decided to go into business for herself. She says she received a lot of encouragement from her longtime clients.
"One client come up with my business plan. Another client's husband loaned me the money to open the salon. It was crazy how it all fell into place," she says.
She opened her doors just before the Great Recession in 2008, she says, but she made it through that and has had a front-row seat to Blythewood's growth over the last decade. Though required to close for a few weeks because of the Covid-19 pandemic, the salon was busy again as soon as it was allowed to reopen.
"We've been busy for 13 years," she said.
For Taylor Clementi, too, working at the salon seems like a natural fit. It's the job she's done for her entire adult life.
"When I was 7 years old, I was working at the front desk making appointments," she recalls of the years when her mom worked at the Cost Cutter salon in the Bi-Lo shopping center in Columbia.
"I loved helping out and loved being in that environment…" Taylor Clementi said, "[and] then my mom opened her own salon my freshman year in high school, so I thought, 'Well, I need to be available to help my mom if she needs it.' So, I got my cosmetology license."
"After I began working in mom's salon," she says," I loved having the opportunity to serve as a kind of therapist for my clients and the creative outlet it provides."
She also likes keeping up with trends.
But what she likes best is working where she grew up and working with her mom, she says.
Blown Away, she says, is about to add two more stylists, for a total of five – and, at the current rate of growth, they may be looking for a larger location. But it has to be in the heart of town – because Blown Away is about more than just cutting hair; it's also about the community.
"I love the people and the salon life. We get to dress cute, listen to music all day, have fun and visit all day with client friends."
Blythe Clementi's career choice, too, was influenced by her mom's profession, but says her love of animals helped drive her in a different direction of hair care.
"I've been watching mom cut hair [for humans] my whole life, so I thought, you know, I can do that [for dogs] – that would be fun," she says.
"It's a joy for sure, and not only do I get to be up close and personal with dogs, but being mobile I have the opportunity to get really close to my clients, visit them and their pets in their home."
Blythe Clementi says she got her start working at a dog groomer's shop for a year in Columbia before she stated her own business three years ago in Blythewood. Now, she says, she has about 300 dogs that she takes care of on a regular basis.
These days, she says, she finds herself sometimes having to turn people away because she simply doesn't have time in her schedule.
Like her mom and sister, she says she needs to expand her business to be able to accommodate more clients.
"I want to do that eventually, but for right now, I want to stay where I'm at and just soak it all in and enjoy it."
Missy Clementi says she's grateful for the life she and her daughters have.
"I feel very blessed," she says.
"And I'm especially proud that my daughters have followed in my footsteps and that they're doing so well," Clementi said. "They've worked hard. I love where we all are and what we're all doing."