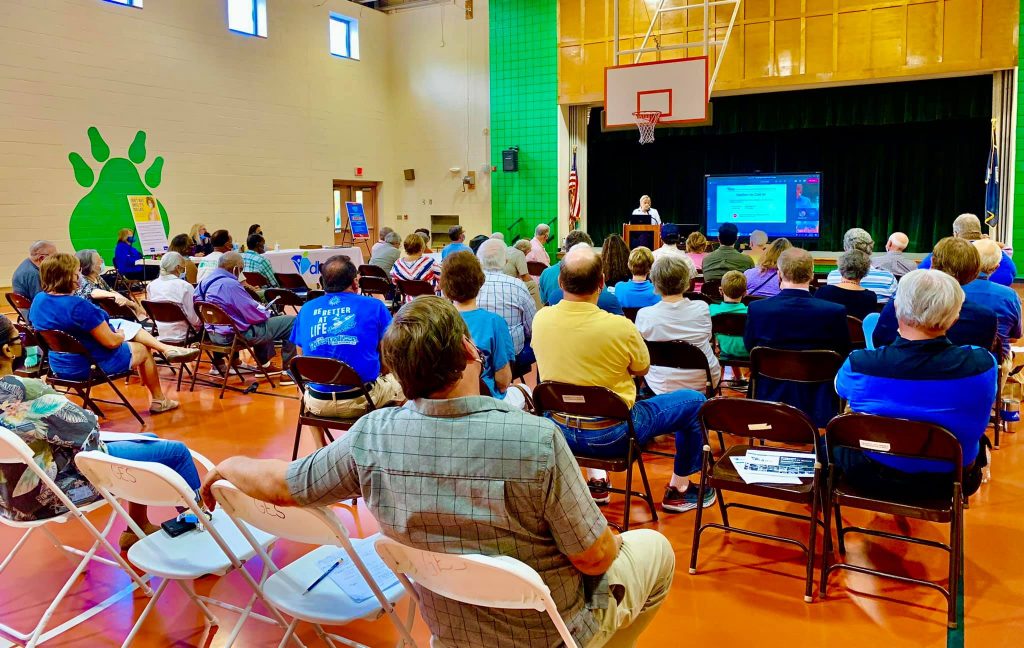 RIDGEWAY – Neighbors of the granite quarry proposed in Fairfield County expressed their concerns at a public hearing last week that the water usage required by the project will drain their wells and ponds, impacting the water supplies they and future generations will rely upon.
They told the South Carolina Department of Health and Environmental Control (DHEC) and operator Luck Stone that they had very real fears that the water supplies of landowners and the nearby town of Ridgeway could be destroyed by the project.
"We're only addressing Ridgeway, and yet the landowners' wells are going to dry up based on these models," said John Lyles, one of several neighbors of the proposed project who spoke at the hearing, citing analysis of the data that's been made publicly available so far.
"The model isn't complete. It's missing calibration wells… and because it's lacking, I would like to see Luck or rather DHEC delay the decision on this application until that well is drilled and they have an accurate drawdown measurement or at least a drawdown model based on real pumping in that area."
With the proposed usage of 100,000 gallons a day for the quarry's first 12 years of operation, Lyles said the potential impact on the neighbors' water supplies is of real concern, both for his own spring-fed pond 900 feet from the proposed pit and the wells and ponds of his neighbors.
Citing the available data, he noted the details of several neighboring water sources that would be highly impacted and even dry up based on the predicted drawdown.
The 417-acres site of the proposed quarry is near the intersection of state highway 34 and Simpson Circle in Fairfield County, about three and a half miles west of Ridgeway, roughly five miles from Winnsboro, and one mile from Interstate 77.
About 260 acres is proposed for excavation during the development of the project, and the plan includes buffer areas where the property adjoins neighbors' land.
Citing generations of family ownership – in some cases extending back to the 1800s – neighboring residents said that if a 100-year permit is granted to Luck, they fear future generations won't be able to enjoy the land as they and their ancestors have.
"A hundred thousand gallons of water per day for the first 12 years of operation. That's far more water than the towns of Winnsboro, Ridgeway, and all the private landowners in the vicinity collectively use in a day. It's a lot of water," said Robert Seibels, another neighbor of the proposed quarry.
"We've been promised an intense transparent and responsive monitoring program. Even if that becomes a reality, we would like to know how Luck Stone or DHEC is going to revive a spring-fed pond with no spring," Seibels said.
About 40 people spoke at the hearing, which was part of DHEC's permitting process for the project. For the quarry to operate, the state agency must approve both a mining permit and an air permit. According to DHEC, public comments will be considered if submitted in writing through Aug. 20.
The first person to speak in the public hearing portion of the meeting was State Rep. Annie McDaniel, D-Fairfield, who said that, as with a similar project in Chester County (part of which is also in her district), she intends to advocate for constituents.
"I am very concerned not just about this mine but any industry that comes into our county that could disrupt our environment, that could disrupt our individuals' properties and communities and could lead to lifelong damage," McDaniel said.
Many of the other speakers echoed each other's concerns, either registering opposition to the quarry or seeking information about the mitigation of potential impacts.
"No one has adequately answered our question should the mine happen to impact drinking water," said Morris Lyles, who owns adjacent property along with family members, acknowledging the likely realities if neighbors' water supply is disrupted.
"You can't snap your fingers and dig a new well, nor can you run a water line quickly, nor can you shower very well using bottled water."
He asked for clear communication about what would happen and how the company would fix any problems that arise with neighbors' water sources.
Residents and other stakeholders also expressed concern about the potential for dust and impacts on the quality of Lake Wateree and the tributary stream near the project, both of which are already impaired by unrelated activity.
Another concern expressed was the need for transparency and accountability with regard to air, water, and seismic monitoring data if the quarry becomes operational, as well as noise restrictions and communication about blasting schedules.
A representative of Luck Companies, Ben Thompson, spoke toward the end of the public hearing. He did not address the water quantity concerns directly, but he did promise to engage and partner with the community about water concerns and establish a citizen panel board, and he invited people to call him.
"All of the monitor wells, dust regulation – all of those things are captured in the regulatory environment. However, they are also open book, so that is public information. Anything we capture is there for public consumption as desired," Thompson said, "We're more than happy to share in any conversation."
"This is a community of people who are good neighbors, who look out for their neighbors…and I understand that with this project Luck Stone says it wants to be your neighbor," said Lauren Megill Milton, an attorney with the South Carolina Environmental Law Project.
"I want Luck Stone to hear me tonight, and what I have to say is if you want to come to this community, you need to commit to being the kind of neighbor to them that they are to one another, and what that means is transparency. It means sharing the information that you have. It means making promises and keeping them."