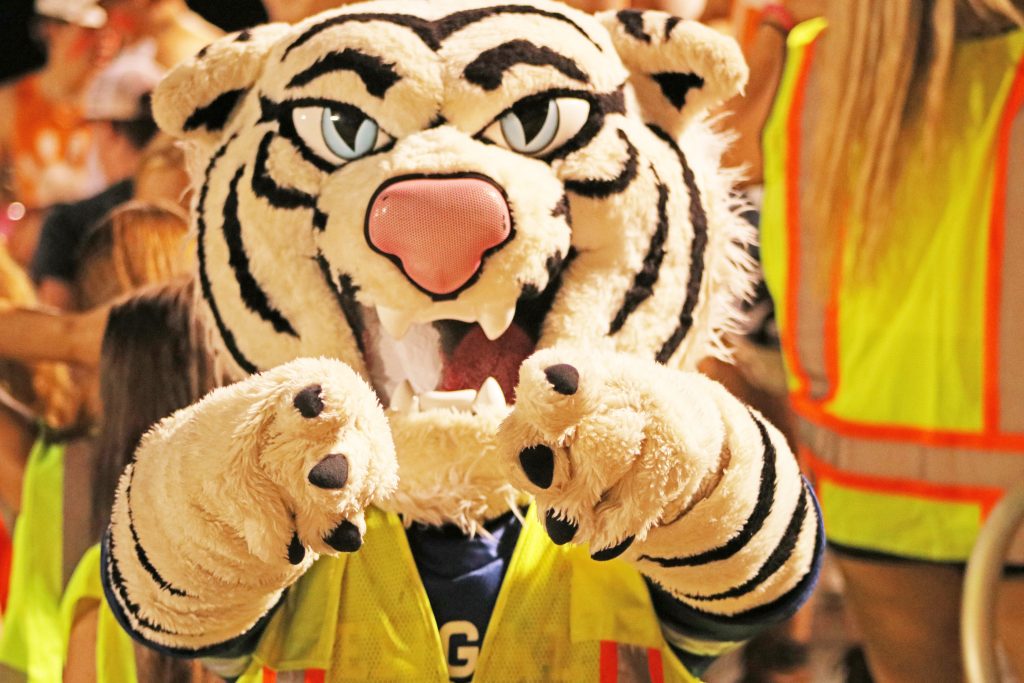 BLYTHEWOOD – The Blythewood football team was hurrying to prepare to play crosstown rival Westwood this week, after a 22-6 Monday night win over Fairfield Central. By Wednesday the Redhawks had to bow out of the Battle for the Jean Schmidt Memorial Axe because of a Covid issue.
With the game cancelled for the second year in a row, the Bengals didn't have to wait long for an opponent. Goose Creek head coach Jason Winstead was on the phone with Blythewood head coach Jason Seidel within minutes of hearing about the cancellation.
"It was probably within two minutes he called. I went to our AD (Barry Mizzell) and he said 'heck yeah, that's a great matchup.' I always wanted to play Goose Creek, that's a legendary school and the coaches are great, it's an awesome team."
The result was Friday night's game, and a 22-7 Blythewood victory over the Gators. It was a matchup that could have gone either way, Seidel said, considering that it was Goose Creek's first game of the season and Blythewood has come off a short week of preparation.
"Both teams went back and forth, both teams had chances," Seidel said. "You could tell we were tired on Monday – that was my biggest concern, could we recover."
The Bengals (2-0) recovered enough to pull out a win, thanks to Desmond Boatwright's second straight hard-rushing week. Boatwright had 125 yards and two touchdowns on 37 carries. Myles Cotton had 60 yards and a score on seven carries.
Quarterback David Herndon, in his second start, got a little more comfortable running the offense. He was 9-for-12 for 85 yards with no interceptions. He connected with seven different receivers on the night.
Defensively, the Bengals held Goose Creek (0-1) to 8 net rushing yards. The secondary gave up 251 passing yards, but that yardage resulted in just one score.
"I thought our kids did a good job and our coaches did a great job of subbing guys in and out," Seidel said.
Herndon, the backup to starter Harrison Collins, got the job after Collins banged up his hand in practice. Seidel said Collins should be good within the next couple of weeks.
"He's a competitor and it only allows David to compete with him even when he's out," Seidel said of Collins. "What I love is that they feed off each other and try to help each other in film, try to help each other to learn the plays. That's kind of how are team is right now. It's a fun group."
Blythewood took a 15-7 halftime lead, largely because of Goose Creek's negative rushing attack and four high snaps to quarterback Drew Moore that cost the team 50 negative yards and a safety.
Blythewood caught a huge break in the opening kickoff, when Goose Creek returner and running back Demitri Simmons misfielded the ball and eventually fell on it at the Gators 1-yard line. Blythewood nearly collected a safety on that play and on the next play, when Simmons was wrapped up on a carry inside the end zone but fell over the goal line and back to the 1.
"I like that running back, he reminds me of Des (Boatwright)," Seidel said. "We got a little bit of film on him and knew he was gonna be tough. He hurt us a little bit, but nothing where he just ruined the game for us."
In spite of being pinned back, Goose Creek moved on.
Quarterback Drew Moore found Khyon Smith for 20 yards, and after a no-gain on first down at the Gators 21, Moore lofted a high pass to Smith who caught it while running and kept moving into the end zone to complete the 79-yard touchdown pass play just over a minute into the game.
Blythewood returner Curtis Hilton Jr. returned the kickoff that followed 49 yards to the 50, and from there the Bengals drove 50 yards on eight plays, capping the drive with a Boatwright 3-yard TD run.
On Goose Creek's first play from scrimmage after the score, a high snap forced Moore to pick up the ball in the end zone, but this time Cotten wrapped the quarterback up for a safety at the 8:09 mark of the first quarter.
After the free kick, Blythewood cranked out a clock-sapping 17-play, 48-yard drive. The Bengals turned the ball over on downs, but the defense stopped the Gators' next drive.
Blythewood took over at its own 40-yard line and reeled off another draining drive of 10 plays, which set up Cotten's 16-yard touchdown run with 4:38 left in the half. That score made it 15-7.
Both teams battled through miscues in a scoreless third quarter, but a Goose Creek fumble late in the third set up Blythewood on the Gators' 25-yard line in the final minute. The Bengals took six plays to get to the goal line, and Boatwright dove into the end zone on the first play of the fourth quarter. Herndon's point-after was good for a 22-7 lead.
Goose Creek took possession at its own 26-yard line after the kickoff and drove slowly downfield and reached the Blythewood 15. Curtis Hilton Jr. intercepted a Moore pass in the end zone with about 7 minutes to play, and the Bengals ran out the clock on yet another time-sucking drive.
Blythewood plays at home against Brookland-Cayce Friday. The Bearcats' season opener with 4A state champion A.C. Flora was cancelled, as was Friday night's game against arch rival Airport Friday night. The game will be WACH Fox 57 Game of the Week, as well as Senior Night for the Bengals.
As for Westwood, the Redhawks also had to cancel a Sept. 3 game against York, and are scheduled to play at Fairfield Central Sept. 10.
Goose Creek – 7-0-0-0 — 7
Blythewood – 9-6-0-7 — 22
First Quarter
G – Khyon Smith 79 pass from Drew Moore (Zach Drake kick) 10:40
B – Desmond Boatwright 3 run (David Herndon kick) 8:20
B – Team safety 8:09
Second Quarter
B – Myles Cotton 16 run (kick failed) 4:38
Fourth Quarter
B – Boatwright 1 run (Herndon kick) 11:56
GC Blythewood
First Downs 12 18
Rushes-Yards 23-8 56-205
Passing Yards 251 85
Att-Com-Int 19-12-1 12-9-0
Fumbles-Lost 3-2 3-1
Penalties-Yards 10-79 9-60
Punts-Avg. 2-27.0 1-35.0
INDIVIDUAL STATISTICS
RUSHING: Goose Creek – Demitri Simmons 18-32, Drew Moore 5-(-24). Blythewood – Desmond Boatwright 37-125, Myles Cotton 7-60, David Herndon 4-2, Jake Parker 1-4, Curtis Hilton Jr. 4-8, Team 2-6.
PASSING: Goose Creek – Drew Moore 12-19-1. Blythewood – David Herndon 9-12-0.
RECEIVING: Goose Creek – Khyon Smith 5-147, Maurion Scott 5-84, Davion Malloy 2-20. Blythewood – Johnathan Harper 1-26, Anthony Thurman 2-17, Myles Cotten 1-14, Will Rowe 1-1, Jake Parker 2-30, Desmond Boatwright 1-(-3).