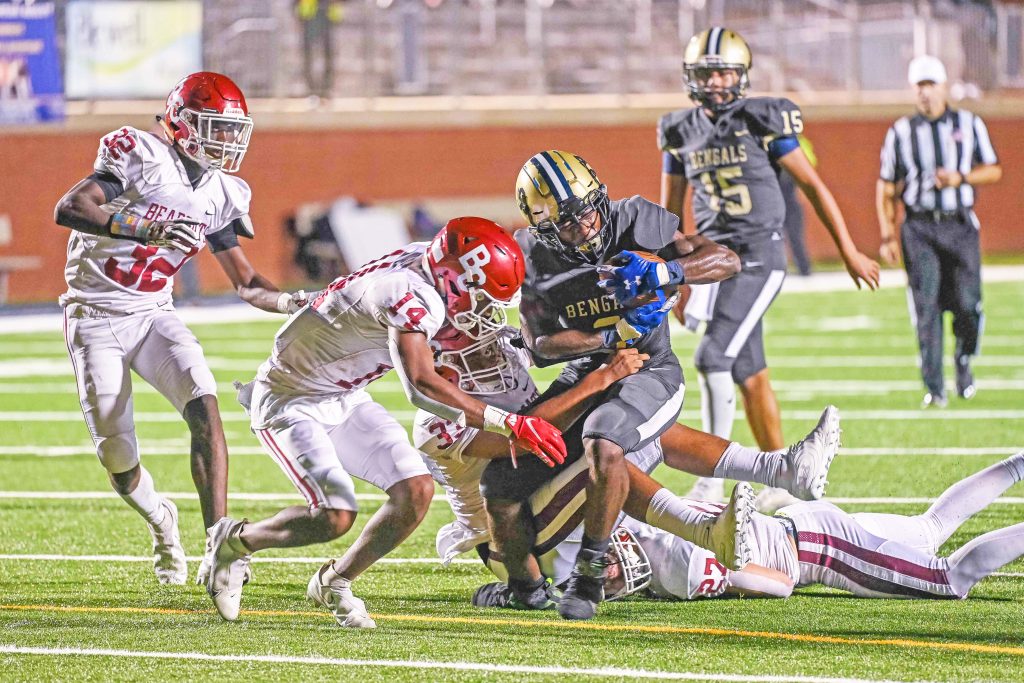 BLYTHEWOOD – Brookland-Cayce football had played no games this season coming into Friday's matchup at Blythewood.
The Bengals had two wins on the season, but a backup quarterback was limited and a workhorse running back in Desmond Boatwright had taken a huge share of the offense.
The result Friday night was a defensive battle in which the 3A Bearcats made good on two scoring drives, enough to top the 5A Bengals 14-3.
Blythewood head coach Jason Seidel credited the team's play but said he's concerned about injuries at quarterback.
"We thought our kids played great, but when you're out of QBs, you're out of QB's," he said. "You do what you can. I credit Jake Parker for coming in and tried to move the offense."
Parker came in for a second half series after David Herndon went down on a running play.
"David got dinged up pretty good," said Blythewood head coach Jason Seidel, who kept the quarterback's role limited. "As the game went on, we didn't like the way he was looking. Now both one and two quarterbacks are out, it's not an easy situation."
Herndon, who backs up starter Harrison Collins, who is out for at least another two weeks with a broken hand, played throughout the game, but was not able to roll away from pressure and had trouble making even short passes against a stout Bearcats defense.
Boatwright shouldered the load again for the Bengals, gaining 158 yards on 31 carries. It was Boatwright's third straight 100-plus yard game. This time around, he saw most of the action because Herndon was limited from the pressure that Brookland-Cayce was giving him.
Boatwright also got banged up, sustaining a lower leg injury before the half. He shook it off and returned to play in the second half, but in the second half, but the running back had just 10 carries for 27 yards in the third and fourth quarters.
"Des will be OK after a couple of days, but he was banged up too," Seidel said of Boatwright. "In the end, it goes back to healthy kids. You've got to make sure your kids are healthy."
Bearcats quarterback Tanner Staton finished the night 15-for-23 in passing for 165 yards with one interception. Staton and Benjamin Pugh both scored rushing touchdowns.
Bearcats head coach Rusty Charpia said he was glad he got the win, and happier for the defense that kept Blythewood out of the end zone.
"I was really pleased with our defense," Charpia said. "They're really playing so hard and they're being coached so well, it's gonna give us a good chance to be a really good team."
Both teams struggled for yardage and scores in the first half.
In playing its first game of the season, Brookland-Cayce's no-huddle offense looked rusty, with glimmers of greatness to come. Staton connected early on with Naahzeikiel Mays for 14 yards and later with Jahmari Kennerly for 21 yards, but four potential big plays fell as incomplete passes, and Blythewood defender Curtis Hilton Jr. came up with an interception.
The Bearcats did put together a 13-play, 85-yard drive that straddled the first and second quarters. Staton completed five passes on that drive and pushed himself into the end zone from one yard out at the 9:01 mark of the second to give Brookland-Cayce a 7-0 lead.
Blythewood went heavy on Boatwright runs. The senior racked up 131 yards on 21 carries to account for almost the entire Bengals offensive output in the first half.
Boatwright's last carry of the half, a 14-yarder, set up Kaiden Knox's 27-yard field goal, which closed out a 60-yard Bengals drive in response to Brookland-Cayce's score.
The Blythewood defense held the Bearcats to a 3-and-out on the next possession, and the Blythewood offense reached the Brookland-Cayce 36-yard line before going backwards and closing out the half.
Brookland-Cayce forced Blythewood to punt on the opening possession of the second half, then drove half the length of the field for a second score. Staton set up the touchdown on with a 27-yard pass to Jordan Wise on a third-and-7 play. On first-and-goal at the Blythewood 4, Benjamin Pugh ran the ball in to put the Bearcats up 14-3 at the 6:12 mark of the third quarter.
"We were very fortunate on that," Charpia said. "It just seemed like we couldn't get a break. It seemed like every time we had a big play we had a penalty. We had a little bit of first game nerves, but we've got a lot of really good players though, and our offensive line is young. Big, but they're really young. It's gonna take them about three or four games for them to come around."
The rest of the game involved defenses making stops.
Blythewood's Livingston Weisinger came up with a fumble recovery to stop one Brookland-Cayce drive, and the Bengals defense forced a turnover-on-downs to stop a 59-yard drive.
On the opposite end, the Bearcats forced two turnovers-on-downs, and on Blythewood's final possession Owen Plane came down with an interception.
"Our defense played great, and we had some chances, but we fumbled going inside the 10, and we've done that before," Seidel said. "Des runs so hard and he's fighting for those extra yards. That's just what it is. You tip your cap and give them (Brookland-Cayce) credit, and that's life. We move on and get ready for the next game. Sometimes you just gotta be thankful for having a game."
Blythewood's game at North Central on Sept. 10 was cancelled because of Covid contact tracing with the NC program. The Bengals picked up a game with Richland Northeast instead, taking the place of Spring Valley on the RNE schedule. The game will be at Richland Northeast Sept. 10.
Brookland-Cayce – 0-7-7-0 — 14
Blythewood – 0-0-3-0 — 3
Second Quarter
BC – Tyler Staton 1 run (John Allen Mower kick) 9:01
B – Kaiden Knox 27 field goal 2:41
Third Quarter
BC – Benjamin Pugh 4 run (Mower kick) 6:12
B-C Blythewood
First Downs 12 12
Rushes-Yards 26-90 47-183
Passing Yards 165 20
Att-Com-Int 23-15-1 11-2-1
Fumbles-Lost 2-1 1-1
Penalties-Yards 9-65 4-45
Punts-Avg. 3-29.7 3-32.3
INDIVIDUAL STATISTICS
RUSHING: Brookland-Cayce – Davion Carson 7-13, Tanner Staton 4-0, Benjamin Pugh 6-15, Skylar King 1-(-1), Jordan Wise 1-7, Jeremy Daniels 4-44, William Young 1-7, Jesse Hoover 1-3, Naahzeikiel Mays 1-3. Blythewood – Desmond Boatwright 31-158, David Herndon 7-(-1), Myles Cotten 8-32, Curtis Hilton Jr. 1-4.
PASSING: Brookland-Cayce – Turner Staton 15-23-1. Blythewood – David Herndon 2-11-1.
RECEIVING: Brookland-Cayce – Naahzeikiel Mays 2- 23, Jordan Wise 7-78, Jahmari Kennerly 2-48, Skylar King 1-1, Davion Carson 1-(-3), William Young 2-23. Blythewood – Chris Thomas 1-11, Josh Gary 1-9.