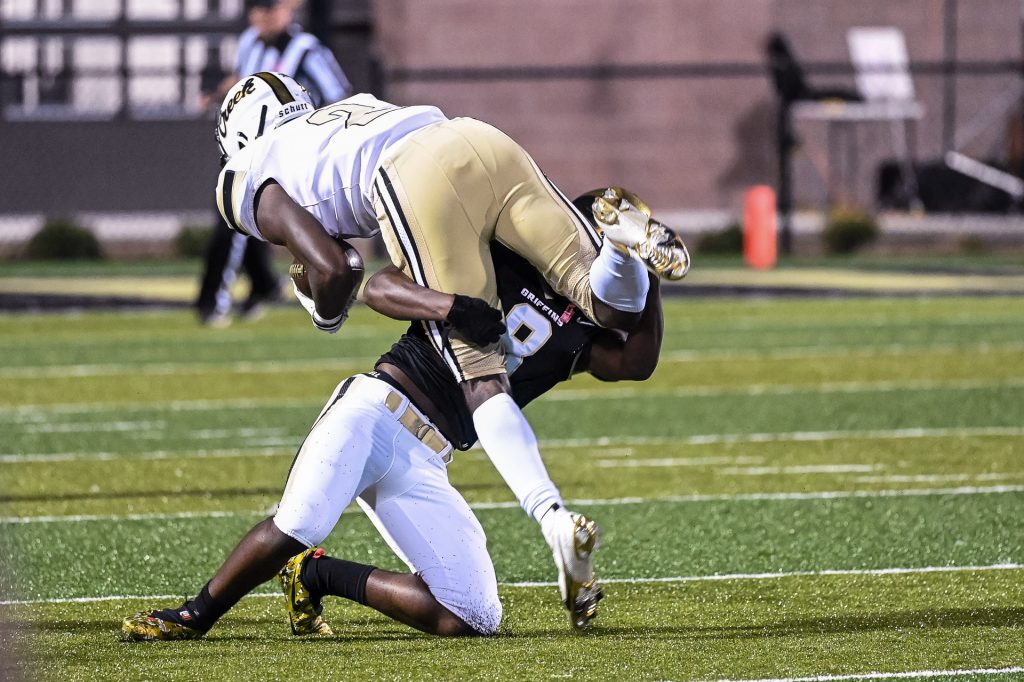 WINNSBORO – There was little drama at E.K. McLendon Stadium Friday night. Lower Richland simply traveled to Fairfield Central's home field and blanked the Griffins 28-0.
"Hat's off to them," Fairfield Central head coach Demetrius Davis said about Lower Richland. "They came in here and beat us up pretty good."
The Diamond Hornets (2-0 Region 4-3A, 5-1 overall) capitalized on two Fairfield Central mistakes early in the game to take a 14-0 lead, and dominated the line of scrimmage throughout the night. Lower Richland held the Griffins to four net rushing yards and 70 passing yards on the night.
"The coaching staff does a great job of getting defenses ready," Lower Richland head coach Marlin Taylor said. "They've been flying around all season long. We didn't expect a shutout, that's a good football team over there, a lot of tradition. Our motto is 'chase that perfect game.' We're far from playing that perfect game, but I'll take that physical game all night long."
Jeremy Barney provided the bulk of the Diamond Hornets' offense on the night. His 84 yards and three touchdowns on 18 carries led all offensive efforts on both sides.
"Barney's a big back. That's a load to carry, to try to tackle every time," Taylor said. "I try to give the ball to him as much as we can. We just want to try to be a good physical football team."
The Griffins (1-1, 4-2) appeared down after their thrilling 67-66 victory over Keenan in six overtimes last week. Head coach Demetrius Davis said as much after the game, noting his team's bye week next week.
"Smiley (quarterback Stephon Gadsden) is not a hundred percent. Our center's out, and basically we had a young JV offensive line," Davis said. "But we've got a week to get healthy. This off-week couldn't happen at a better time."
Starting running back Semaj Young had limited play against Lower Richland, carrying the ball four times for one yard.
Lower Richland got double digits on the scoreboard through costly Fairfield Central mistakes.
Midway through the first quarter, the Griffins decided to shift out of a punt formation in fourth-and-one at its own 37-yard line.
Gadsden's pass that fell incomplete set up the Diamond Hornets for its first score. Eight plays into the drive, Jeremy Barney ran into the end zone from five yards out at the 3:08 mark.
On Fairfield Central's next possession, Gadsden fired a bullet pass across midfield that defender Salaytheo Washington Jr. caught one-handed. Washington squared up and dashed 56 yards for Lower Richland's second score of the game.
"That hurt us," Davis said. "I went for that fake punt, and we shouldn't have done that, we were playing good enough on defense, but I was thinking we needed to score some points. It didn't work."
Up 14-0, the Diamond Hornets defense shut down the Griffins' running game, forced a punt, and drove 52 yards on 11 plays. Barney leapt over the pile at the goal line for a 2-yard TD run at the 8:04 mark of the second quarter.
Fairfield Central drove into Lower Richland territory on its next three possessions, including a drive that ended with a turnover on downs at the 6-yard line.
Griffins rushers accounted for minus-10 yards on 10 carries in the first half. In the second half, Fairfield Central gained 15 total yards, all on the ground.
Lower Richland took the opening kickoff in the second half and kept its possession alive with a fake punt. Barney rumbled in from seven yards out to close out the drive and the scoring at the 7:33 mark of the third quarter.
The Griffins drove into Lower Richland territory in two of its three second-half possessions, but turned the ball over on downs inside the 20-yard line both times.
The Diamond Hornets used their other three possessions to drain the clock.
While Fairfield Central is off this week, Lower Richland is at Mid-Carolina Friday.
Lower Richland – 14-7-7-0 — 28
Fairfield Central – 0-0-0-0 — 0
First Quarter
L – Jeremy Barney 5 run (A.J. Gonzales kick) 3:08
L – Salaytheo Washington Jr. 56 interception return (Gonzales kick) 1:57
Second Quarter
L – Barney 2 run (Gonzales kick) 8:04
Third Quarter
L – Barney 7 run (Gonzales kick) 7:33
LR FC
First Downs 16 7
Rushes-Yards 46-191 25-4
Passing Yards 50 70
Att-Com-Int 17-5-0 22-6-0
Fumbles-Lost 2-1 0-0
Penalties-Yards 6-86 8-60
Punts-Avg. 2-29.5 5-35.0
INDIVIDUAL STATISTICS
RUSHING: LR – Jeremy Barney 18-84, Lamarion Pearson 12-47, Robert Adams 10-27, Team 5-10. FC – Stepheno Gadsden 7-(-2), Tyderian Grier 10-15, Stephon Gadsden 4-(-10), Semaj Young 4-1.
PASSING: LR – Robert Adams 5-17-0. FC – Stephon Gadsden 6-18-1.
RECEIVING: LR – Mekhi Campfield 3-27, Journey Lucas 2-23 FC – Trent Boyd 1-10, TyDerian Grier 1-25, DayJuan Durham 2-23, Ja'Tron Woodard 2-12.