MOUNT PLEASANT – Mount Pleasant was the setting for Friday's football battle between two undefeated Eagle teams. Perhaps the Eagles were road trip fatigued initially, because after the first quarter of action against Palmetto Christian, the visiting Richard Winn Eagles trailed 8-0. Once Richard Winn found their game, they set about to hand the PCA team their first defeat of the season, RWA 32 – PCA 20.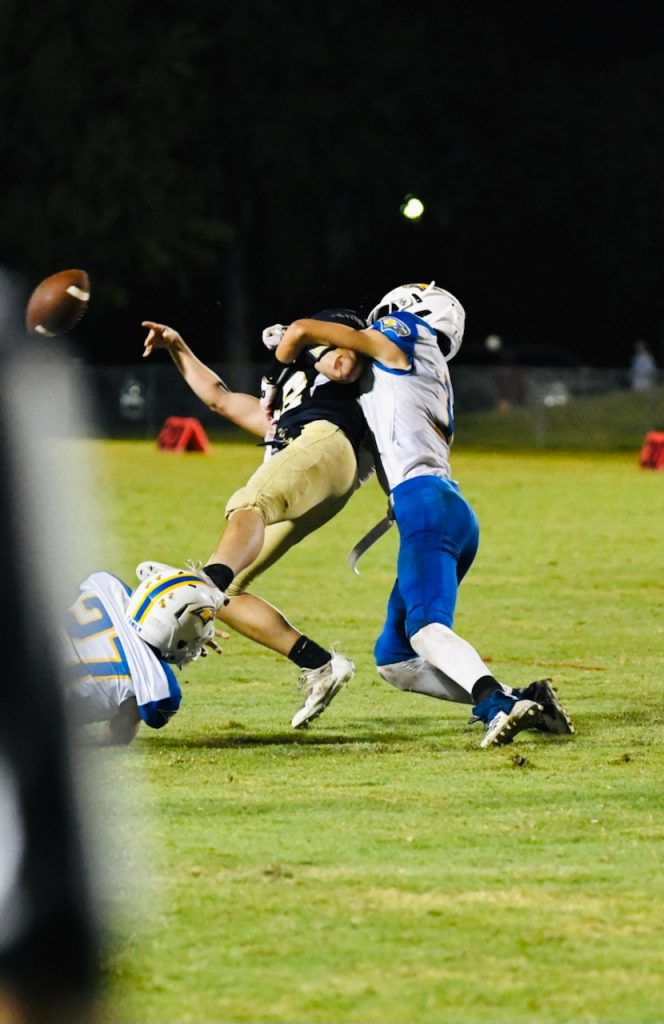 RWA's first score came at the 10:19 mark in the second quarter when quarterback Landon Caulder found receiver Drew Spires open for a 40-yard touchdown pass, but the extra point attempt failed. The Eagles cut the point spread deficit by two: RWA 6 – PCA 8.
Following a second quarter PCA touchdown which put them up 14-6 and a fumble recovery by Austin Lancaster, Caulder made an 8-yard connection to Berry Bonds for a touchdown, and Spires completed the 2-point conversion play. The score stood at 14 – 14 with 1:21 remaining in the half.
Colten Hatchell came up with a fumble recovery with 35 seconds remaining in the half, but the Eagles were not able to capitalize before the halftime buzzer. Both teams retired for the halftime break with the score knotted at 14 all.
Richard Winn received the opening kickoff of the second half and used only 7 seconds in putting more points on the scoreboard. Caulder again connected with Spires for a 39 yard touchdown pass. The extra point attempt failed. The Eagles had the 20-14 lead for the first time in the game.
The third quarter ended in another tie, 20-20.
Richard Winn's offense scored twice more in the final 12 minutes while the defensive kept PCA out of the end zone. With less than a minute ticked off the 4th quarter clock, Spires executed a trick play pass completion to teammate Lawson Wade for a touchdown. The PAT failed. RWA was on top again 26-20.
Caulder's rushing touchdown with 1:27 left in the game, and teammate Connor Little's interception with 1:09 remaining served as icing to the victory cake. Richard Winn kept their undefeated 5-0 record intact while Palmetto Christian fell to 4-1.
"It was a big accomplishment for our guys to go on the road again against an undefeated team and come out with the win," head coach Paul Brigman said. "We were dealing with some adversity, with a couple of our players out with injuries and illness, but our team responded and fought hard. We are excited to finally get back home to Ruff Field for our Homecoming game this week."
The Eagle offense picked up 105 total rushing yards and 208 passing yards on the night.
Caulder threw for 162 yards, completing 10 of 21 attempts, 3 touchdowns, and 1 interception. He also carried the ball for a total of 51 yards on 10 attempts and 1 touchdown. Spires had a big night with 3 touchdowns to his credit – 2 receiving TD's and a TD pass to Bonds for an 8 yard touchdown. Spires was 6 for 129 yards receiving and 2 rushes for 3 yards. B. Baker rushed for 51 yards on 16 carries, snagged 2 passes for 16 yards, and picked up 28 yards on 4 punt returns. Lawson Wade had 2 receptions totaling 55 yards and a touchdown.
On the defensive side of the ball, the Eagles got exceptional performances from Jacob Chaisson (10 tackles), B. Baker (9 tackles), Colt Hatchell (8 tackles, 2 sacks, and a fumble recovery), Matt Tate (8 tackles), and Connor Little (7 tackles, 1 interception, and 1 sack). Other teammates credited with tackles included Wade and Lancaster with 5 tackles each, Berry Bonds with 3 tackles, and Spires with 1.
The Eagles return to Ruff Field Friday to host region foe Laurens Academy and conclude Homecoming Week festivities. The game kicks off at 7:30 p.m., and the crowning of Queen and Sweetheart will take place at halftime.