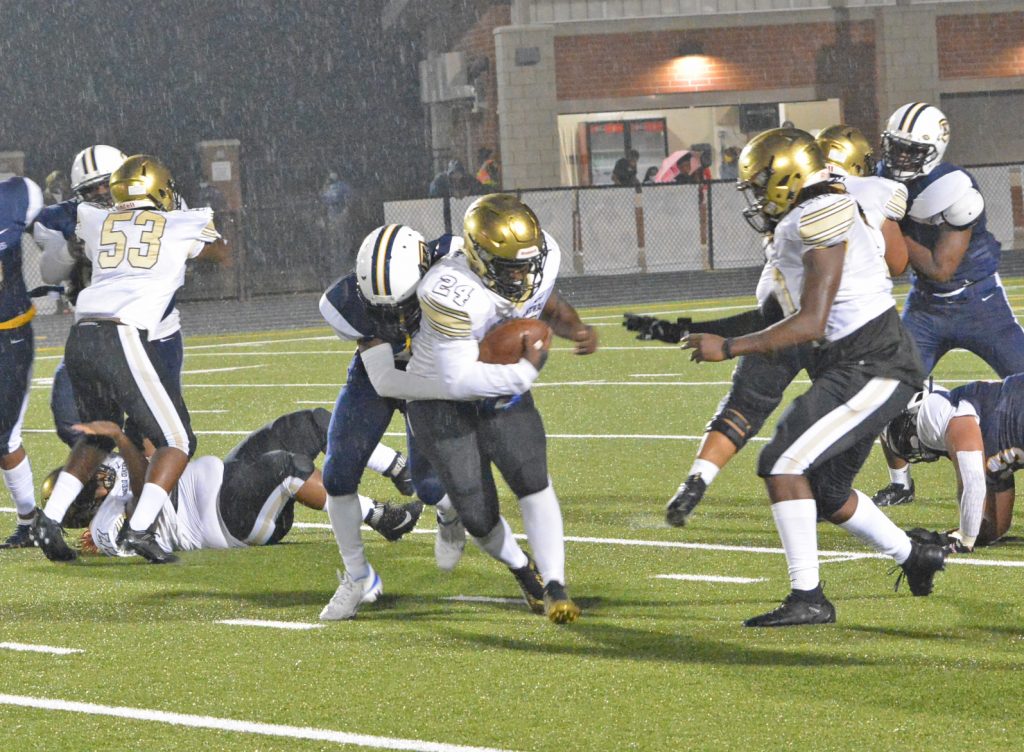 COLUMBIA – Five overtimes at the Stadium at W.J. Keenan may well have been a lifetime for Fairfield Central kicker Matthew Few.
Few missed a potential game-winning extra point with the game tied at 42 after the first overtime. A roughing-the-kicker penalty gave the Griffins a replay of the point-after-attempt, and they chose to run the ball and fell short, keeping the game tied at 42.
In the third overtime with the game tied at 54, Few took the field again for his second PAT. This shot went wide left, and the game stayed undecided.
Cue the fifth overtime, with the game tied at 60.
Keenan took the ball first and scored on Hernandez O'Neal's 12-yard touchdown pass to Javion Robinson. The Raiders ran the ball, and the Griffins wrapped up O'Neal two yards short of the goal line.
Simaj Young had burst into the end zone on Fairfield Central's first play of their set to tie the game at 66. Few once again took the field and set the tee around the 10-yard line. After head coach Demetrius Davis called a time out, Few's third PAT boot split the uprights and gave the Griffins a 67-66 victory to open Region 4-3A.
"I called time out, and I should've done this for the other times, but I told him 'Murph, go win the football game, I'm ready to go home,'" Davis said about Few. "I probably lost about five years of my life, and things got a little dark, but we never quit, and I liked that."
The overtimes capped a game in which neither team could catch steady momentum on turning points. Fairfield Central (1-0 region, 4-1overall) fumbled the opening kickoff and gave up an early score on a Marquese Williams touchdown run, but the Griffins marched down the field and evened the game with a Stephon Gadsden touchdown pass.
Keenan (0-1, 2-1) led 20-14 early in the second quarter, but Fairfield Central's Tyderian Grier broke a 70-yard touchdown run. The 2-point conversion that followed gave the Griffins their first lead of the game.
Stepheno Gadsden intercepted an O'Neal pass and returned it to the Keenan 2-yard line not long afterward, and Young burst in from that distance to give the Griffins a 28-20 lead, which they held by intermission.
"They made a lot of mistakes in the first half, but they still managed to fight to the end," first-year Keenan head coach Ray McLeod said. "That's great for them, because a year ago they probably would have laid down. I'm proud of the kids."
Keenan erased that deficit as quickly as their second-half opening drive allowed. The Raiders drove 68 yards and capped the drive with another O'Neal-to-Robinson TD connection. Williams' conversion run at the 8:45 mark of the third quarter tied the game at 28.
Williams 5-yard TD run with 1:26 in the third gave Keenan a 36-28 advantage, but Fairfield Central rallied again. Starting at midfield, the Griffins moved on to set up Young's 10-yard touchdown run at the 9:58 mark of the fourth. Stephon Gadsden's conversion run tied the game once again.
A Fairfield Central fumble and an O'Neal interception killed potential game-winning drives from both teams, and the game went into overtime at 36-36.
Five overtimes, 10 scores, and one extra-point later, the Griffins finally tacked up their first region win of the year. The choice to use Few's foot instead of the reliable running of Gadsen or Young went down to a gut feeling even though Few had missed badly in the first two tries to win the game.
"I knew sooner or later (that he would make it). Down there, we like to run the quarterback," Davis said. "But Smiley (Gadsden) hurt his foot. I was about to fake it, but I called time-out because I knew they had overloaded the other side, so I said 'if we can't fake it we've got to try to kick it, and if not? We go into another overtime.'"
Williams led all rushers and scorers with 232 yards and three touchdowns on 30 carries, along with two conversion runs. In the overtime periods, he had eight carries for 33 yards and three scores.
"That's his third game with well over 200 yards," McLeod said. "He's a pretty good kid. The offensive line looked good at times, but we've just got a little more work to do."
O'Neal was 12-for 17 for 160 yards and two touchdowns with two interceptions in regulation. He had two touchdown passes in the overtimes.
Stephon Gadsden led the offense for the Griffins, rushing 13 times for 100 yards and a touchdown, and 62 yards on 4-for-6 passing in regulation. Gadsden connected with Adam Gonzales for a 10-yard TD pass in the overtime periods.
Young had 84 yards and two touchdowns on 13 carries in regulation. He scored two rushing touchdowns and had 12 yards on six carries in overtime.
"Tomorrow morning I'm gonna be at least five years older," Davis said. "But what a resilient group right here. That was tough. My hat's off to that Keenan group. We've been playing Keenan for a long time, but I don't know what Coach's got going with that group, but he got those cats playing unbelievable, man."
Fairfield Central plays host to Newberry and Keenan is at Richland Northeast Friday.
FC – 14-14-0-8-6-6-6-6-7 – 67
Keenan – 14-6-16-0-6-6-6-6-6 – 66
First Quarter
K – Marquece Williams 3 run (Williams run) 10:44
F – Stephon Gadsden 2 run (Gadsden run) 5:37
K – Javion Robinson 20 pass from Hernandez O'Neal (run failed) 3:20
F – Stepheno Gadsden 12 run (run failed) 2:22
Second Quarter
K – Williams 4 run (run failed) 6:49
F – TyDerian Grier 70 run (TEAM pass from Stephon Gadsden) 6:24
F -Semaj Young 2 run (pass failed) 3:10
Third Quarter
K – Javion Robinson 20 pass from Hernandez O'Neal (Williams run) 8:45
K – Williams 5 run (O'Neal run) 1:25
Fourth Quarter
F – Young 10 run (Gadsden run) 9:58
1 OT
K –Robinson 7 pass from O'Neal (pass failed)
F – Adam Gonzales 10 pass from Gadsden (run failed)
2 OT
F – Stepheno Gadsden 1 run (run failed)
K – Williams 1 run (run failed)
3 OT
K – Williams 1 run (pass failed)
F – Young 2 run (kick failed)
4 OT
F – Stepheno Gadsden 2 run (run failed)
K – Williams 6 run (run failed)
5 OT
K -Joseph Gilmore Jr. 12 pass from O'Neal (run failed)
F – Young 10 run (Matthew Few kick)
FC Keenan
First Downs 18 18
Rushes-Yards 29-260 40-285
Passing Yards 83 160
Att-Com-Int 7-5-0 20-12-2
Fumbles-Lost 2-2 1-0
Penalties-Yards 5-40 8-65
Punts-Avg. 2-33.0 1-23.0
INDIVIDUAL STATISTICS (Regulation)
RUSHING: Fairfield Central – Stephon Gadsden 13-100, TyDerian Grier 1-70, Semaj Young 13-84, Stepheno Gadsden 2-6. Keenan – Marquece Williams 30-232, Hernandez O'Neal 5-12, Marquel Jacskon 3-18, Jaden Gipson 1-21.
PASSING: Fairfield Central –Stephon Gadsden 4-6-0. Keenan – Hernandez O'Neal 12-20-2.
RECEIVING: Fairfield Central – Donovan Watkins 1-16, TyDerian Grier 1-(-3), Jai Boyd 1-21, Trent Boyd 1-28. Keenan – Javion Robinson 5-85, Jaden Gipson 2-27, Joseph Gilmore Jr. 2-46, Mikaili Jefferson 1-7.