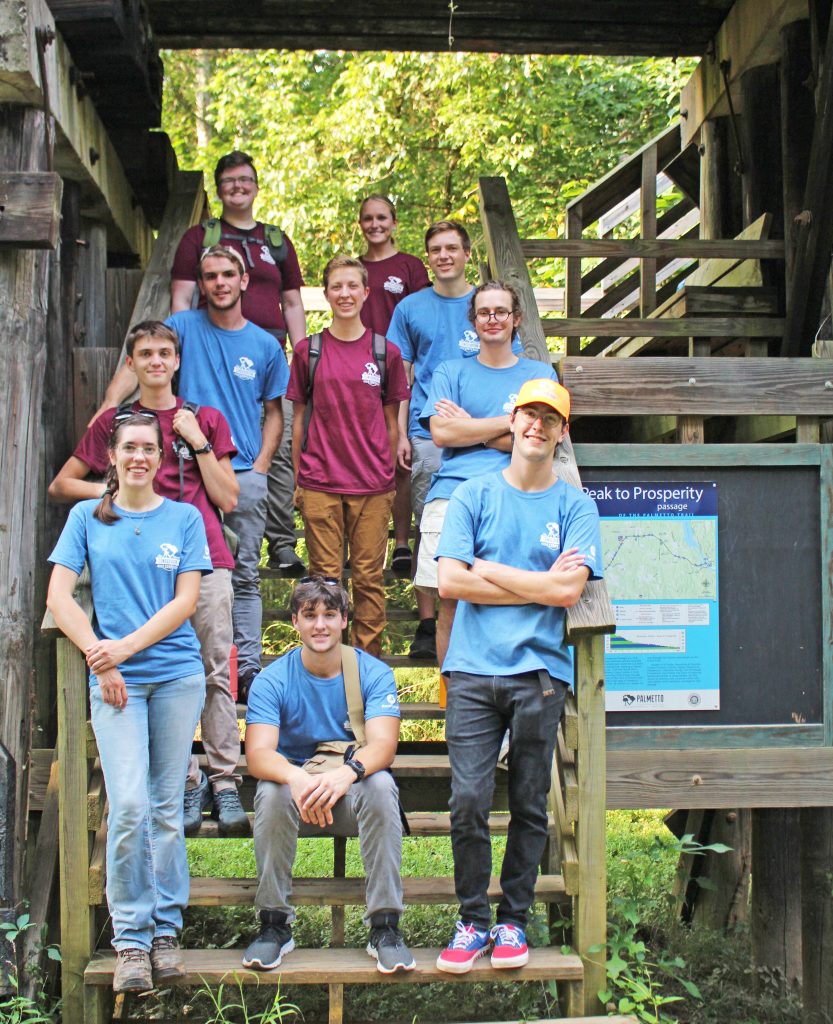 FAIRFIELD COUNTY – On Aug. 24, Fairfield County was invaded by a 10-member crew of young people from around the country who have come to South Carolina to work with the Palmetto Conservation Corps on the Palmetto Trail. They are spending much of their time in western Fairfield improving the Alston Trailhead, the Fairfield County access to the Palmetto Trail. 
After a welcome cookout at the Alston Trailhead park, the young Corps members went to work.
"A normal workday for the crew begins early, ends late and involves a lot of hard physical activity, as well as fun," said Mary Roe, Palmetto Trail Executive Director. "They learn trail building and other skills not often learned at college – like truck driving."
The Alston Trailhead area in Fairfield is becoming a destination in its own right, with 6 campsites, one of which is ADA compliant, picnic tables, and an educational scavenger hunt for kids. Future plans include a kayak/canoe launch and other amenities as funding becomes available. Funding partners for the Trailhead park include Fairfield Forward, Fairfield County, REI and the SC Railroad Museum which donated local granite.
The Palmetto Trail stretches nearly 500 miles, from the mountain tops of Oconee County to the Intracoastal Waterway at Awendaw in Charleston County. It is constructed as a series of passages, ranging from short to long, and traversing urban to rural to wilderness areas. Most passages accommodate hiking and mountain biking, with some also including equestrian travel. The Trail attracts hikers and mountain bikers from near and far, many of whom challenge themselves to hike as many passages as they can. With one of the most popular passages – Peak to Pomaria – accessed from the Alston Trailhead in Fairfield, a lot of visitors come to the western end of the county who might otherwise miss all it has to offer.
"Of course, the biggest draw of the site will always be the former railroad trestle that begins this portion of the Palmetto Trail with a spectacular walk over the Broad River, with its beautiful vistas and wildlife sighting opportunities," Roe said.
The Palmetto Conservation Corps is a South Carolina trail-based affiliate of AmeriCorps, supported in part by the United Way Association of South Carolina-AmeriCorps. The Palmetto Conservation Corps was established to encourage values of community service, simple living and selflessness. It focuses on building or improving public recreational facilities.
The Trail and the Palmetto Conservation Corps routinely attract young people from around the country to build, rebuild, and maintain hiking paths. The current group of Corps members working at Alston Trailhead are nearly all recent college graduates seeking adventure before settling down. They hail from Michigan, Texas, Pennsylvania, Connecticut, New Jersey, Iowa and South Carolina.
Later in the fall, the Corps will move to other Midlands area passages, building parking lots and repairing the trail along the Peak to Prosperity and Wateree passages.
The Corps was inaugurated in 2016, and has since won awards and started many young people on careers in natural resource management, parks and recreation and construction, as well as careers less frequently associated with outdoor recreation.
After their stint in South Carolina, many of these young people will move on to another AmeriCorps project.
"They want to see as much of the country as they can before going on to further education or settling down at more typical jobs," Roe said. "In the meantime, they are forming lasting impressions of our state, and performing a valuable service. They are an awesome group of young people."
To volunteer, or for information about the Palmetto Trail, visit www.palmettoconservation.org.