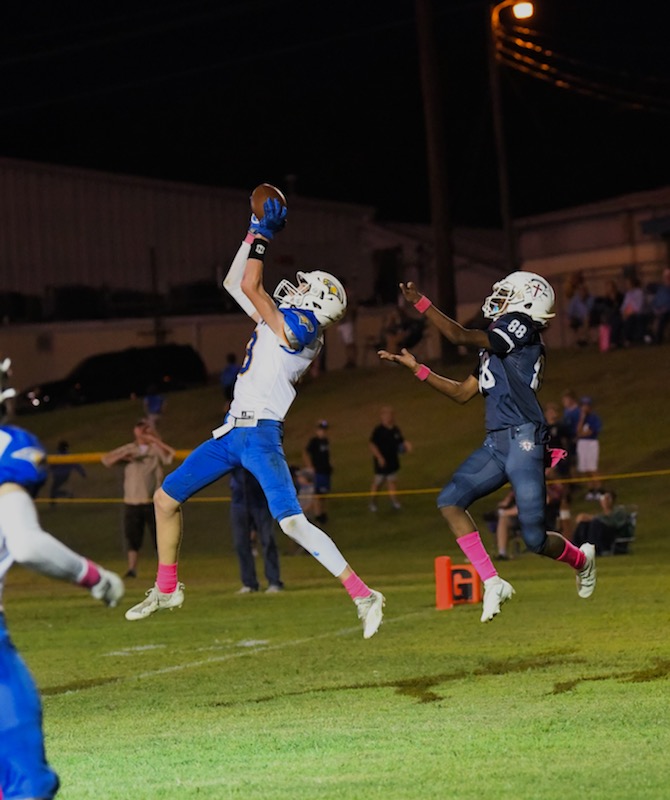 WINNSBORO – Following five fun-filled spirit days, RWA's Homecoming Week climaxed on Friday evening with the crowning of a new Homecoming Queen and Football Sweetheart during halftime and a big 52-12 victory over the Laurens Crusaders at the end of four quarters of gridiron action.
RWA's Ruff Field was buzzing with excitement as the game got underway. The Crusaders received the opening kickoff, but it was the Eagles who crossed over the goal line first at the 9:19 mark. First quarter scoring included a rushing touchdown by quarterback Landon Caulder and a successful PAT kick by Drew Spires. RWA 7 – LA 0.
Early in the second quarter Caulder successfully rushed for four consecutive plays and scored a second touchdown. He also completed the two-point conversion play, putting the Eagles up 15-0 with 8:34 left in the second period.
The Crusaders answered back with their own scoring drive on their next possession. After several pass completions, Cal Robertson took the pitch from quarterback Garrett Murphy and found a gap in the Eagle defense to put Laurens on the scoreboard. The two-point conversion failed. With 6:41 remaining in the second quarter, RWA held the 15-6 lead.
The Crusaders attempted an onside kick, but it was recovered by Eagle Colt Hatchell. However, several plays later the Crusaders recovered a fumble to halt the Eagle offensive drive.
After an exchange of possession in the remaining four minutes, RWA's Rob Wilson hauled in a pass from Caulder to race downfield for the first of his three touchdowns with 56.6 seconds left in the first half. Caulder rushed for the two-point conversion.
Following the kickoff to Laurens and with just seconds left on the clock prior to halftime, Murphy's pass was picked off by RWA's J Talbert. The teams exited the field at half time with the score RWA 23 – Laurens 6.
Laurens recovered their onside kick to open the second half of action, but moments later RWA's Connor Little foiled their offensive drive with a pass interception with 8:55 left in the third quarter. Backup QB Charlie Bonds found Wilson open to score his second TD of the night. Spires PAT was good and put RW up 31-6.
Talbert opened the second half with his second interception of the game to put the Eagle offense back on the field. Caulder connected with his hot-handed Wilson for his third consecutive touchdown. The extra point kick by Spires boosted the score to 38 – 6 with 4:32 left in the third.
The Crusaders weren't ready to throw in the towel yet as Robertson rushed for his second touchdown with 4:15 remaining. The two-point conversion failed. RW 38 – LA 12.
Bonds returned as the Eagle signal caller and rushed for a touchdown. Spires kicked the PAT to put RW up 45-12 at the 1:14 mark in the third period.
Laurens then experienced more misfortune when a long run play got called back for an illegal block penalty. The quarter ended with the Eagle defense bearing down on the visitors. Following a sack by RW's Brian King, the Crusaders were forced to punt early in the final period.
With Caulder back under center, he connected with Edward Clement for the team's seventh and final touchdown of the game. Spires' kick was good. RW 52 – LA 12
Spires picked off a Crusader pass on their next possession to shut down their offense and close out any more scoring by either team. The clock ticked down the final five minutes of a big Homecoming and region victory for the Eagles who boosted their overall record to 6-0.
As a team, RW rushed for 214 yards and threw for 206 with 2 turnovers. Leading the offensive charge, Caulder was 11 for 22 passing attempts for 161 yards and 3 touchdowns while also rushing for 2 touchdowns himself on 14 attempts for 125 yards. Wilson also had a big night with 4 receptions for 168 yards and 3 touchdowns. Bonds rushed 29 yards in 2 attempts and scored a touchdown as well as completed 2 for 2 pass attempts for 45 yards and a passing TD. Clement had 1 catch for a 15 yard touchdown. Kitt Nicholson had 2 pass receptions for 18 yards.
J Talbert and Brian King were solid on defense, each credited with 7 tackles. Talbert also had a sack and 2 interceptions, and King had 3 sacks. Lawson Wade and Connor Little made 4 tackles and 1 interception apiece. B Baker had 24 rushing yards out of 4 attempts, 5 tackles and 1 sack. Colt Hatchell was credited with 5 tackles and 3 sacks, and Jacob Chaisson rushed for 28 yards on 6 attempts and had 5 tackles.
Head Coach Paul Brigman was pleased with his team's efforts. "We were concerned that there may be a lack of focus because of all of the distractions of homecoming, but our guys were focused, and did a great job of controlling the ballgame. We are looking forward to an off week this week to hopefully be able to rest and get healthy for the push to the Region Championship which is always one of our goals at the beginning of the season," said Brigman.
The Eagles will travel to Newberry on Oct. 15 to matchup against the Newberry Eagles with kickoff at 7:30 pm.