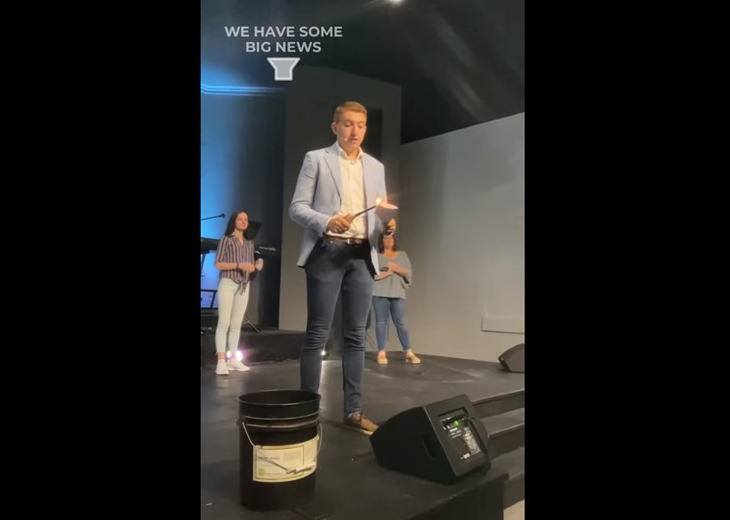 WINNSBORO  – When 20-year-old Pastor Dillon Pullen launched a ministry at the Redemption Church at 165 Columbia Road in Winnsboro last January, he had already been preaching occasionally and  was on staff at the Columbia Church of  God in Blythewood for several years.
"We are so fortunate that we were able to purchase this building before we launched our ministry," Pullen told The Voice. "We only had to pay off what was still owed by the former owner, Corner Stone Church. It wasn't a big payoff but it was in the tens of thousands, and we had to put about $40,000 into renovations. Even with that, though, we were able to pay the mortgage off last month, just seven months after purchasing the building, and we are now totally debt free," he said with a smile.
A video posted on Redemption Church's Facebook page shows him at the front of the church building, burning the mortgage with a match.
"We did it with God's help and help from a lot of Churches of God across the state," Pullen said, "We no longer have to have any financial support from other churches. We're doing fine."
Indeed. The proof is in the numbers. The young pastor had about 20 members when he launched the ministry. Now, he said, there are more than a 100 who attend.
Besides his active involvement with Columbia Church of God in Blythewood during high school, Pullen worked part time for the Fairfield Chamber of Commerce as assistant to the Director. For the last two years he has served the Chamber as community relations director.
Pullen, clearly enthused about his work with Redemption Church, said he's looking forward to the future of the church as it continues to grow.
"Our slogan is, 'This could change your life," he said. "John 14:12 talks about doing great things. As we grow in the Word, it changes our lives forever."
Pullen said he'll be marking another milestone Jan. 1, 2022, when he marries his fiancée, Abby Kovacs of Elgin.
"We met at church," he said. "That's a good omen. My parents met at church and my grandparents met at church. They have had long happy marriages," Pullen said. "I'm looking forward to that with Abby."