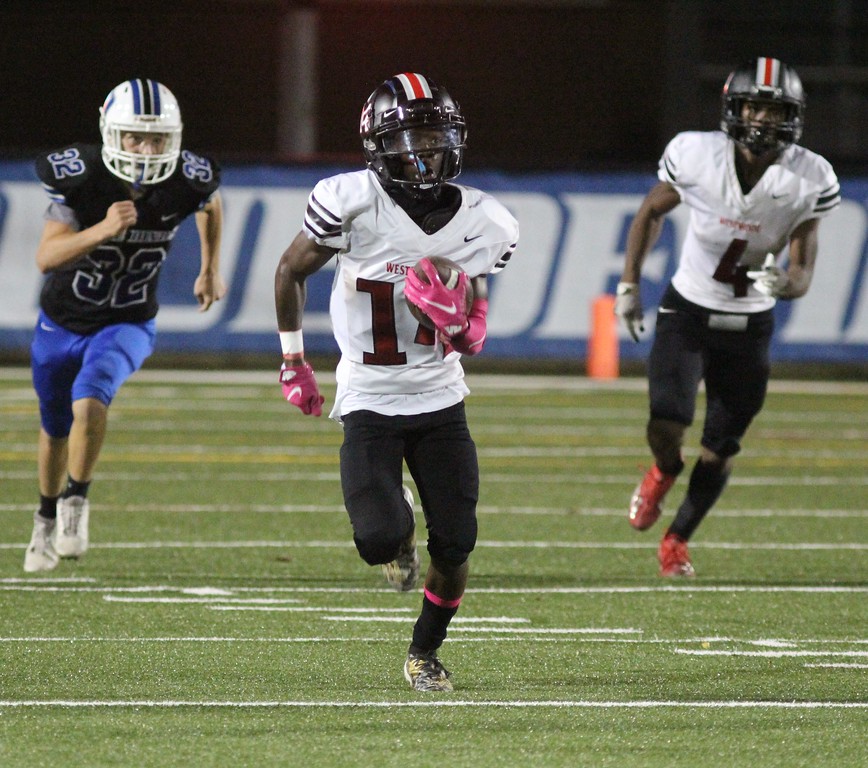 COLUMBIA – About the only factor the Westwood football team had to deal with against Dreher Friday night was the exceptional running of Caleb Timmons.
Timmons caught a short pass and made it a 70-yard touchdown play, returned a kickoff 100 yards for another TD, and caught a deep pass to set up a third score.
Those were the Blue Devil highlights at Memorial Stadium Friday night. Westwood took those points in stride and dropped 50 of their own against Dreher in a 50-27 Region 4-4A victory.
"That was a true team win. Multiple guys scored, and that happened last week (in a 40-28 home win over Lugoff-Elgin) when we had five guys score," Westwood head coach Matt Quinn said. "We had guys scoring left and right from different positions."
While Timmons had his moments, the Redhawks spread the wealth across their offense.
Quarterback Camren Brown completed nine of 12 passing attempts for 183 yards. Four of those nine completions went for touchdowns, two for Noah Jennings and two for Jayden Harrison.
Julian Milligan had 78 yards and a TD on 12 carries, and Lavelle Ramsey had a 9-yard touchdown run.
"We've got a bunch of different playmakers on this team and we've got to find ways to get them the ball and be creative every week," Quinn said.
Timmons, who had three catches for 136 yards on the night, could have changed the pace of the game, but the Westwood offense countered him each time.
The Redhawks (3-4, 2-1) took a 14-0 lead in the first quarter on Ramsey's touchdown run and Brown's 2-point conversion run, followed up by Jennings' 55-yard catch-and-run score.
Timmons put Dreher (2-5, 1-3) on the scoreboard late in the first quarter on a one-play, 70-yard drive. Josh Drayton threw a short pass to Timmons, and the fleet receiver blazed past Redhawk defenders to complete the catch-and-run touchdown.
That score, at the 1:47 mark of the first, cut Westwood's lead to 14-7.
Milligan returned the kickoff 40 yards to the Dreher 30-yard line, and Brown then found Jennings on a short route. Jennings took care of the rest of the yardage and scored at the 1:26 mark. Jaylin McDuffie added a 2-point conversion run to make it 22-7 Redhawks.
Westwood's stern defense combined with Browns' touchdown passes of 27 and 31 yards to Jayden Harrison to give the Redhawks a 38-7 lead by the half.
After Timmons and the Blue Devils celebrated his kickoff return that opened the third quarter, Isaac Junious hushed the home crowd when he bolted 75 yards to the end zone on Dreher's kickoff. That score made it 44-14.
Following Junious' scamper, Milligan scored on a 15-yard touchdown run late in the third quarter to make it an even 50-14 going into the final quarter.
Throughout the third quarter Westwood ran out of a wildcat formation with Brown on the sidelines and Harrison taking the snap. That set proved effective as it drained the clock and resulted in Milligan's touchdown.
"We installed a little wildcat this week," Quinn said. "That was another way to get a playmaker the ball, and it was very successful for us."
On a running clock in the fourth quarter, Dreher's David Epps scored twice to make the scoreboard less lopsided, but the game had been decided long before.
Dreher is at Richland Northeast Friday, while Westwood returns home to face Irmo Friday. Irmo (5-2, 4-0) is at the top of the Region 4 heap after upsetting previously undefeated A.C. Flora 28-27 Friday night.
Seeing his team hit its stride over the past two games, Quinn says the Redhawks are in a good position to determine their future in the region.
"We're just excited about how this team is coming together," Quinn said. "Through a rocky start, through a tough non-region schedule, and coming out like this for two weeks in a row, this is really big for us."
Westwood – 22-16-12-0 — 50
Dreher – 7-0-7-13 — 27
First Quarter
W – Lavelle Ramsey 9 run (Camren Brown run) 7:20
W – Noah Jennings 55 pass from Brown (run failed) 3:01
D – Caleb Timmons 70 pass from Josh Drayton (Bennett Young kick) 1:47
W – Jennings 70 pass from Brown (Jaylin McDuffie run) 1:26
Second Quarter
W – Jayden Harrison 27 pass from Brown (Julian Milligan run) 5:35
W – Harrison 31 pass from Brown (Ramsey run) :12
Third Quarter
D – Timmons 100 kickoff return (Young kick) 11:44
W – Isaac Junious 75 kickoff return (run failed) 11:22
W – Milligan 15 run (run failed) 1:58
Fourth Quarter
D – David Epps 12 run (Young kick) 10:11
D – Epps 12 run (kick failed) 3:00
WHS Dreher
First Downs 14 11
Rushes-Yards 21-178 21-48
Passing Yards 183 187
Att-Com-Int 12-9-0 13-8-0
Fumbles-Lost 1-1 0-0
Penalties-Yards 6-66 7-65
Punts-Avg 0-0 2-33.5
INDIVIDUAL STATISTICS
RUSHING: Westwood – Julian Milligan 11-78, Lavelle Ramsey 3-23, Camren Brown 2-28, Jordan Jenkins 1-3, Jayden Harrison 3-47, Elijah Burgess 1-(-1). Dreher – Elijah Goodman 6-15, Josh Drayton 8-11, David Epps 5-22.
PASSING: Westwood – Camren Brown 9-12-0. Dreher – Josh Drayton 8-13-0.
RECEIVING: Westwood – Noah Jennings 3-89, Jayden Harrison 2-59, Zyere Lee 2-15, Jordan Jenkins 2-20. Dreher – Caleb Timmons 3-136, Landon Hucks 3-31, David Epps 1-14, Elijah Goodman 1-6.