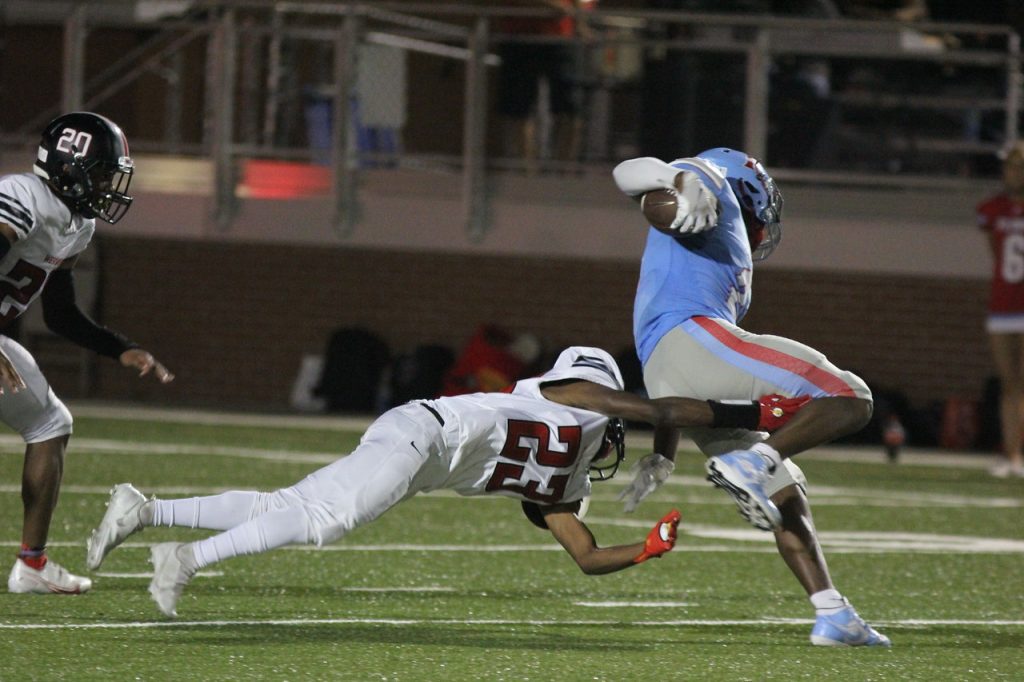 COLUMBIA—Westwood and A.C. Flora's Region 4-4A football opener went pretty much as expected Friday night, with the defending 4A state champion Falcons easing past the Redhawks 34-14 at Memorial Stadium.
"That's a really good football team," Westwood head coach Matt Quinn said of the Falcons. "Flora is the favorite to repeat, in my opinion, but our kids fought hard, they never quit, all the way up to the last snap."
A.C. Flora's game plan was basic. The Falcons opened the first and second halves with long, clock-draining scoring drives, and got solid running throughout the game from Markel Townsend, who finished the night with 172 yards and a touchdown on 25 carries. A.C. Flora finished with 327 rushing yards on 46 plays.
Head coach Dustin Curtis, who coached the Redhawks for three years before taking the job at Flora in 2019, didn't expect to see so many mistakes among the Falcons. A.C. Flora (5-0, 1-0) chalked up 10 penalties for 110 yards. While knocking out two long drives in each half, the Falcons also watched drives into Redhawks territory die out.
"I didn't think we played clean at all," Curtis said. "We had a couple of guys missing tonight for various reasons, and we probably didn't play our best, but hats off to Westwood. Coach Quinn had those guys playing really hard tonight, they came out inspired after a tough game they had last week (a 19-8 loss to York at home) I'm super proud of those guys and how they competed."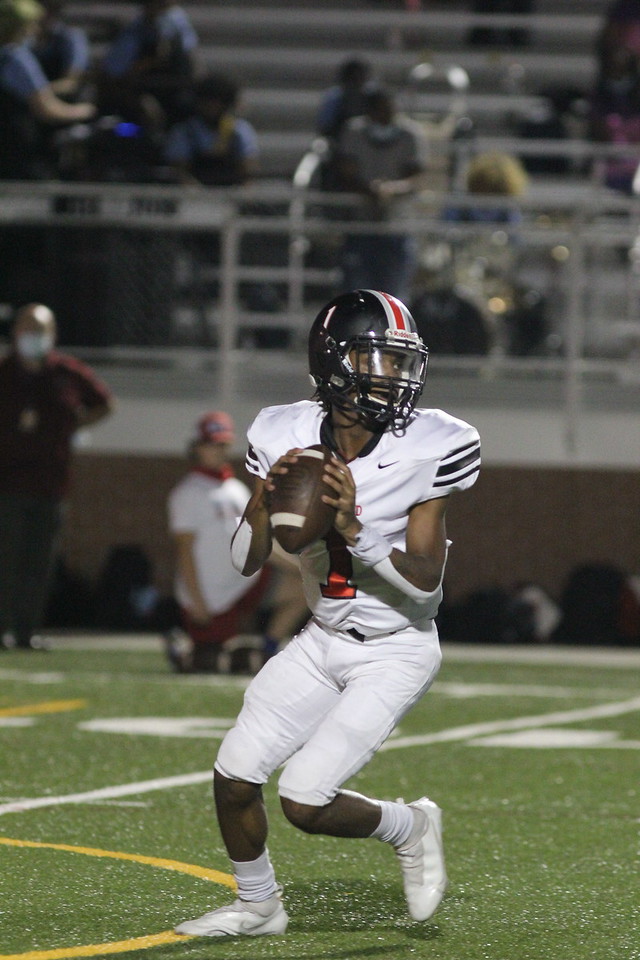 Despite some scattered mistakes from both teams in the first half, A.C. Flora dominated the field.
The Falcons stopped the Redhawks on the opening possession, and when they got the ball drove 77 yards on 14 plays. Tyrell Green closed out the drive with a 4-yard touchdown run to make it 7-0 at the 5:29 mark of the first quarter.
Westwood (1-4, 0-1) fumbled on the kickoff that followed, but the Falcons could not capitalize and had to punt.
The A.C. Flora defense then stopped the Redhawks near midfield, which was where Falcons special teamer Davontavius Pettus blocked Robert Harris' punt. Teammate Brooks Hartin scooped up the loose ball around the 15-yard line and ran it in for A.C. Flora's second score that came one minute into second-quarter action.
Westwood stopped a deep A.C. Flora drive that ended with a 34-yard missed field goal attempt from Davis Rivers at the 4:57 mark of the second quarter.
The Falcons made good on their next drive, which Chris Lofton capped with a 13-yard TD run 27 seconds before intermission.
Westwood's offense struggled in the first half, gaining just 6 rushing yards on five carries and 24 yards on four completed passes.
A.C. Flora opened the second half with a 54-yard drive that Townsend ended with a score from two yards out to make it 28-0.
From there, it looked like the Falcons would go on cruise control, but Westwood standout Noah Jennings got in the way.
The wide receiver and defensive back sparked the Redhawks' two second-half scores. Jennings grabbed a 58-yard reception from Camren Brown that set the Redhawks at the Falcons' 15-yard line. Brown later scored on a 2-yard touchdown run, but the 2-point conversion attempt failed.
Trailing 28-6 but seeing the A.C. Flora offense stall between the third and fourth quarters, Westwood cut the lead in half in the final minutes of the game.
Jennings picked off a Trey McCardle pass that set the Redhawks up at the A.C. Flora 18-yard line, and Lavelle Ramsey later burst in from four yards out with 4:21 to go. Elijah Burgess, stepping in for Brown after he was injured early in the fourth quarter, found Jaylin McDuffie in the end zone for the 2-point conversion.
"We have a young buck quarterback that's going in there and making plays," Quinn said. "That's good things that you like to see. Camren took a little hit, but he's OK. We could have put him in there in the end, but we wanted the young buck to get some live game reps because he's never been in varsity."
Even late in the game, Westwood looked to make a comeback, but the Falcons knocked out a quick drive on four rushing plays to score the final touchdown, a 5-yard Aiden Mosely run with 2:36 remaining.
"Our kids don't quit," Quinn said. "We had a great week of practice, we were really prepared."
After Westwood went four-and-out on its final possession, the Falcons drained the clock to seal the win.
"I'm happy we were able to put some points on the board in the second half and close the deal," Curtis said. "But it certainly wasn't very clean for us."
Westwood plays host to Lugoff-Elgin and A.C. Flora is at Richland Northeast Friday.
Westwood – 0-0-6-8 – 14
AC Flora – 7-14-7-6 – 34
First Quarter
F – Tyrell Green 4 run (Davis Rivers kick) 5:29
Second Quarter
F – Brooks Hartin 15 blocked punt return (Rivers kick) 11:05
F – Chris Lofton 13 run (Rivers kick) :27
Third Quarter
F – Markel Townsend 2 run (Rivers kick) 7:55
W – Camren Brown 2 run (run failed) 1:03
Fourth Quarter
W – Lavelle Ramsey 4 run (Jaylen McDuffie pass from Elijah Burgess) 4:21
F – Aiden Mosely 5 run (kick failed) 2:36
WHS ACF
First Downs 6 20
Rushes-Yards 23-68 46-327
Passing Yards 86 53
Att-Com-Int 20-6-2 14-9-1
Fumbles-Lost 2-2 1-0
Penalties-Yards 5-24 10-110
Punts-Avg. 3-35.7 3-27.7
INDIVIDUAL STATISTICS
RUSHING: Westwood – Julian Milligan 10-50, Camren Brown 4-21, Lavelle Ramsey 7-10, Elijah Burgess 1-(-11), Team 1-(-2). A.C. Flora – Markel Townsend 25-172, Chris Lofton 6-56, Trey McCardle 3-(-19), Aiden Mosely 7-62, Tyrell Green 2-5, Davontavius Pettus 2-58, Kyle Robinson 1-13.
PASSING: Westwood – Camren Brown 5-16-2, Elijah Burgess 1-4-0. A.C. Flora – Trey McCardle 8-13-1, Davis Rivers 1-1-0.
RECEIVING: Westwood – Noah Jennings 3-77, Jayden Harrison 3-9. A.C. Flora – Adonis McDaniel 4-31, Markel Townsend 1-(-7), Chris Lofton 3-7, Corey Woodard 1-20.