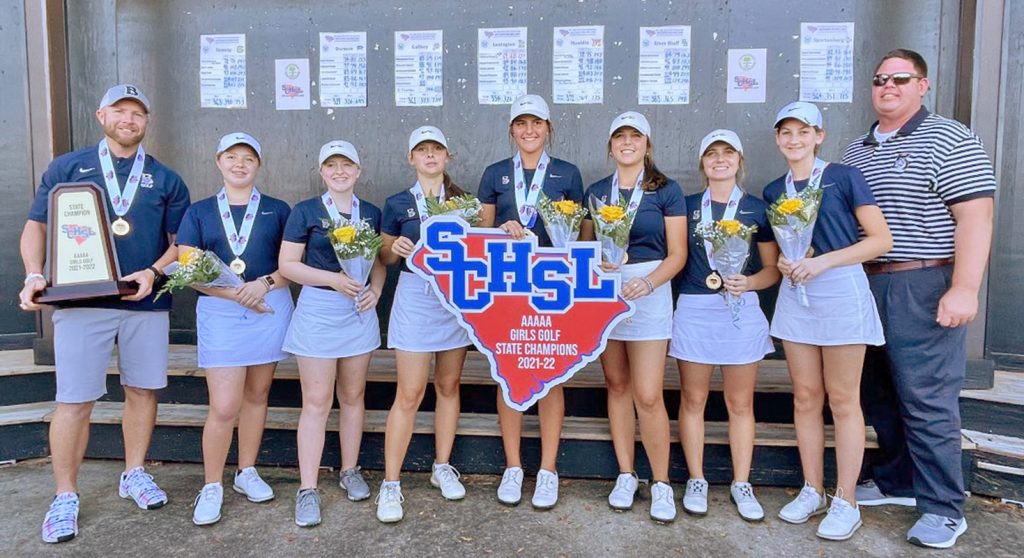 FLORENCE – Finishing high in the last golf tournament of the season has become a regularity for the Blythewood girls golf team in recent years, most notably with their capturing the 2019 5A state championship.
This time, the Bengals did so in dominant fashion throughout the year, concluding with a stellar state tournament performance at the South Carolina Country Club Oct. 25-26.
Blythewood came off the Par-72 course last Tuesday afternoon wrapping up a 2-day, 4-player total 583, 47 shots better than second-place finisher Chapin, to win their second state championship in three years.
"It felt different this year," Bengals head coach Jason Minkel said. "Not that it wasn't as big of a deal, not that the expectations were different. It was more like a perfect combo, for our girls to cap the season. We had been putting in the work. We finished four events under par, our season average was 290. It was a great culminating event, sort of the cherry on top."
For Blythewood's two seniors, Elizabeth Madden and Paige Paolucci, the tournament was a swan song of their careers, and their last time on the links as teammates. Paolucci had been golfing since the seventh grade, when Madden, already on the Blythewood team, got her interested.
"It's gonna be weird," Madden said about the aftermath of their high school careers. "We've been friends since we were toddlers."
Paolucci added, "I don't really remember a time when I didn't know her. We went to the same elementary school, played soccer and we were good friends. We were always interacting, then she started playing golf, and got me to play."
Since that time, the two had become a part of a team that had seen several runner-up finishes in the state tournament. The two were a part of the team's first state title win in 2019, and a part of finishing 32 strokes behind a dominant Lexington team in 2020.
"Lexington killed it," Paolucci said. "We wanted to redeem ourselves. We had a great team that year. We put so much work and effort into it. The Lexington team was great, but we were a really strong team too."
Once the scores were posted for 2020, Blythewood wasted no time in getting ready for the 2021 season.
"I think they had a little chip on their shoulders after State last year," Minkel said. "We lost no seniors, were full strength coming into the season. They had been working all summer and were out there in the spring with the boys team. They were definitely working."
What kept Madden, Paolucci, and this year's Bengals working wasn't so much the reward in a trophy or a low team score, but that this would be the Paolucci's and Madden's last season as teammates.
"We worked a lot individually and as a team," Madden said. "But a lot of our successes came from knowing that this was our last season together. Our team had been together for a couple of years now, and that really pushed us to win by the big margins that we did."
Blythewood won all 11 of their tournaments this year, by an average of 29.9 strokes, coming in under-par in four of those tournaments.
Madden said that dominance on the golf course came because all of her teammates, not just her and Paolucci, share a tight bond that permeates their daily life.
"It's so important," Madden said. "We eat lunch together at school, we do stuff on weekends. That's my group of friends that I hang out with. If there's a problem we're not scared to talk about it. It's just a comfortable space to be in, no judgment, we can be ourselves."
With that tightness comes the feeling that results in such a comradery: enjoyment.
"The motto for the year has been to enjoy each moment along the way," Minkel said. "We've been driving that home during practice. It was an easy way of saying to take each tournament one by one and not being concerned about what anybody else is doing."
By the end of the first round of the state tournament, Blythewood had zero concern for what anyone else was doing. The Bengals' finished with a collective 296, 17 strokes better than second place Chapin.
Caroline Hawkins led the team with an even 72, while Paolucci shot a 2-over 74 and Ella Stalvey and Madden finished with 75s. While the scores were head and shoulders above the field, the Bengals knew they could improve on their scores. Paolucci's in particular.
"A 74 is not great, but it's not terrible," she said. "I was hitting a lot of great shots where I could putt in a position of birdie, but me and my putter were not vibing. I had more 3-putts than I would have liked and that definitely impacted my score."
While she said she did good work from the tee box and the fairway, Poulizzi had five 3-putts on the first day, and bogeyed on the third, sixth, 14th, and 17th holes.
She fared far better the next day. In shooting a 67, she bogeyed the first hole, but had six birdies: the second, fifth, eighth, 11th through the 13th, and 17th holes. Paolucci chalks up her second round success on course knowledge, but also to it being her last round as a high school senior.
"It was sentimental. I wanted to enjoy every moment," she said. "I was competing with girls I was friends with, really trying to enjoy it. A lot of people were in town, my family, to support me. I wanted to have fun. The first hole was a bummer but I knew I would make it up and get that stroke back."
She said she focused on hitting the greens and making pars, which she did, and it enabled her to finish the front nine 2-under par and come in from the back nine three strokes under.
While Paolucci finished with a 141 and Madden a 150, Caroline Hawkins shot 72-73-145 and Ella Stalvey finished with a 75-72-147.
Stalvey had the team's only eagle of the tournament, which came on the Par 5 11th hole in the second round. She birdied just one hole, No.14 par 3, in the first round, but along with the eagle in the second round, she birdied the par-5 sixth even at 72.
Hawkins shot an even 72 on the first day. She had a disappointing double-bogey at the par-4 eighth hole on the second day, but she birdied the fifth, 11th, and 14th holes to salvage her round with a 1-over 73.
Going into next season, Minkel said he will miss the production of Paolucci and the consistency of Madden. Unlike this year, when Blythewood had lost no one to graduation, the Bengals will have to replace two in the starting lineup.
While both Madden and Paolucci will be missed, Minkel said Blythewood will return Stalvey, who will be a senior, and Hawkins, who will be an eighth grader.
"Those two are going to be our one-two punch," he said. "We've got another couple of other girls who are excited about returning, and will fill the spots. It's going to be a rebuild, but I think we can be successful."