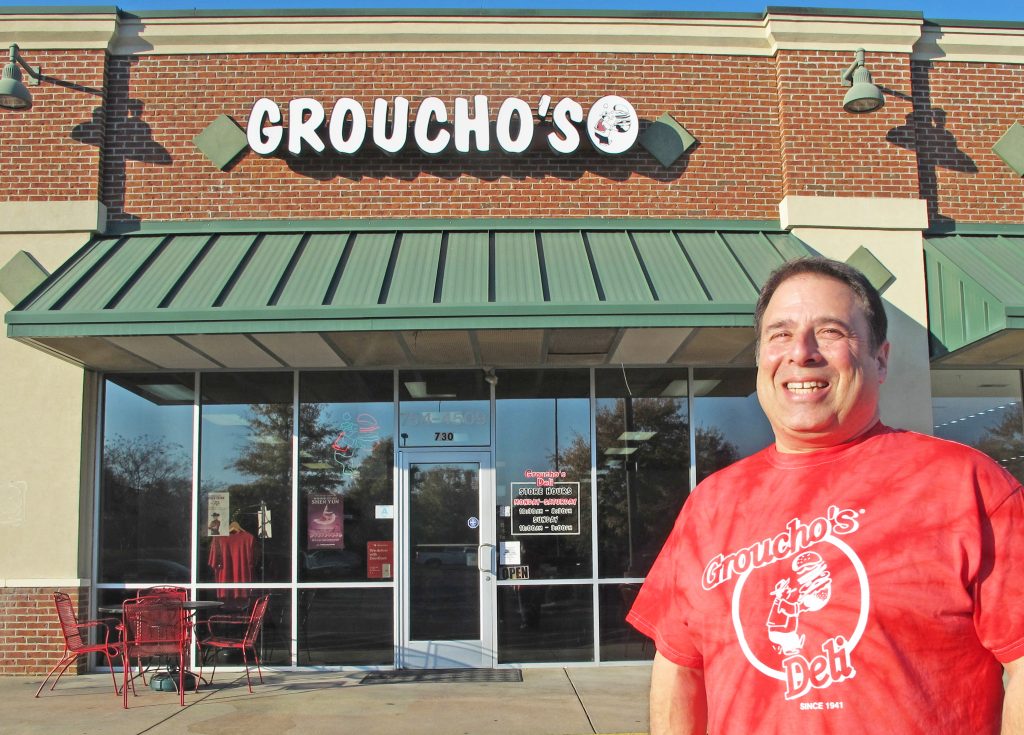 BLYTHEWOOD – Years ago, Marc Cohen told the friend who ran Groucho's Deli in Blythewood that if the restaurant ever came up for sale, he'd be interested in buying.
In the midst of the pandemic, his friend gave him a call – and Cohen was true to his word. He got the financing together, and bought the place. At 55, Cohen says owning and operating the restaurant is a dream that didn't fully take shape until after he spent decades in a different career.
"I had worked in retail and restaurants when I was going to school to pay for college, and I got to love the retail business. I loved interacting with people," says Cohen, a friendly, outgoing guy who then spent decades as a schoolteacher and administrator before deciding it was time for a change.
"During all the years I was in education, I liked teaching, but… I was never passionate about teaching. I always kind of felt like there was something else that I wanted to do and that had never really presented itself – until I got the phone call last year about this business."
In December, he left his job in education. In January, he began training to run the franchise. In April, he took over.
Groucho's, which specializes in sandwiches, is known for its dipping sauces, including its famous Formula "45," a secret sauce that's been popular since the restaurant's early days. A Columbia-based family-chain that's been in business 80 years, Groucho's has 30 locations (26 in S.C., two in N.C. and two in GA).
"Everything fell into place," he says of his decision to buy the restaurant despite the challenges the Covid-19 pandemic has posed to a lot of small businesses.
"Basically, I got into a really good situation because the store has been here for 18 years, so everybody in Blythewood already knows about Groucho's Deli. The staff that I had when I came in was already there and was a great staff."
For Cohen, a Detroit-area native whose family moved to Florida when he was a teen, living in the Columbia area started out as a compromise – but more than 20 years later, it's the place he calls home.
"While I was in Florida teaching, my wife and I met online," he says. "She was in Atlanta." They progressed from online chatting to phone calls to in-person meeting, and six months later he proposed. But they had a problem: neither liked the other's home location. That's how they ended up in Columbia.
In the years since then, they've raised their two teenage children here, Hallie and Josh. Cohen's wife, Melanie, is an administrator in the district office of Lexington School District 5.
These days, he says, he tries daily to outwork his (much younger) employees – and goes to work every day excited about his job.
"A lot of times I'll get up in the morning and my wife will say, 'Why are you going in so early?'" he says. "But I love to go to work in the morning. I like my job, and of course it's mine, so it means a little bit more to me than anything I was doing before."
Anyone can make a sandwich, he says, so quality and service are key – and that's what he focuses on.
"For people in Columbia and Blythewood and South Carolina, everybody knows about Groucho's Deli since it's been around since 1941," he says, "but a good bit of our business is people who drive down the Interstate and will stop in and see our sign who've never been here before."
It's different from a Northern deli with salamis hanging from the ceiling and all that, he says, but Groucho's has its own special flair – warm sandwiches called "dippers."
"The idea is to dip them in our house-made sauces." He says. "It's a really good sandwich. I've been here for almost a year, and I haven't had a bad sandwich yet," he quips.