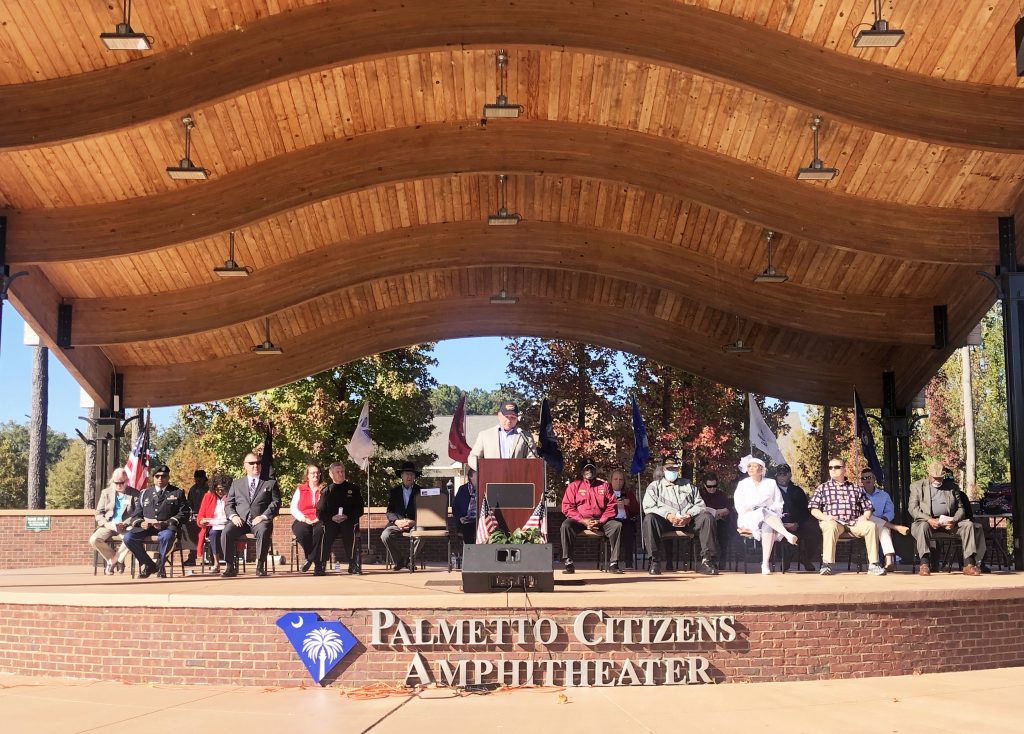 BLYTHEWOOD – The 6th annual Blythewood Veterans Day Celebration opened with welcomes from Master of Ceremonies James Ard and Doris Coleman representing the Blythewood Historical Society & Museum.

The celebration, which lasted from 10 a.m. – 5 p.m. Sunday, featured Richland County Sheriff Leon Lott, Commander of the S.C. State Guard, as guest speaker. Eight veterans from Fairfield County and Blythewood were honored for their service by being wrapped in Quilts of Valor by quilter Donna Royson. Maj. Keith Bailey (Ret.), a former Blythewood mayor, led those attending in the Pledge of Allegiance and later recognized members of the six branches of the military. Carolyn Lomas led the singing of the National Anthem, and her husband, Christie Lomas, recited the words to Johnny Cash's Ragged Ole Flag.
The sometimes emotional program ended with the singing of God Bless America. A military helicopter sitting in the farmer's market field then lifted off into a clear, sunny, windy fall sky. And everyone went home to the good life made possible by those who serve their country.
Photos: Barbara Ball

Blythewood Historical Society member and quilter, Donna Royson, right, prepares to wrap a veteran in a Quilt of Valor.
Sheriff Leon Lott, guest speaker

Doris Coleman welcomed guests, recalling her late father's service to America, not only as a soldier by as a member of the Secret Service who was assigned to watch over five U. S. presidents.

Christie Lomas recited the words from John R Cash's Ragged Old Flag.