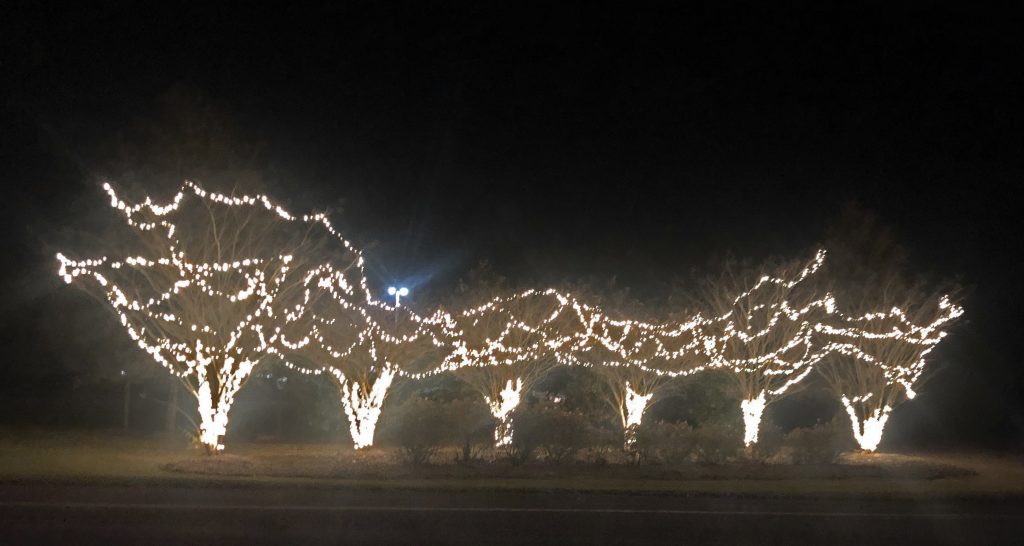 BLYTHEWOOD – At the behest of former Town Administrator Brian Cook, the Town of Blythewood stepped out last year like never before in its Christmas finery – lights everywhere, more lights than ever before wrapped around tree trunks and branches, outlining town hall and along the streets.
Cook, who left Blythewood at the end of last year to serve as assistant town administrator in Goose Creek, let it be known that the decorations last year were just the beginning. And first glance at this year's decorations at the I-77 interchange says he was right.
Current Town Administrator Carroll Williamson said last years' decorations were contracted out to By Design, a company in West Columbia. He said he's going to use them again this year.
In the approved FY22 budget, $35,000 was estimated for additional decorations this year from the state accommodation funds. More decorations are being added at the intersection of I-77 and Blythewood Road, both northbound and southbound exits.
Along I-77 south bound, crepe myrtle trees have been wrapped with Christmas lights this week, and a decorated full size red truck is planned by the Blythewood welcome sign if arrangements can be made for electrical hookup in that area.
At town hall, in addition to the decorations from last year, and instead of wrapping the tree trunks in lights as was done last year, the two oak trees on each side of the entrance feature sheets of cascading LED lights.
According to Williamson, By Design has added more decorations at a cost of $906.80 after the budget was approved. At the August town council meeting, council approved the additional costs to come from the state accommodations tax fund.
The town will be purchasing additional lights, decorations for town hall and the red truck, all one-time costs, he said.
In future years, the town will only be paying the labor and storage associated with the decorations. Of this year's total $35,906.80 cost, $9,143 is for labor.