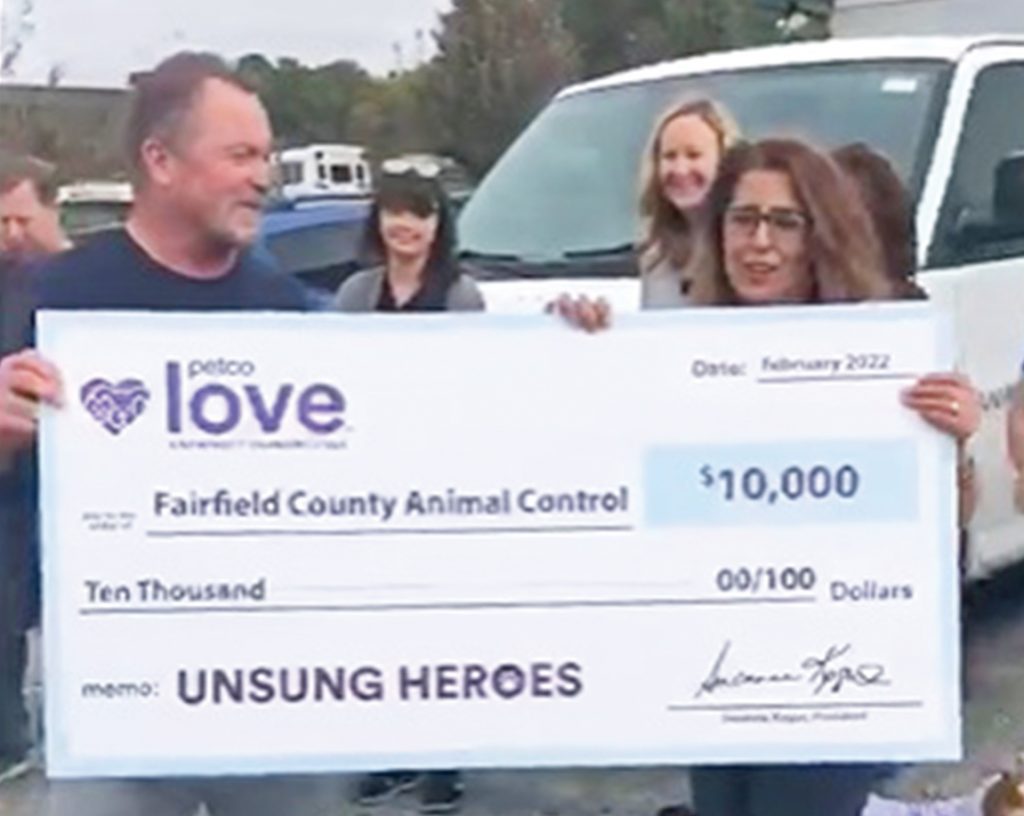 WINNSBORO – Last week, Petco Love recognized Fairfield County Animal Shelter volunteer Samira Yaghi as one of five Unsung Heroes in the nation for her hard work and devotion to helping the animals of Fairfield County.
The honor was accompanied by a $10,000 check for the Fairfield County Animal Shelter where Yaghi volunteers. As one of the five Unsung Heroes from across the nation, she is automatically entered into the People's Choice Voting Round which gives the public the opportunity to select the National Unsung Hero from the five Unsung Heroes. The Unsung Hero with the most verified votes at the end of the voting period will be named National Unsung Hero and receive a $25,000 grant award for their organization. Voting will be made available on www.petcolove.org/unsunghero in early 2022.
On hand for the surprise presentation by a Petco Love representative were Shelter Director Bob Innes, other shelter employees and several county officials.
Yaghi said all the money she receives from Petco Love is going to the donation account for a new county animal shelter. During this past year, the current shelter suffered an approximately $40,000 county government funding cutback. And it faces other obstacles to providing for Fairfield's high population of neglected and abused animals as well.
"Fairfield is a rural area and we get a large influx of animals," Yaghi said during the check presentation ceremony. "The challenges are housing these animals so we can have them and get them on to a better journey in their lives. Our goal, of course, is a new shelter that can provide better housing and a safer environment. This money will go toward that" Yaghi said. "I can't thank you enough. This is a group effort."
Yaghi was nominated for recognition by Innes and the county's grant writer, Shelly Fentress who submitted the application, photos and a heartwarming video of Yaghi working with the shelter's animals.
"Sam is everything one might think of when they hear of an unsung hero," Fentress wrote in the Unsung Heroes nomination application. "She works and lives in another county and for the last five years, drives an hour to get to the Fairfield shelter after a full day of work and after fulfilling her responsibilities to her own pack of seven rescued shelter dogs."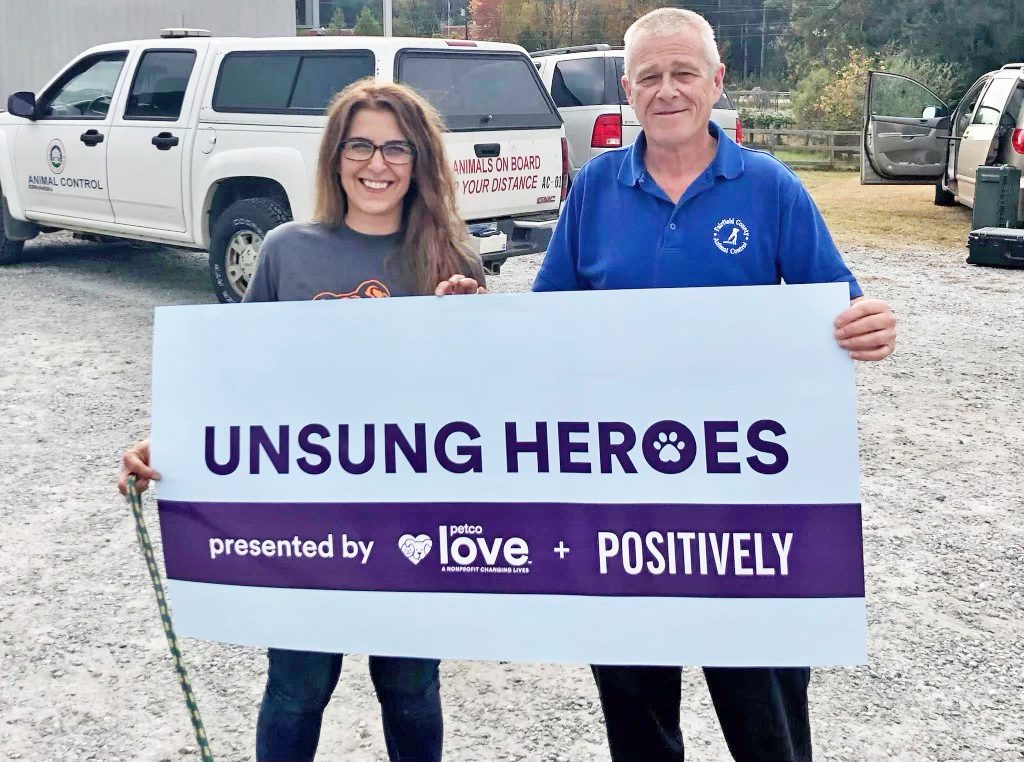 When an animal comes in to the shelter, Yahgi takes their pictures, field tests them with cats and her own dogs, videos them for the shelter's Facebook page, writes down their history, and sees to their varying needs.
"It is not uncommon to see Sam sitting with an especially lonely animal just giving it love and attention as it transitions to its new home in the shelter," Fentress said. "Many of the animals have been starved and/or abused. They are scared, lonely and sometimes extremely depressed and have a difficult time adjusting to shelter life. She sees them through it all. Once the process is finished, she then goes through the whole process again with a new intake. Sam is often here for hours giving her time to help every one of the animals individually. She loves them and they love her back."
If an animal comes in with injuries severe enough to require immediate veterinary care, Yaghi raises the needed funds or pays from her own pocket, and often drives them to the vet in her own vehicle.
Since Yaghi came to work at the shelter in 2016, no creatures have required euthanasia due to space limitations. Not one cat. Not one dog. She is credited with saving the lives of 4,000 dogs and cats, two pigs and a donkey by finding them homes or by working with rescue organizations who find homes.
The shelter staff members say Yaghi loves every animal that comes through the shelter door. They say she loves them as she would her very own. She fosters, transports, networks, donates and never gives up on any of them.
"She wears her heart on her sleeve," Fentress said, "and will fight to the end to find them the placement they need, all the while knowing that tomorrow the fight begins for another group of animals.
"She's truly an unsung hero to the shelter staff and to the animals she has personally saved in the last five years," Innes said. "Her commitment and passion are simply amazing!
"I really don't know what we would do without her," Innes said. "When it comes to animals who need help, Sam is tireless and selfless."
To view a video of some of Yaghi's work at the shelter, go to https://youtu.be/h66I7HUKD5s
Please help the animals of Fairfield County by making a donation through this PayPal Fundraising Link – https://www.paypal.com/donate/?hosted_button_id=VH7SGXGDEFZYU All funds donated here go towards building a new animal shelter in Fairfield County.
"There are Unsung Heroes all around us, in every community, helping us get one step closer to creating a lifesaving nation. These inspiring stories prove the difference that one person can make in creating a better world for pets." – Petco Love