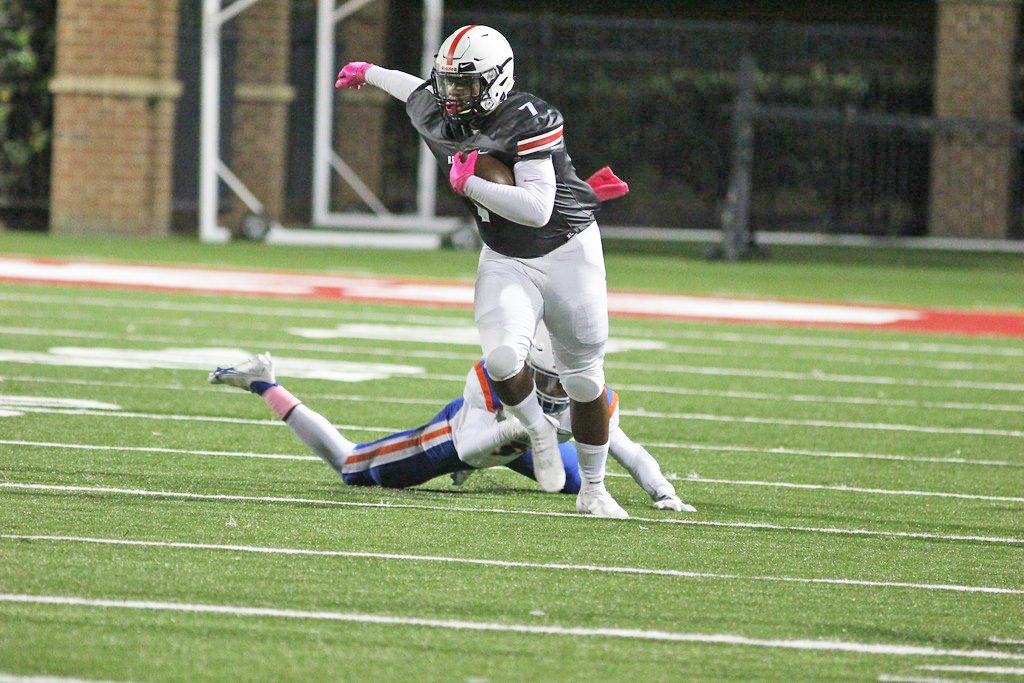 BLYTHEWOOD – Friday's 22-7 victory over Richland Northeast wasn't pretty for the Westwood football team, but the Region 4-4A win pushed the Redhawks into a 3-way share with A.C. Flora and Irmo for the region championship.
It's the first region crown for the football team in the 10-year history of the school.
"There's a three-way tie, but co-region champs, I'll take it," third-year Redhawks head coach Matt Quinn said. "It's the first time in school history that Westwood has done this. I'm just proud of our kids and we're looking for a home playoff game now."
As the No.2 seed, Westwood plays host to the No.3 seed in Region 3, Catawba Ridge. Catawba Ridge (5-4) finished 2-2 in its region.
A.C. Flora, which defeated Dreher 74-0 to finish 8-1 overall and 4-1 in the region, got the No.1 seed. Westwood (5-4, 4-1) lost at Flora earlier in the season but upset Irmo two weeks ago, which gave them the No.2 seed and puts the Yellow Jackets (6-3, 4-1) at No.3. Irmo defeated Lugoff-Elgin 17-10 Friday and will go on the road to play York. The Cougars fell to Region 3 champion South Pointe Friday.
Against Richland Northeast, the Redhawks didn't need much offense, just 258 total yards on 46 plays. The Westwood defense kept the Cavaliers (3-6, 1-4) contained enough to stifle any threat to score until late in the game.
"We played a little conservative in the first half," Quinn said. "I didn't like the way we came out, but the good old quote is 'I'll take the ugly win over the pretty loss any day.'"
Jeremiah Jennings intercepted a Dylon O'Neal pass on Richland Northeast's first possession of the game, but the Redhawks went backwards and were forced to punt.
The Redhawks then forced the Cavaliers to punt, took over on their own 16-yard line, and from that point began the only scoring drive of the half. Brown engineered the slow 84-yard, 19-play drive that straddled the first and second quarters.
That drive nearly fizzled.
An offensive pass interference was called on Noah Jennings when he went for a pass in the end zone on fourth and goal. The pass fell incomplete, but the penalty was assessed from the 2-yard line and put the Redhawks on the RNE 17. A false start put them back even further on the 22-yard mark.
Westwood got a clutch play to get on the scoreboard. Brown took the snap, rolled to his left, and chucked the ball into the back of the end zone, where Jordan Jenkins ran past the goal post to the left corner of the end zone and caught it for the score.
Nearly eight minutes of scoreless play followed.
"We really got off to a slow start, there's no other way around it," said Ramsey, who finished the night with 92 yards on 14 carries. "We've gotta come out and do better. We were supposed to blow this team out and we didn't show up."
The Redhawks did start the second half quickly, starting up a 9-play, 56-yard drive capped with a 6-yard Justin Milligan touchdown run. Milligan ran in the 2-point conversion and the Redhawks took a 14-0 lead.
Westwood got its third score with 3:17 left in the game, closing out a drive fed with Lavelle Ramsey runs with another Milligan TD run from four yards out. Zyere Lee caught a Camren Brown pass in the end zone for the 2-point conversion.
And with that post-touchdown completion, the scoring summary was in the books for Westwood.
Brown completed just five passes on the night, and just one to star receiver Noah Jennings. Jennings, who had 100-plus yards in catches for the past three games, had just one reception for 17 yards.
"Going into the game, we knew that everybody was had high expectations of us," said Milligan, who finished the night with 61 yards and two scores on 12 carries. "We're going to play a team that's not as talented as us across the board. We know we should have come out and did what we wanted to do, but we didn't make it happen."
The Redhawks defense made it happen, sacking RNE quarterback Dylon O'Neal three times and holding the Cavaliers to just 37 net rushing yards and 74 passing yards.
Westwood looked to close out a shutout, but O'Neal connected with three different receivers on a quick drive in the final minutes. His last pass, to Avonte Grant with 1:08 left, put RNE on the scoreboard and avoided the goose egg.
The Cavaliers recovered the onside kick, but the Westwood defense forced a turnover on downs with less than a minute to go in the game.
"We got the dub, that's all that matters," he added. "But going into next week, we've gotta come out real strong."
Milligan talked about how non-region play, in which the Redhawks went 1-3, helped to season the team, and prepare it for region play. The Redhawks learned to be a better team from its defeats.
"I know tonight didn't go how we wanted it to on the scoreboard, but we still got the win in the end," he said about Friday's game as an example. "We leaned on each other, because that's what the good teams do. We don't come out expecting to do everything by ourselves. My boy Lavelle had some key runs that led up to my touchdowns. We're all gonna lean on each other and do as we do."
Richland Northeast – 0-0-0-0 – 7
Westwood – 0-6-8-8 – 22
Second Quarter
W – Jordan Jenkins 22 pass from Camren Brown (run failed) 7:40
Third Quarter
W – Julian Milligan 6 run (Milligan run) 8:25
Fourth Quarter
W – Milligan 4 run (Zyere Lee pass from Brown) 3:17
R – Avonte Grant 23 pass from Dylon O'Neal (Jose Sanchez kick) 1:08
RNE Westwood
First Downs 12 17
Rushes-Yards 35-37 34-178
Passing Yards 74 80
Att-Com-Int 17-7-1 12-5-1
Fumbles-Lost 2-0 0-0
Penalties-Yards 8-47 10-90
Punts-Avg 5-26.6 3-37.3
INDIVIDUAL STATISTICS
RUSHING: RNE – Sione Samson 11-22, Dylon O'Neal 14-(-12), Jamari Parker 5-33, Avonte Grant 1-5, Semaj Pixley 1-(-7), team 3-3. Westwood – Julian Milligan 12-61, Camren Brown 7-31, Lavelle Ramsey 14-92, Noah Jennings 1-(-6)
PASSING: RNE – Dylon O'Neal 7-17-1. Westwood – Camren Brown 5-12-1.
RECEIVING: RNE – Avonte Grant 2-33, Styles Lantlot 1-15, Enosh-Phillipe-Jean 1-20, Zackery Watkins 1-11, Jordan Worthy 1-(-4). Westwood – Jaylin McDuffie 2-42, Jordan Jenkins 1-22, Noah Jennings 1-17.