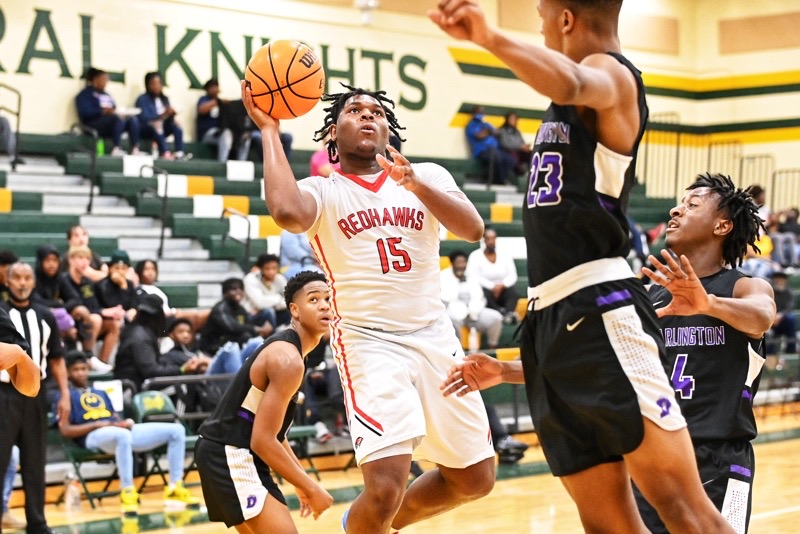 CAYCE – While there are likely many moments from the Cayce Roundball Classic that Westwood will remember, perhaps it's the thriller overtime win, complete with a buzzer beater in regulation, against Hartsville on Dec. 21 that will stick out the most.
With a one-point lead at halftime, Westwood and Hartsville traded leads throughout the second half. Regulation ended with a 50-50 tie, but the Redhawks put up 12 to Hartsville's 7 in overtime to clinch the 62-57 win.
Westwood was led by Arden Conyers with a double double. Conyers put up 15 points, snagged 15 rebounds and had two blocks.
The Redhawks took to Cayce the following day to face Dutch Fork. The fell behind in the first half 25-31and were not able to make up the deficit as the Silver Foxes outscored Westwood 32-28 in the second half. Dutch Fork took the 63-53 win.
Westwood went on to battle Northwestern on Dec. 23 for third place in the American Bracket of the Roundball tournament. The Trojans bested the Redhawks 57-41.
Conyers, named to the All Tournament team, finished the tournament averaging 18 points, 7.3 rebounds and 1.3 blocks per game.
The Redhawks took down Darlington 72-60 in the first annual Knight Holiday Classic at North Central High School on Dec 18.
Conyers led with 22 points, followed by Jaylin McDuffie with 14 and Khalil Donald with 13.
Up next, Westwood (5-8) will face off with Sumter in an away contest on Jan. 4 before returning to The Castle on Friday, Jan. 7 for their first region contest of the season against A.C. Flora.
Flora is 13-2 on the season, but lost to Hartsville 49-47 in November. They defeated Dutch Fork twice, 49-34 and 51-47.