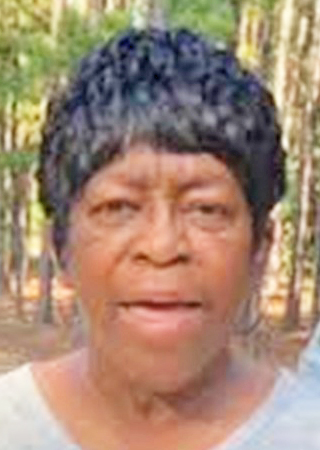 Lelia Mae Woodard was born in Winnsboro, South Carolina to the late Alice and Woodrow Wilson Woodard. Lelia attended Old Fairfield High School and enlisted in Job Corp. She worked in many locations throughout the county: Charm Corporation, Tanglewood, Louis Rich, The Sewing Room, and The Road Runner. Her last job was in the Maintenance Department with Fairfield County. Lelia was a long­time member of Shady Grove Independent Church.
Lelia Woodard was preceded in death by her late husband James E. Moore, mother Alice Woodard, father; Woodrow Wilson Woodard, sisters; Frances Woodard and Debbie Woodard, brother; Woodrow W. Woodard, Jr. and a great-granddaughter; Zariah Robinson.
Lelia leaves to cherish her children: Gregory (Harriet) Woodard, Albertha Woodard, Tableau (Derrick) Bates, and Matthew (Octavia) Woodard, her siblings; Margie (Marcus) Young, Sara Woodard, George (Mary) Woodard, Daisy McGraw, Keith (Deborah) Woodard, John (Mildred) Woodard, Linda (Larry) Gaither, James (Michelle) Woodard and her grandchildren; Deloise Woodard, Monique Woodard, Ayana Martin, DaYan Woodard, QuaShon (Ashlynn) Whitener (raised as a son) Ashle' Bates, Ashonte' Bates, Detrick Bates, Derricia Bates, Dajon Bates, Kerrisha Woodard, Jaymoni Woodard (raised as a daughter), and Jalen Woodard. Lelia also left behind 13 great grandchildren.
Lelia left behind a few special friends: Rose and Norwood McClain, Norma Branham, and Diane Johnston.