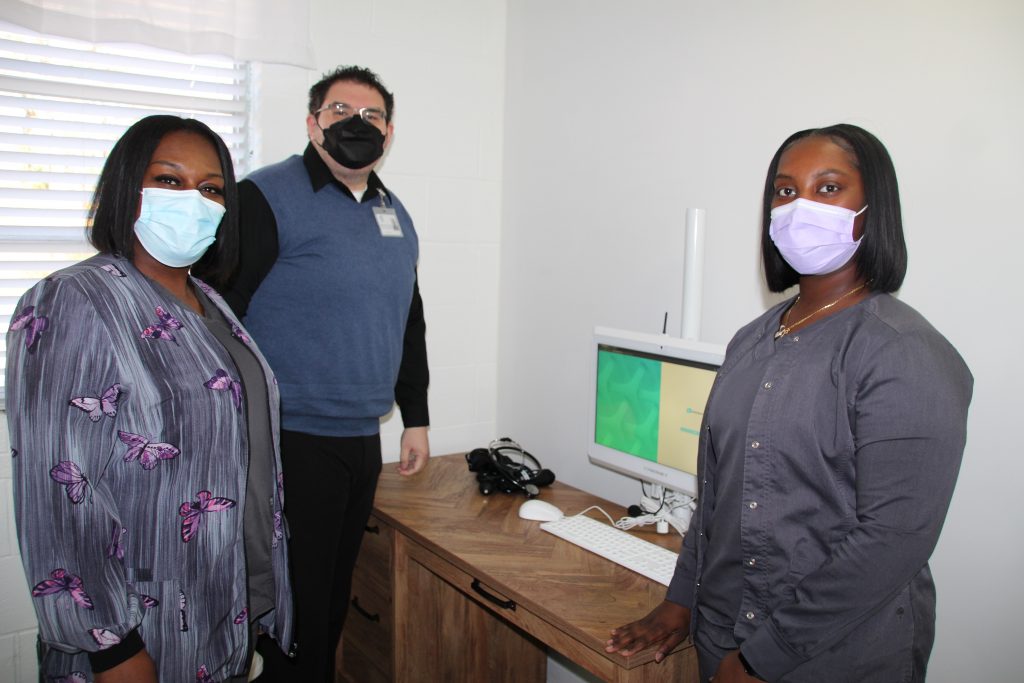 WINNSBORO – Cooperative Health launched the first of its Virtual Care kiosks on Jan. 4, at Blackjack Baptist Church in Winnsboro.
This method of delivering health care services allows patients to see a provider virtually via a telehealth kiosk. Using virtual care, a provider can treat the patient remotely for primary care and/or offer counseling and wellness services, according to officials at Cooperative Health. Based on the virtual visit, the provider can even issue prescriptions to the patient from the kiosk, if necessary.
The Rev. Dr. Preston Harrison, pastor at Blackjack, thanked Cooperative Health for bringing this service to his church and community.
"This is a great day in Fairfield, and I want to thank Cooperative Health for bringing this service to our church and community," the Rev. Dr. Preston Harrison, pastor at Blackjack, said. "We are excited about the partnership and look forward to serving the community in this capacity. This helps fulfill our mission to bring the church to the community and the community to the church."
Officials at Cooperative Health, a Columbia-based community health center, operates health care facilities in four counties of the Midlands, including clinics in Blair, Jenkinsville, Ridgeway and Winnsboro, and plans to expand Virtual Care to several other congregations throughout its service area in the coming months.
For a list of health care conditions that can be treated at Blackjack, see the Virtual Care ad below.
"Cooperative Health is excited to partner with outstanding organizations like Blackjack Baptist Church to expand access to quality healthcare in the communities we serve. While virtual care cannot provide as robust a visit as the traditional provider's office visit, it does bridge the 'access to care' gap especially in rural com munities," said Peatra Cruz, Chief Organizational Development Officer for Cooperative Health. "Virtual Care specializes in managing chronic conditions for patients 18 to 64. In addition, virtual care is available for counseling and wellness services and primary care for non-urgent medical problems."
Virtual Care visits are available every Tuesday at Blackjack Baptist Church, located at 178 Reservoir Road in Winnsboro, from 9:00 a.m. to noon. Appointments are encouraged, but walk-ins are welcome. Call 803-722- 1822 to schedule a Virtual Care appointment.