BLYTHEWOOD – The Westwood boys basketball team worked all night trying to get a cushion of a lead on Richland Northeast Tuesday night at The Castle, but every time the Redhawks caught a break or made a play, the Cavaliers were not far behind to steal the momentum away.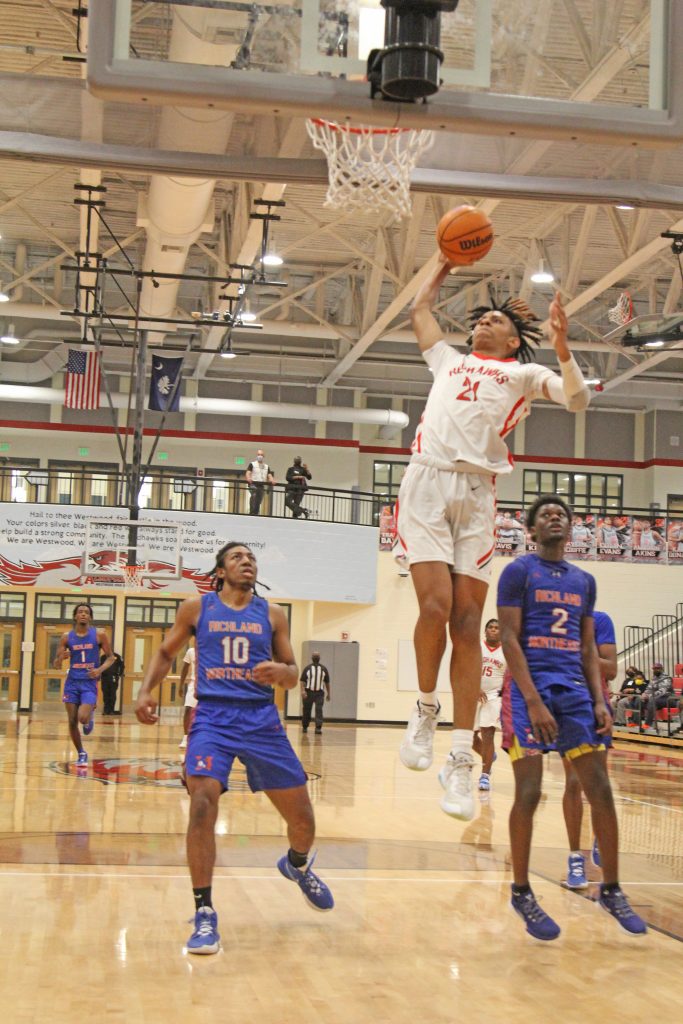 Such was the case in the final minute, when RNE's Twain Wilson made good on a 3-point play to make it 54-52. Arden Conyers took an inbound pass from K.J. Rowan, flew down the court and drew a foul in the lane with 37 seconds left.
Conyers made two foul shots to tie the game at 54. Then teammate Bryson Felder stole RNE's inbound pass and made a quick basket to give Westwood a 56-54 lead with about 30 seconds left.
All Westwood needed was a defensive stop, but RNE's Avante Grant got not only one, but two baskets in 20 seconds to give the Cavaliers a 58-56 lead with 9 seconds left.
T.J. Bell brought the ball out for the Redhawks and tried to work past the RNE press, but he tripped around midcourt and O'Mantae Daniels snatched up the basketball. Westwood called a timeout with less than a second left.
Westwood got its hands on the inbound, but the buzzer solidified the Cavaliers 58-56 win over the Redhawks.
"We weren't disciplined enough to take advantage of certain things," Westwood head coach John Combs said. "We got a steal there to get a two-point lead, then all of a sudden we gamble on an open look and,… we just have to be more disciplined, offensively and defensively, to close out a good game like that."
Westwood (7-12, 2-3 Region 4-4A) got off to a solid start, taking a 14-9 lead after the first quarter. RNE (8-7, 2-3) snuffed that lead after a defensive second quarter, and the Redhawks went to the locker room with just a 21-20 lead.
The battle heated up in the second half, with four lead changes in the third quarter and eight in the fourth.
RNE and Westwood essentially exchanged shot for shot in the third, but the Redhawks did manage to build a 31-25 lead on the Cavaliers by the 5:19 mark. The run from the start of the third was only 10-5 in favor of Westwood, but 3-pointers from Felder and Bell, technical foul shots from Jaylin McDuffie, and a short-range basket from Felder made it seem like the Redhawks were looking to close out their region rival.
Not so. The Cavaliers got scores from Zackery Watkins and Marquez Smith Jr., and from there on out RNE stayed within a shot of the Redhawks.
Conyers opened the fourth quarter with a steal and a dunk to make it 41-38, but the crescendo of the Westwood crowd did not deter the Cavaliers.
Justice Johnson answered that shot with a quick strike on the basket, Watkins followed up with a bucket to give RNE a 42-42 lead, and so it went, shot for shot, from the 6:32 mark until those fateful seconds at the end, where once again Westwood thought it had found a solution for the game, and ended up on the light end of the scoreboard.
"It was very important for both teams. Richland Northeast needed it bad, we needed it bad," Combs said. "Both teams are making shots for a stretch, and we end up trading the lead back and forth. It's a fun and exciting game to be a part of, but it really stinks when you lose."
Conyers finished the night with 15 points to go with Felder's 14. Bell scored 12 points.
Smith led the way for RNE with 15 points. Wilson had 12 points and Johnson had 10.
Westwood is at home against region leader A.C. Flora (18-3, 5-0) Friday. The Falcons dismissed Lugoff-Elgin 86-53 Tuesday, and Combs said his team is perfectly capable of competing hard against them if they clean up their mistakes.
"I like the group that we coach here. This is a good group of young men," he said. "We've just got to continue to get better, learn from our mistakes, and learn from the things that we did well. The reward now is to play the No.1 team in 4A Friday night."
Westwood Girls
The Westwood girls (12-6, 4-0) played their first game in 10 days against Lugoff-Elgin Monday night, and had no trouble with the Demons or with RNE Tuesday. The Redhawks dismissed Lugoff-Elgin 78-10 and took out the Cavaliers with a 74-14 finish.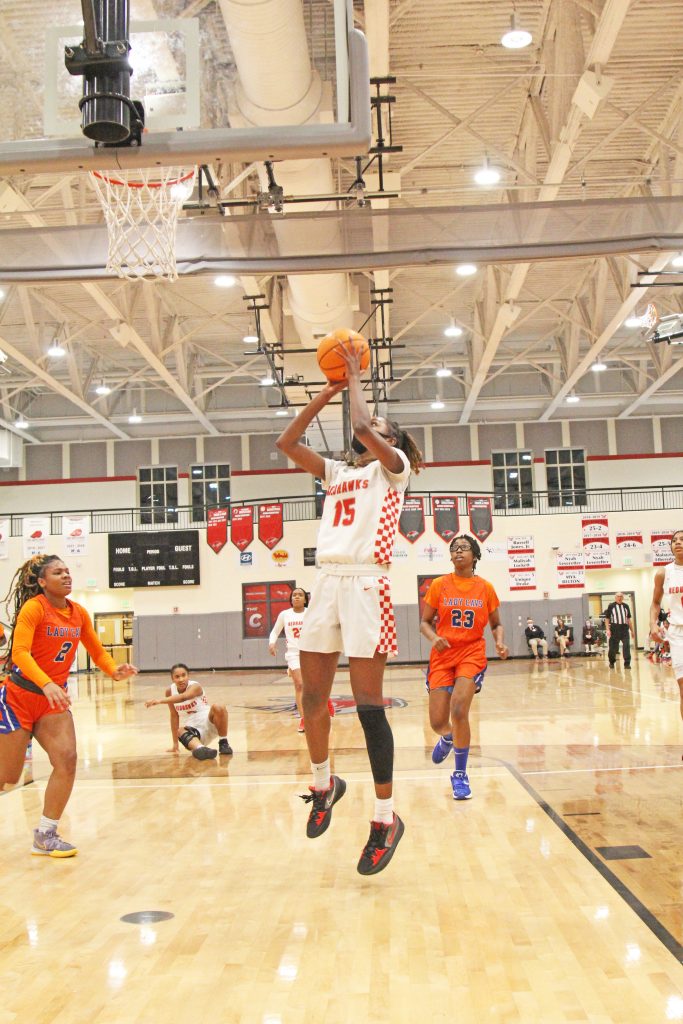 "Our goal last night as well as tonight was to get back to being game-ready," head coach Gregory Bauldrick said. "Everything we wanted to do, both last night and tonight, with no disrespect to those programs, we were able to do."
What that amounted to was getting all the girls on the court at one time or another. Bauldrick subbed the whole team regularly Tuesday night. Korletta Daniels led the way with 16 points, with Raven Johnson scoring 11 and Makiah Thompson 10. Ten Redhawk players scored at least one basket.
Getting everyone on the team involved in games will get Westwood ready for the second half of region play, which begins Friday at home against Flora, Bauldrick said. The Redhawks opened the region with a 57-39 victory over the Falcons Jan. 7.
"Our target is one-at-a-time, and each time you are preparing for other things," Bauldrick said. "Right now the other thing for us is Flora."
Boys
Richland Northeast – 9-11-18-20 — 58
Westwood – 14-7-18-17 — 56
Richland Northeast – Marquez Smith Jr. 15, Twain Wilson 12, Justice Johnson 10, Daniels 7, Grant 6, Watkins 4, Wilcher 2, Islam 2.
Westwood – Arden Conyers 15, Bryson Felder 14, T.J. Bell 12, McDuffie 9, King 4, Rowan 2.
Girls
Richland Northeast – 3-0-7-4 — 14
Westwood – 21-18-24-11 — 74
Richland Northeast – Gadson 7, Harris 2, Hoosey 2, Brown 2, Griffin 1.
Westwood – Korletta Daniels 16, Raven Johnson 11, Makiah Thompson 10, Brown 7, Chatman 6, Woods 6, Davis 5, Williams 4, Coleman 3, Branch 2.