BLYTHEWOOD  – Zeke Washington was hot after time ran out on the Blythewood basketball team Tuesday night at The Jungle.
The Bengals head coach made his way to the locker room after his team's 76-57 loss to Region 4-5A rival Northwestern, spent less than five minutes with his players, then left to join his coaching staff in a nearby classroom.
The locker room's door is fixed with a door closer to prevent slams, but the way Washington left the scene, a slam-like crescendo could be heard up and down the hallway.
"When people outrun us, it's bad," he said after talking the night over with his coaches. "That's what we pride ourselves on, but right now, we just didn't play with any pride. We didn't have no pride. Sometimes you just gotta dig, but we didn't have nothing."
Blythewood (9-11, 3-2 Region 4-5A) struggled noticeably throughout the game against the Trojans (15-6, 4-2), who edged the Bengals 64-63 in Rock Hill just over two weeks ago.
In just over five minutes of play the teams were tied at six, but Northwestern finished the first quarter with a 15-12 lead.
The Trojans' ferocity—and Blythewood's struggles—were more evident in the second quarter, which Northwestern won 20-11 to take a 35-23 halftime lead.
Blythewood had 13 turnovers to Northwestern's five in the first half.
Jayden Boyd, a 6-7 forward, along with 6-3 small forwards William Brooks and Omari Bryson, and 6-4 guard Jalen Burnett used both height and speed on defense to push out Blythewood scorers and create turnovers they converted to easy baskets.
Blythewood needed to work on cutting into Northwestern's 12-point lead in the third quarter, but every time Blythewood scored, a Trojan would quickly move down the court and return the favor.
The Bengals got within eight points at the 5:38 mark of the third, but the Trojans took a 44-31 lead on a Brooks 3-pointer followed up by a Burnett basket.
The closest the Bengals came to evening the score was when Samaad Wright finally found his 3-pointer touch near the baseline and drained back-to-back 3s by the 2:30 mark of the third quarter. Those two buckets cut the Trojans' lead back down to 44-37 and revved up the Blythewood crowd.
Just as quickly came Northwestern scorers to ice The Jungle down again. Brooks hit on a midrange jumper and while Blythewood's Jaylin Ricks made one of his own, C.J. Broughton sank a basket and Brooks drained his second 3 of the night to give the Trojans a 51-39 lead in the final minute.
Jermaine Nelson finished off the third quarter with a 3 just before the buzzer that at the very least gave the Bengals a nudge at erasing the deficit through the fourth quarter.
Instead, a fleet Northwestern team eased past the noticeably winded Bengals, whose shots often fell short of the net while Trojan shots fell into the net surely. They closed out the fourth quarter and the win with a 25-15 run to beat the Bengals by 19 points.
Randy Kelly finished the night with 19 points. Wright had 15 points and Nelson put up 11. The Bengals shot 22-for-49, or 44.9 percent.
Northwestern shooting was far more accurate, as the Trojans went 29-for-47 from the floor, good for a 61.7 percentage.
Boyd led all scorers with 20 points. Brooks finished the night with 18 points and Bryson added 15 and Burnett 14.
"We just didn't play well. No pride. We imploded," Washington said. "We gotta have pride, and we can't make excuses for that (not playing well). Sometimes we provide people with too many excuses. And it starts with me. I've got to do a better job."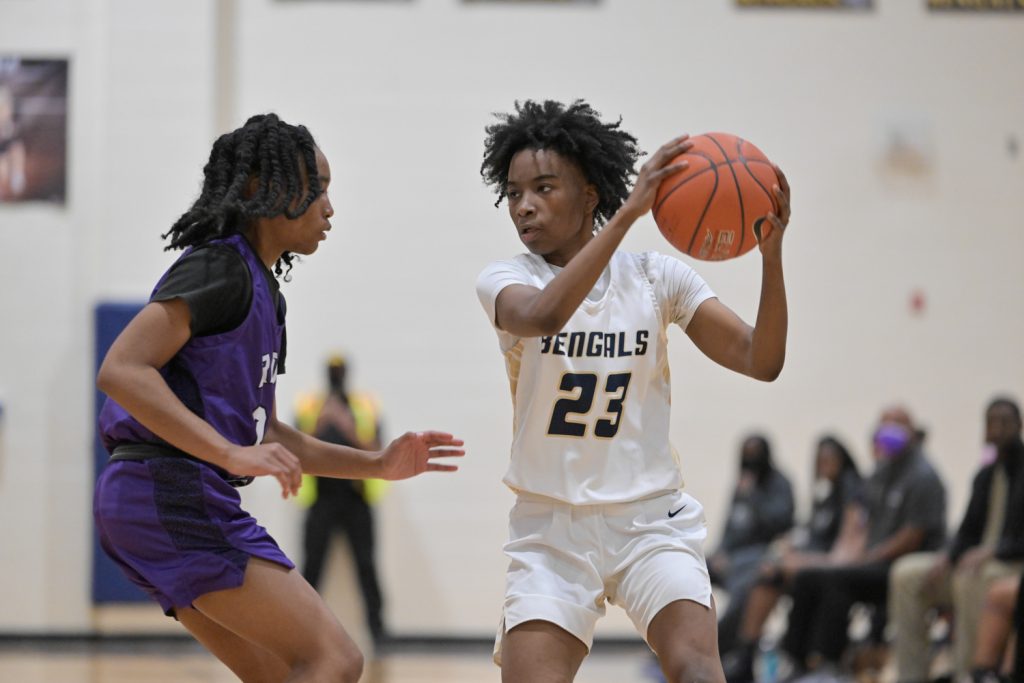 In the girls game, Northwestern (15-5, 5-1) eased past Blythewood (0-16,0-5) 50-9 with a running clock in the second half.
Blythewood plays host to Rock Hill Friday and is at Spring Valley Tuesday.
Boys
Northwestern – 15-20-16-25 — 76
Blythewood – 12-11-19-15 — 57
Northwestern
Jayden Boyd 20, William Brooks 18, Omari Bryson 15, Jaden Burnett 14, Bryson 5, Pope 2, Broughton 2.
Blythewood
Randy Kelly 19, Samaad Wright 15, Jermaine Nelson 11, Williams 8, Ricks 2, Coker 2.
Girls
Northwestern – 12-20-12-6 — 50
Blythewood – 0-4-1-4 — 9
Northwestern
Darby Grigg 20, McKenzie Evans 11, Cunningham 8, Outen 4, Ervin 2, Starr 2, Fox 2, Mayberry 1
Blythewood
Green 4, Jackson 2, Fluker 2, Mastin 1.