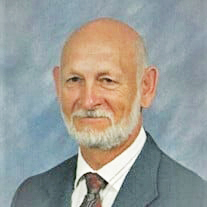 Butch Royson, 76, of Ridgeway, died Friday, February 18, 2022. Born April 15, 1945, in Sumter, SC, he was a son of the late William Thomas Royson, Sr. and Elizabeth Brunson Royson. In addition to his parents, he was preceded in death by his brother, Michael Royson.
Prior to his retirement, Butch was employed at DuPont in Lugoff, SC, for over 47 years. Always on the go, Butch also owned and operated a successful lawn care business. He was a man of deep faith who read his bible daily. Butch was a dedicated member of Sandy Level Baptist Church in Blythewood. He served the church in many capacities, including, Deacon, Sunday school teacher, and Chairman of the building and grounds committee, just to name a few. Butch loved to spend time outdoors. Some of his favorite hobbies were golfing, camping, hunting, fishing, woodworking, and riding his Harley Davidson. When he was younger, Butch played softball and volunteered as an Umpire. Of all his accomplishments, Butch was most proud of his family and the joy they brought him.
Survivors include his wife of 42 years, Debbie Baxter Royson; children, Lee Royson (Donna) of Blythewood, Bryan Royson (Laurie) of Columbia, and Andrew Royson (Katie) of Blythewood; grandchildren, Courtney Royson, Anthony Giugliano (Jennifer) Callie Royson, and Coty Royson; great grandchildren, Maria and Jonathan Giugliano; brother, Bill Royson (Susiene) of Elgin; sister, Linda Royson of Sandy Run; as well as numerous nieces, nephews, and other extended family.
The funeral service for Butch was held at 2 o'clock, Monday, February 21st, at Sandy Level Baptist Church, 408 Blythewood Rd, Blythewood, SC 29016. Burial immediately followed in the church cemetery.
The family received friends prior to the funeral service in the church fellowship hall beginning at 1 o'clock.
In lieu of flowers, memorials may be sent to the Oliver Gospel Mission, 1100 Taylor St., Columbia, SC 29201 or by visiting OliverGospel.org.