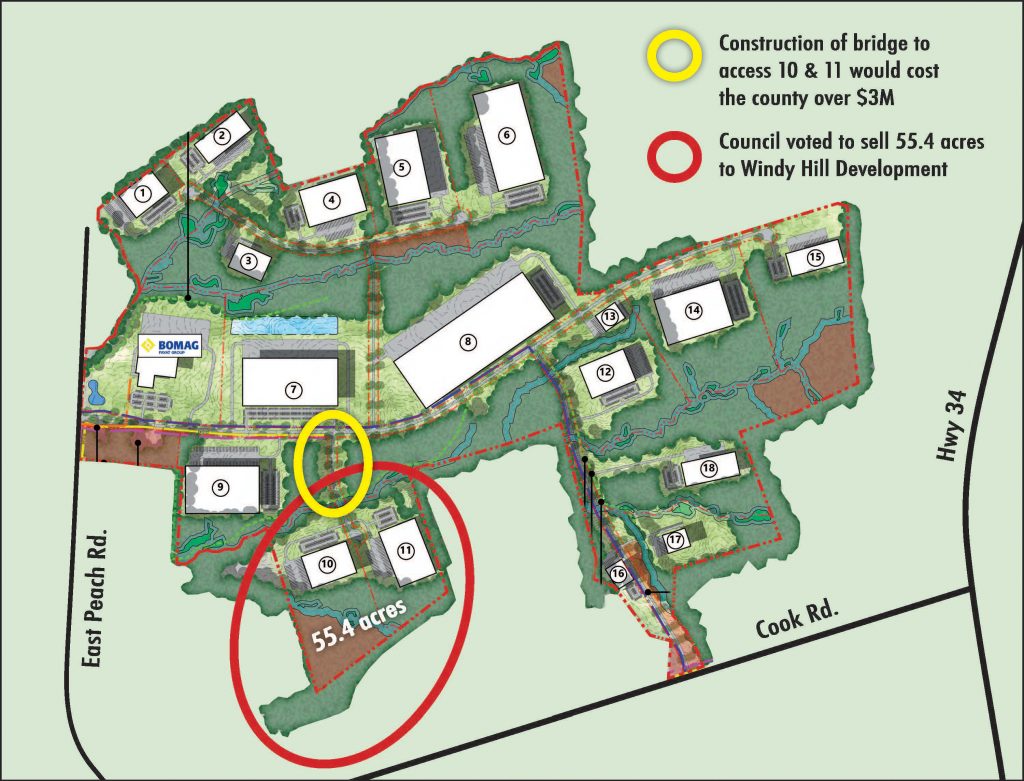 WINNSBORO – Fairfield County plans to spend $500,000 toward the construction of a $5M spec building across from Bomag in the Fairfield Commerce Center off Peach Road.
The county also plans to sell two undeveloped properties (circled in red on map) and ease design restrictions on those properties in the hope of making them more conducive to development.
Council members approved second reading of the two ordinances Monday night that will make the sale and the easing of the design restrictions happen. Third and final reading of the ordinances is required before they take effect.
The $500,000 expenditure passed unanimously, while the other two votes – for the sale and design restrictions – passed 5-2 with council members Mikel Trapp and Tim Roseborough opposing.
Neither Trapp nor Roseborough explained their dissenting votes.
Current plans for the spec building call for a 100,000-square-foot space with the potential to expand to 250,000 square feet, said Zachariah Willoughby, project manager for Fairfield Economic Development.
Fairfield County has already received $2 million from the recent Dominion Energy settlement and $2.5 million from the S.C. Department of Commerce to help build the spec building, with the county adding $500,000 (proceeds from the sale of a spec building in 2020.)
Willoughby said the two parcels being sold consist of 55.4 acres that appraised for $155,000, or twice the amount the county previously paid to acquire them. He said the land is essentially undevelopable for the county, noting it would cost $3.6 million to build a bridge to access the property.
"For us to recoup the loss of $3.6 would require at least a $200 million investment and this could take up to 20 years to get that money back," Willoughby said.
Based on $3.6 million construction costs, the county would have to sell the property for over $60,000 per acre to recover its investment.
A buyer called Windy Hill Development has offered to buy the two commerce center parcels. Willoughby said Windy Hill owns land contiguous to the parcels, which he said mitigates access issues for the buyer.
As a condition of buying the properties, however, Windy Hill asked that the design restrictions be relaxed on the two properties.
Established in 2014 by the council, the commerce center covenants, conditions and restrictions (CC&Rs) created a design and review committee to enforce design standards.
The rules established a series of restrictions on signage, storage and fencing. They also required walls of any structure to be concrete in lieu of metal.
Willoughby added that the builder would still need to comply with Fairfield County zoning laws.
"By constructing smaller buildings in [that section of] the industrial park, we'd be more attractive to recruiting new businesses, bringing new jobs and increasing revenue to the county," he said. "We believe that removing the covenants [on those two parcels] would be vital to the success of the county," Willoughby said.
"It would take land that is essentially undevelopable off our property tax rolls," Willoughby continued. "In turn, we would get property taxes and create jobs."