The Doctor of Ministry Degree in Biblical Marriage and Family Counseling was conferred on Hannie D. Milling, Jr. at commencement services on Saturday, December 18, 2021.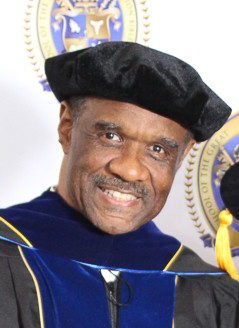 Milling, a Fairfield County native, is the elder son of Hannie Milling, Sr. and the late Johnnie Milling of Winnsboro, S.C. He is a 1970 graduate of Winnsboro High School, attended Erskine College, received a Bachelor of Science from the University of the State of New York at Albany, and earned a Master of Divinity from the Lutheran Theological Southern Seminary. Rev. Dr. Milling was the former pastor of three congregations in Fairfield County: St. John AME, Middlesex, New Hope AME, Chapell Town, and White Hall AME, Jenkinsville. He serves on the Board of Trustees and the Board of Examiners for the Piedmont Annual Conference.
Rev. Milling is the Statistician for the Seventh Episcopal District comprising 509 AME Churches in South Carolina. Rev. Dr. Hannie D. Milling, Jr. is currently assigned as pastor of Pine Grove AME Church in McCormick County, S.C.