BLYTHEWOOD – Richland Northeast and the rest of Region 4-4A action is in the rear-view mirror for the hard-charging Westwood girls basketball team.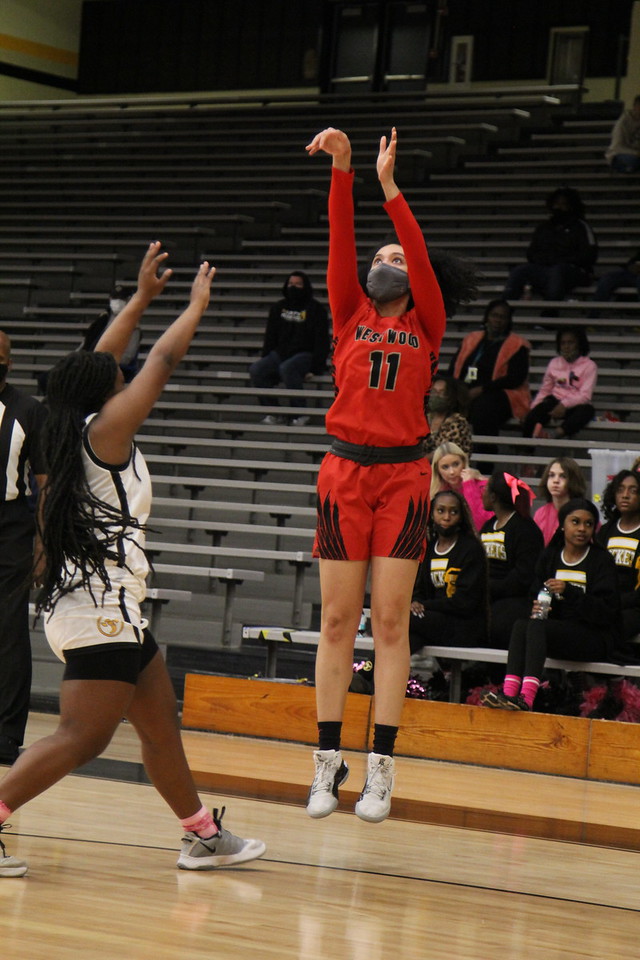 The Redhawks wanted to get their final Region 4-4A game out of the way Friday night so they could set their sights on the postseason.
Richland Northeast, caught up in the festivities of Senior Night, posted some signs that were not to Westwood's liking.
For instance, the "Kiss your win streak goodbye" sign hanging over the home side bleachers before game time.
"Walking in the door, we felt confident, not overconfident," Westwood head coach Gregory Bauldrick said. "Senior night's an exciting night for them (RNE), but we saw some things posted around the gym that was a motivator, and our kids said we've got to lock in."
Their fifth straight region championship in hand, the Redhawks locked in indeed. They shut out the Cavaliers (1-13, 1-9) 19-0 in the first quarter and shot to a 44-5 lead at halftime. On a running clock in the second half, Westwood closed out their final regular-season game with a 64-17 victory.
Junior guard Jessica Woods was the principal scorer on the night, putting up 37 points. Nine Redhawks scored at least once in the game.
"It was across the board," said Bauldrick, the Region 4-4A Coach of the Year. "Everybody, even our bench players were executing some things that we hadn't seen from them in the past. They're peaking at the right moment. I'm so proud of them."
Westwood (18-6, 1-0) clinched their latest region title with a 59-36 win over Dreher Feb. 8. From there, the Redhawks were focused on getting past RNE and moving straight into the playoffs as a No.1 seed, where they will take on the fourth-place team in Region 3, either York or Indian Land, Wednesday.
By then, the latest group of Redhawks will be in their familiar place, a top seed getting off to a fast start in the playoffs.
"This team has a lot of chemistry on and off the court," Woods said. "We're always talking on the court, we're always talking off the court. We move fast on defense, we get to our spots really quick, and we all depend on each other. That's what I think separates us from the other teams."
That's not a snub of previous Westwood teams.
Woods, the Region 4-4A Player of the Year, meant that on this team, there are no superstars such as Mya Belton, Unique Drake, Malayziah Etheridge, Essence Marshall, Maliyah Lockett, or Nyah Leveretter, top offensive and defensive performers for the Redhawks in their day.
Just like those teams in recent history, the 2021-22 Redhawks are hunting for that elusive state championship.
"We're all focused on the main goal," Johnson said. "We want to finish strong and build our team up and keep going, junior Center Raven Johnson said.
Unlike those teams, this version of the Redhawks is more defensive minded.
"That's the big difference between this team and previous teams that we've had throughout the years. This team is more committed on the defensive end," Bauldrick said. "We're defined by defense. Our previous teams played great defense, but were defined offensively. With this team, it feeds off of what we do on defense, and we're pretty excited."
That means more steals and transitions, more pressing, and a key word on the team's Twitter account: Disruption.
"We've really bonded as a team, we're a defensive team," junior guard Korlatta Daniels said. "We connect well on and off the court, and I think that builds us up and gets us ready to play."
Westwood – 19-25-9-11 – 64
Richland Northeast – 0-5-6-6 – 17
Westwood: Jessica Woods 37, Tha. Davis 5, Thompson 4, Daniels 4, Graham-Brown 4, Johnson 4, Coleman 3, Branch 2, Omeire 1.
Richland Northeast Gadson 9, Harris 2, Griffin 1, team 5