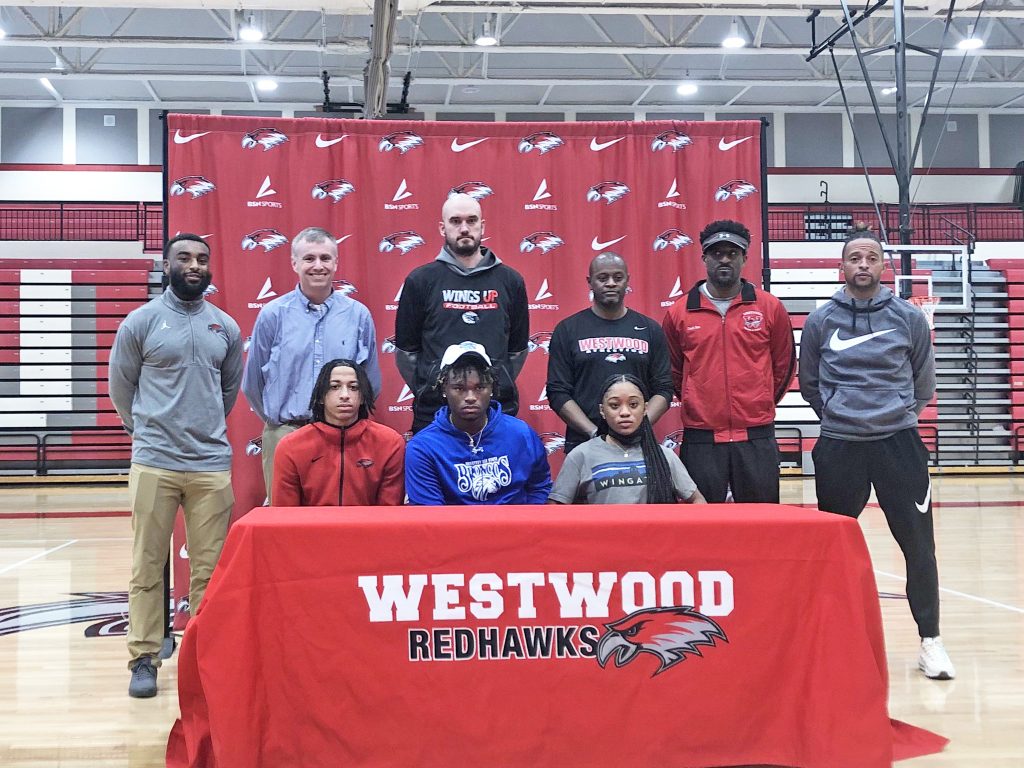 BLYTHEWOOD – Westwood High School held its first of two signing ceremonies on Wednesday, Feb. 3. Three Redhawk athletes, Julian Milligan, Bryson Felder and Kennedy Rivers, signed their Letters of Intent in a special signing ceremony held in Westwood's gym.
Julian Milligan, son of Julian and Evette Milligan, signed to play football at Fayetteville State University. As a running back for the Redhawks, Milligan was a 2021 All-Region selection and a High School Blitz Senior MVP.
Bryson Felder, son of Kevin and Shannon Felder, will continue his basketball career at Southern Wesleyan University. A guard for the Redhawks, Felder was a 2021 All-Region selection and a 2021 SCBCA Top 5 4A Senior.
Kennedy Rivers, daughter of Shevawn Rivers-Grant, Ronnie Grant and Abraham Staten, will continue her track career at Wingate University. Rivers as racked up awards in her career as a Redhawk: 2021 Region Meet Gold Medalist- 400M, 2021 7th Place SC State Winner- 400M, 2019 SC State Bronze Medalist- 4X100m, Westys Athletic A/B honor roll academic Award recipient, Career and Technical Education Completer, College Academic Merit Scholar, College Residential Scholar, and College Athletic Scholar.
"We wish you the best going forward and thank you for your dedication and commitment to Westwood Athletics," the Westwood athletic department said in a statement on their website.