BLYTHEWOOD – With third place in Region 4-4A on the line Friday night, both Richland Northeast and Westwood were not going to fade into fourth place without a fight to the end and beyond.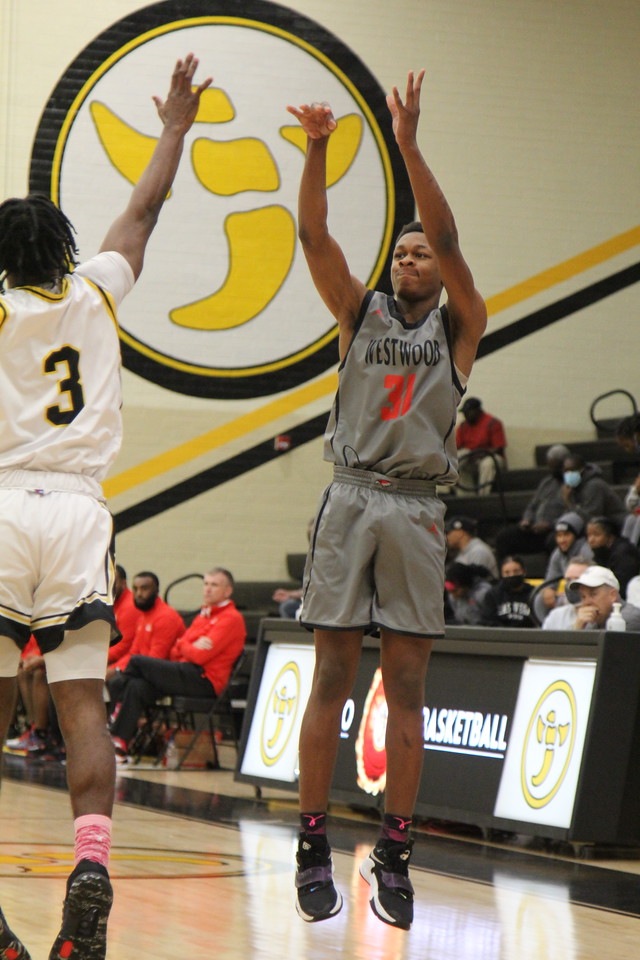 The Cavaliers and the Redhawks did just that, ending regulation and the first overtime period in a stalemate.
When the second overtime expired on James Wilcher's 3-point attempt careening off the rim, Westwood emerged as the 66-64 victor, and secured a third-place spot in the region.
"I'm just so proud of our guys, that they found a way and kept battling," head coach John Combs said. "They made enough plays defensively late. We forced the difficult shot, but that shot could have very easily gone in and we could've lost."
With that missed shot, the Redhawks (11-13, 6-4) finish as the No.3 seed in the 4A playoffs that begin Thursday. They will travel to play either Region 3's Catawba Ridge or Lancaster.
"It was very important to get the win," said Arden Conyers, who finished the night with 20 points. "We feel like we should be first or second in the region, but we wanted a win. They beat us, so we had to beat them."
The Redhawks lost 58-56 loss to the Cavaliers Jan. 25.
Besides Conyers, T.J. Bell scored 16 points, Bryson Felder had 12, and K.J. Rowan had 10.
RNE (10-9, 4-6) got a second sting not long after the game was in the books. A.C. Flora lost 48-40 to Dreher, which meant that The Blue Devils took over the fourth spot in the region and pushed the Cavaliers out of the postseason.
It's an unfortunate fate for an opponent that brought Westwood to the brink of fourth place and the thought of a long trip to Greenville to play the Region 2 champion Red Raiders.
"It was incredible by both teams. I think there was a couple of times that both of us felt that the game had been won, and the other made plays to get it into overtime a couple of times," Combs said. "We made some mistakes but give Northeast a lot of credit, they do a good job. They get after it offensively, defensively, they caused some problems. We couldn't try to run the clock out on them, we couldn't do that."
Westwood and RNE battled closely throughout regulation.
The Redhawks fell behind 10-3 early in the first quarter but rallied to a 17-14 advantage by quarter's end. While they kept their lead throughout the first half, the Redhawks went into intermission leading 30-28.
Felder's basket gave Westwood a 32-28 lead early in the third quarter, but the Cavaliers went off on a 10-0 scoring run to jump to a 38-32 lead by the 3:15 mark.
Symmetrically, Westwood got a 3 from Rowan, a basket and two foul shots from Bell, and a 3-point play form Arden Conyers to get the Redhawks on a 10-0 scoring run of their own.
Back up 42-38, Wilcher hit a basket with 20 seconds left in the quarter to cut that lead back to two points.
Once again, Westwood tried to stretch its advantage, but the Cavaliers wouldn't retreat. Conyers hit a 3 and Bell hit the front end of a one-and-one to make it 46-40 Redhawks after the first minute.
One minute later, Twain Wilson drained a 3 to keep the Cavaliers in the running.
With 4:10 remaining in regulation, Westwood held a 52-46 lead thanks to a Conyers defensive board and Jaylin McDuffie's resulting basket.
Threes from Smith and Wilson, the latter coming with 42 seconds left, tied the game at 52.
RNE may have thought it sealed Westwood's fate when Smith stole a loose ball and fired it in to Justice Johnson for a slam dunk with 11 seconds left.
Westwood's speedy return down the court, followed by Conyers drawing a 2-shot foul in the lane, ensured the Redhawks that there was still a chance.
Conyers made both shots to tie things up at 54 with 8 seconds left.
Even that amount was enough for the Cavaliers to draw a foul and toe the line.
Zackery Watkins did just that for RNE with a third of a second remaining—but both of his shots hit iron and fell harmlessly to the floor to send the game into overtime.
Wilcher hit a 3 to open the first overtime, but Conyers returned with a jumper and Bell made good on two more foul shots to make it 58-57 two minutes in.
Watkins returned RNE to the lead with two foul shots of his own with 35 seconds left, but Felder made one of two shots to tie the game again with 14 seconds remaining. When his second shot missed, T.K. King scooped up the rebound and put it back in to give the Redhawks a 61-59 lead with 11 seconds left.
"We go over that in practice, kicking it back, being ready to shoot, all that," King said.
This time around, the Cavaliers made it down the court quickly and Smith laid up the tying score with one tick on the clock.
Westwood's shot from midcourt careened off the rim and the teams entered the second overtime.
There, the Redhawks jumped to a 65-61 lead on Conyers' basket and Bell's 3-point play by the 2:51 mark.
Smith hit a 3 over a minute later, but that was the last of the scoring for RNE or Westwood.
The Redhawks used ball control to drain the clock. When the Cavaliers did come upon a turnover, Wilcher ran out of time to get a game-winning shot, and Westwood came off the court a winner.
"I told our guys that I knew it was going to be a battle," Combs said. "The first time we played them it was a battle, and this game was not going to be any different. I didn't know it was going to be in double overtime, but I'm just glad we figured out a way to make enough plays to win."
Westwood – 17-13-12-12-7-5 – 66
Richland Northeast – 14-14-12-14-7-3 – 64
Westwood: Arden Conyers 20, T.J. Bell 16, Bryson Felder 12, K.J. Rowan 10, King 4, McDuffie 4.
Richland Northeast: Marques Smith Jr. 22, Twain Wilson 11, Johnson 9, Watkins 8, Wilcher 8, Daniels 5, Grant 1.