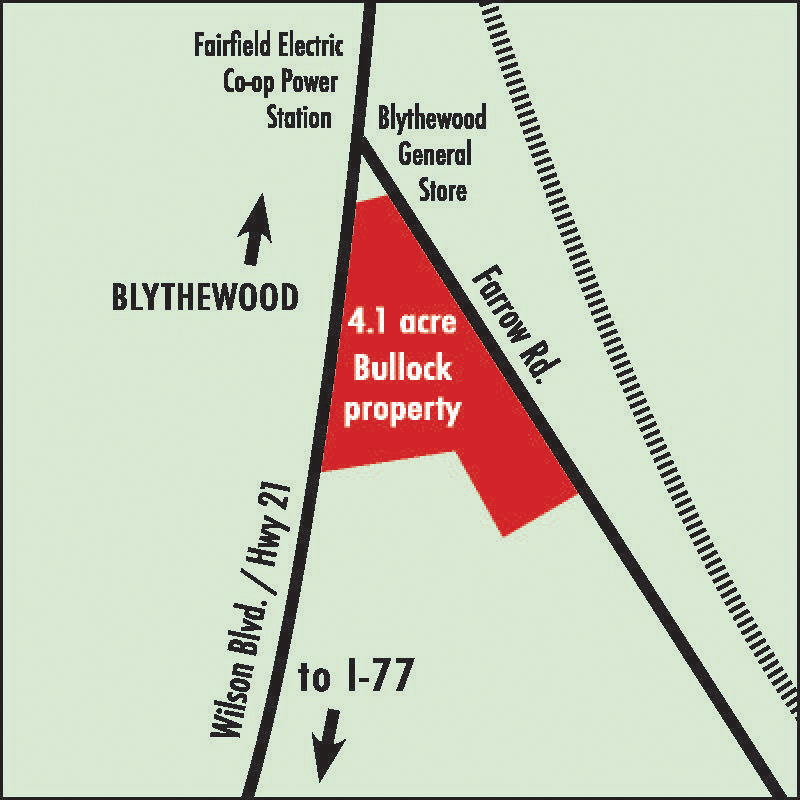 BLYTHEWOOD – Blythewood planning commissioners recommended approving one commercial zoning request and postponed another during Monday's monthly meeting.
The commission unanimously voted to recommend rezoning 4.1 acres at Wilson Boulevard and Farrow Road from Rural District to Community Commercial District/Architectural Overall District.
Blythewood Town Council will have the final say.
Shannon Burnett, an outside attorney for the Town, represented property owners Cheryl and Carlos Bullock. She said they want to build possibly a nice sit-down restaurant at the site.
Burnett told the commissioners that the landowners' business plans would "offer something of value" to the town.
"When we look at things that Blythewood wants, one thing we hear is possibly a nicer restaurant or something that would be a good gathering place," she said. "It's a good hook in that area that could be beneficial for our town."
Burnett noted her clients have lived in the town for decades and have only the best intentions in mind.
"They have no desire to use this in a way to diminish the value of anybody's property or bring any ill-repute to the town," Burnett said. "It could be a good entryway into our town and it could be well-used."
Commissioner Edward Kessler voiced concerns about traffic congestion. He suggested a professional office building might be a better alternative.
"It's a busy intersection. It's a heavily trafficked area," he said. "Another restaurant or facility going in could pose some traffic concerns or issues."
Burnett said an office building is "definitely on the table," but added her clients are primarily interested in building a restaurant.
"I've had so many people over the years say it would be nice to have a sit-down restaurant that's not a chain," Burnett said, adding that the proposed restaurant would have two entrances to alleviate congestion.
Town Administrator Carroll Williamson said the town's comprehensive plan future land use map classifies the area as commercial neighborhood retail. He added the requested zoning is listed as a compatible zoning district.
"It does meet the requirements of the comprehensive plan and future land use map," Williamson said, adding the town's board of architectural review would also have to sign off on the proposed building.
In other business, the commission postponed a similar request that would rezone 7.08 acres in the 11000 block of Wilson Boulevard. Commissioners said the applicant wants to build a self-storage facility on the property.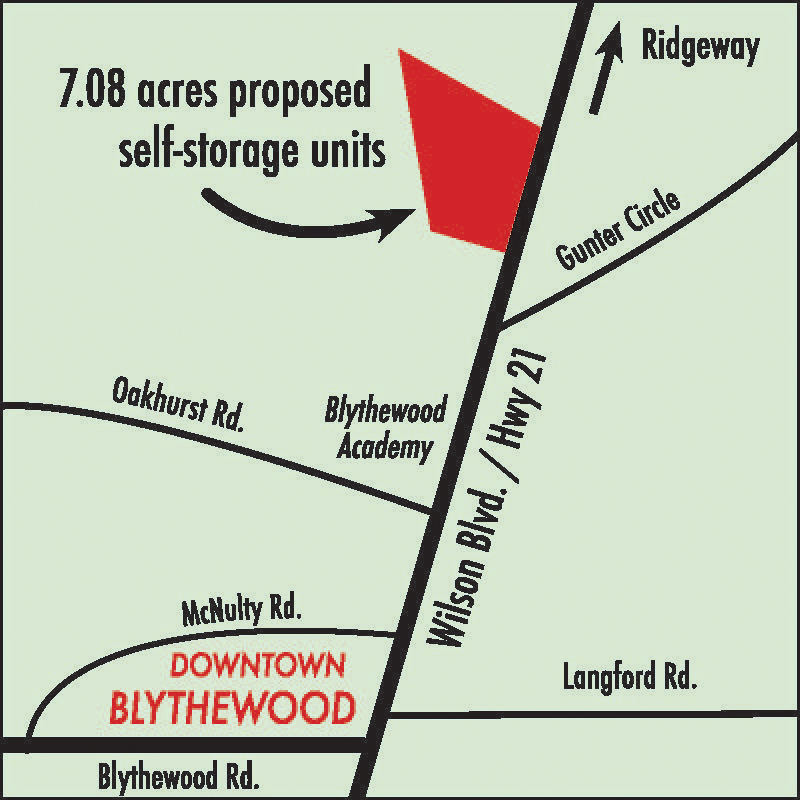 Rhett Kelley, an agent for the contractor, said his client couldn't attend the meeting due to illness.
Kelley couldn't provide many details about the proposed land use, prompting commissioners to postpone voting. He did stand in support of his client's proposal.
"The best use, in my opinion, is a commercial use," Kelley said.
The property to the north of the site is zoned Rural, to the east is Neighborhood Commercial, to the south is Community Commercial and to the west is Development District.
Williamson said the town's comprehensive plan doesn't list the Community Commercial zoning as a compatible zoning district, but he also noted the plan's land use map lists some nearby properties as commercial.
"It's just a concern to be looked at," Williamson said.
The Community Commercial zone does allow self-storage facilities.
Blythewood resident Robert McLean, who said he has purchased land adjoining the proposed self-storage site, spoke in opposition to the request.
While McLean said he thinks the town needs self-storage facilities, he didn't think the proposed Wilson Boulevard site is proper.
"I would implore the planning commission to take into consideration the existing rural nature of that particular part of Blythewood," McLean said. "Let's look at retaining the rural charm that we have. I honestly can't think of anything that is more of an antithesis of what Blythewood represents in terms of development than a possible storage unit or use of space such as that."
Commission chairman Malcolm Gordge said the panel would likely revisit the self-storage development in March.