COLUMBIA – The Blythewood boys basketball team needed a win at Spring Valley Tuesday night to solidify a third-place finish in Region 4-5A, but also to right the ship as the Bengals near the end of region play.
Instead, the Vikings won the lanes and held off a comeback as Blythewood fell 66-60.
It was the fourth straight loss for the Bengals (9-13, 3-4), who last won Jan. 24, a 49-47 victory over the Spring Valley (12-14, 3-5). The Vikings have finished their regular season slate and Blythewood travels to Ridge View (14-11, 6-1) Friday.
"We've got to fight to try to get in, you know?" Head coach Zeke Washington said about the playoffs, which begin next week.
Samaad Wright led all scorers with 26 points on the night, 15 coming in the second half. Jermaine Nelson came off the bench and added 12 points, all of them coming in the fourth quarter.
"I thought we did some good things, I thought we played together a little bit," Washington said. "We just dint' win. We've just got to keep playing."
Spring Valley opened up with a 9-3 lead on Blythewood by the last minute of the first quarter, the Bengals' only points being three Wright free throws. Josiah Pack made a pair of free throws and followed up with a basket at the buzzer, the first field goal for the Bengals.
Caleb Temony led off the second quarter with a 3-pointer to put the Vikings up 12-7, but after that shot Blythewood went on an 11-4 scoring run that featured a pair of 3s from Wright and one from Will Olden. That run gave Blythewood its only lead of the game, 18-6 with 5:12 to play in the first half.
Spring Valley closed out the half on a 13-2 run to take a 29-20 lead into the locker room.
Blythewood cut down that 9-point deficit over the course of the third quarter, trailing 37-35 with 1:44 left. Spring Valley got a foul shot from Kendall Williams, two baskets from Joshua Nelson, and a 3 from Burgess to finish the third quarter leading 45-38.
The Vikings spent much of the fourth quarter setting up baskets in the paint from Nelson, Williams, C.J. Rich, Khalil Cooke—or whoever was open or available under the net.
Nelson led the way for Spring Valley with 17 points, 13 of which came in the second half. Maurice Giles had 10 points.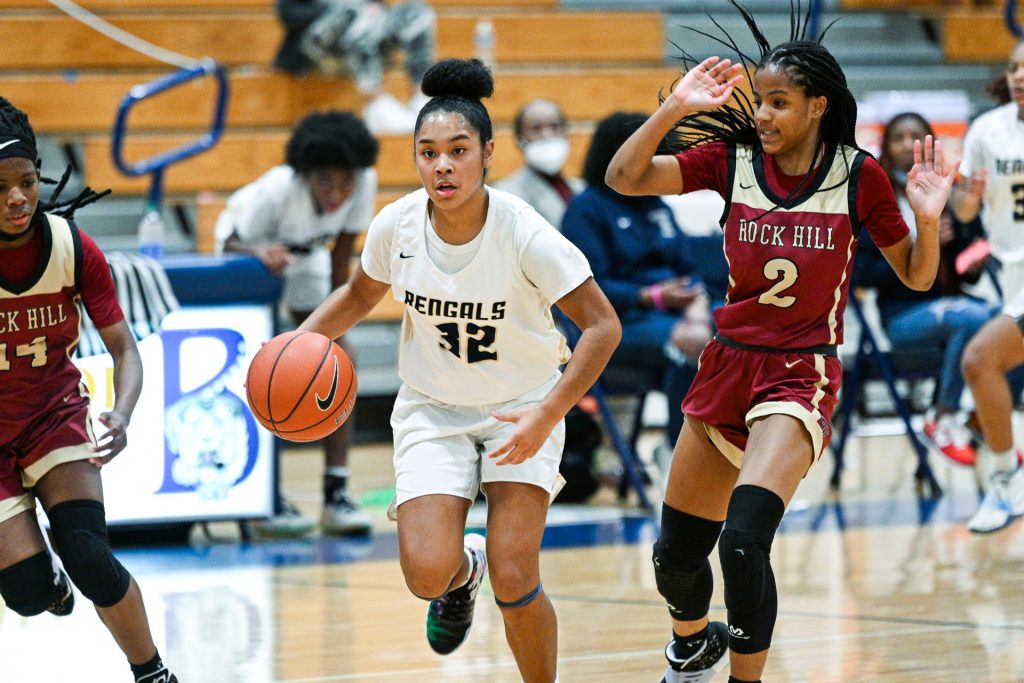 In the girls game, Blythewood 0-18, 0-7 fell 64-42 to the Vikings (14-9, 5-3).
Aniya Fluker and Monica Joy scored 10 points apiece, but Spring Valley's 32-point second quarter got the Vikings on a roll. Te'Yana Green scored 18 points for Spring Valley. JaiDah Liebert and Ariana Wilkes each had 12 points.
Blythewood travels to Ridge View Friday.
Boys
Blythewood – 7-13-18-22 — 60
Spring Valley – 9-20-16-21 — 66
Blythewood
Samaad Wright 26, Jermaine Nelson 12, I. Williams 9, T. Williams 4, Pack 4, Olden 3, Kelly 2.
Spring Valley
Joshua Nelson 17, Maurice Giles 10, Cooke 7, Williams 6, Burgess 5, Bailey 5, Temony 5, Rich 4, Dunlap 4, Skelton 3.
Girls
Blythewood – 8-8-13-13 — 42
Spring Valley – 15-32-10-7 — 64
Blythewood
Aniya Fluker 10, Monica Joy 10, Brown 8, Tyson-Dy 5, Young 5, Ellington 2, Jackson 2.
Spring Valley
Te'Yana Green 18, JaiDah Liebert 12, Ariana Wilkes 12, Ratchford 9, McNally 3, Williams 3, Entzminger 3, Humphrey 2, Johnson 2.