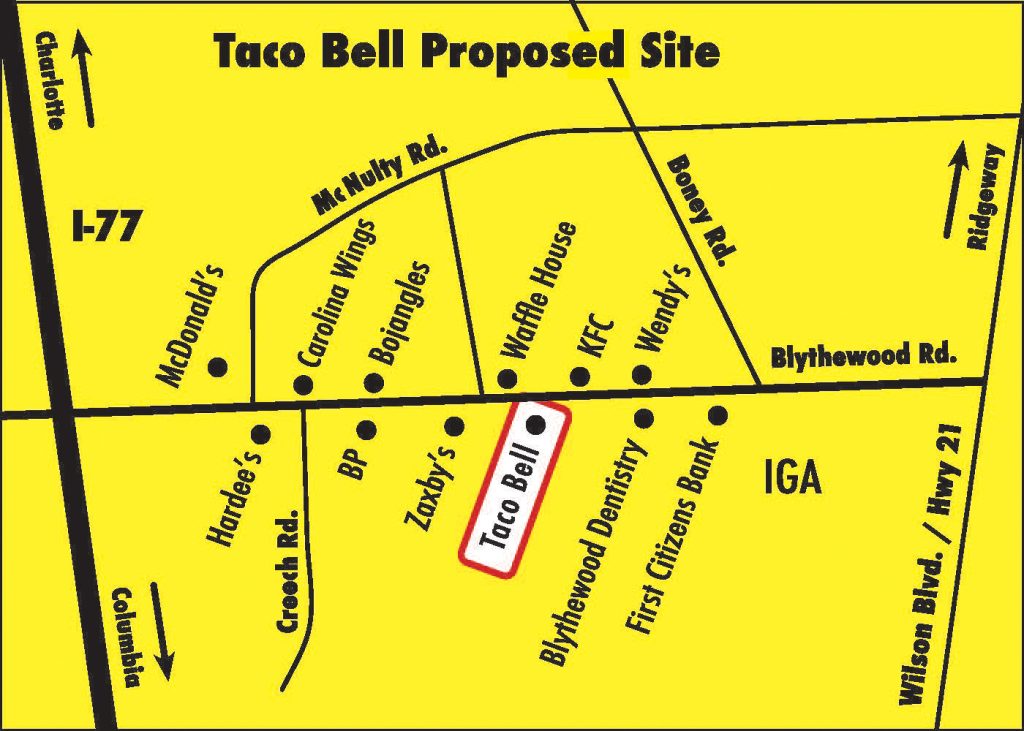 NOTICE – CORRECTED DATE OF TACO BELL appearance before BW Board of Architectural Review The Blythewood Board of Architectural Review will consider a Certificate of Appropriateness for a Taco Bell Tuesday, Feb. 22 (not Monday, Feb. 21 as printed in the Feb. 17 issue of The Voice) at The Manor. 
BLYTHEWOOD – Plans for a Taco Bell with a drive-thru will go before the Board of Architectural Review on Tuesday, Feb. 22, to be considered for a certificate of appropriateness.
The applicant, National Restaurant Designers, is representing the owner, Flynn Restaurant Group, in its request to develop approximately 1.1 acres for the construction of a 1.944 square foot restaurant with a drive-thru lane, according to the application.
The property, located at 209 Blythewood Road, is in the Town Center (TC) District.
If approved, the restaurant will sit between Zaxby's and Blythewood Dentistry.
The Town requires a buffer between adjoining commercially zoned lots in the Town Center District to be a minimum of 10 feet in width, or 7 feet if a wall, fence or berm is used between adjoining properties on both sides and to the rear.
This will be the second time since 2018 that Taco Bell has considered opening a franchise in Blythewood.
 The Board of Architectural Review will meet at 5:30 p.m., Monday evening at the Manor to review the application. The meeting is open to the public and will be live streamed and available on YouTube via the town's website, townofblythewoodsc.gov.