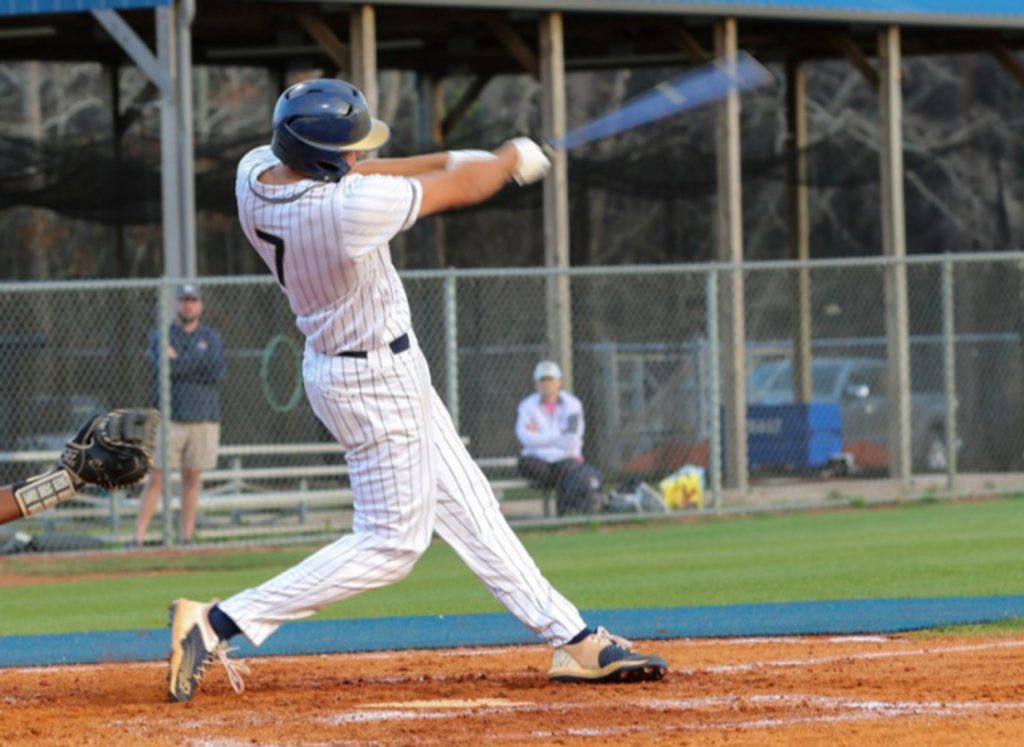 BLYTHEWOOD – In a flurry of four games over six days, the Blythewood baseball team went 3-1.
The Bengals fell 4-1 at Summerville Thursday, played host to Nation Ford Saturday and beat the Falcons 11-10, traveled to Northwestern Monday and beat the Trojans 5-1, then played host to Northwestern Tuesday night for a 3-1 win.
Kevin Steelman scattered four hits and struck out eight over 5 1/3 innings to get the win over Northwestern. He also went 2-for-2 with two homeruns. John Rollings went 2-for-3 and Alex Nevils doubled.
Davis Wright got the win Monday night, throwing 6 2/3 innings and giving up five hits while striking out nine and walking one. Nevils went 2-for-3.
Against Nation Ford, Blythewood fell behind 2-0 going into the second inning before scoring four runs in that frame. The Bengals kept pace from there on out with the Falcons, who scored four runs in the third to take a 6-4 lead.
Blythewood got a run back in the bottom of the third, but Nation Ford put up two more runs in the fifth inning and another two runs in the sixth to take a 10-6 lead.
The Bengals opened up the bottom of the sixth with four straight hits. Caleb McCants doubled, Camden Watts singled, and Stephen Lang-Spittler singled to left to score McCants. With courtesy runner Xavier Cuevas in for Lang-Spittler, John Rollings doubled to rightfield, scoring Watts. Justin Flemming drove in Cuevas on a sacrifice fly.
Landon Penfield and Alex Myers both flied out to retire the side.
Blythewood held the Falcons scoreless in the top of the seventh, but were down 10-9 going into the bottom of the frame.
Steelman opened up with a single. After Zac Cowan struck out, McCants drew a walk.
That set up Watts' sacrifice bunt that scored Steelman, the tying run and moved McCants to second. Watts was safe at first on the play.
With one out McCants at third and Watts at first, Lang-Spittler bunted but McCants was thrown out advancing to home.
Rollings kept the inning alive with a single that moved Carson Weathers, pinch running for Watts, to third and Cuevas, in for Lang-Spittler, to second. That set up Flemming reaching on an error that scored Weathers in a walk-off play.
Cowan pitched two innings and got the win for Blythewood.
Landon Penfield went 2-for-3 with a double, a home run and two RBI. Myers went 2-for-4. McCants doubled and had two RBI, and John Rollings doubled.
That game got the Bengals back on the winning side after the loss at Summerville Thursday. In that game Penfield took the loss. He gave up all four runs, two of them earned, struck out two and walked two. Lang-Spittler doubled.
Blythewood (10-1 overall, 2-0 Region 4-5A) plays at Northwestern Friday.
Northwestern – 0-0-0-0-0-0-1 — 1, 4, 0
Blythewood – 0-0-0-0-5-0-0 — 3, 5, 1
WP: Kevin Steelman.
Hitters: B – Kevin Steelman 2-2, 2HR. John Rollings 2-3. Alex Nevils 2B.
Blythewood – 0-0-0-0-5-0-0 — 5, 4, 0
Northwestern – 0-0-0-0-0-0-1 — 1, 5, 1
WP: Davis Wright.
Hitters: B – Alex Nevils 2-3
Nation Ford – 0-2-4-0-2-2-0 — 10 14 3
Blythewood – 0-4-1-0-1-3-2 — 11, 13, 1
WP: Zac Cowan.
Hitters: B – Landon Penfield 2-3, HR, 2B, 2RBI. Alex Myers 2-4. Caleb McCants 2B, 2RBI. John Rollings 2B.
Blythewood – 0-1-0-0-0-0-0 — 1, 2, 0
Summerville – 0-1-3-0-0-0-X — 4, 6, 1
LP: Landon Penfield.
Hitters: B – Stephen Lang-Spittler 2B.