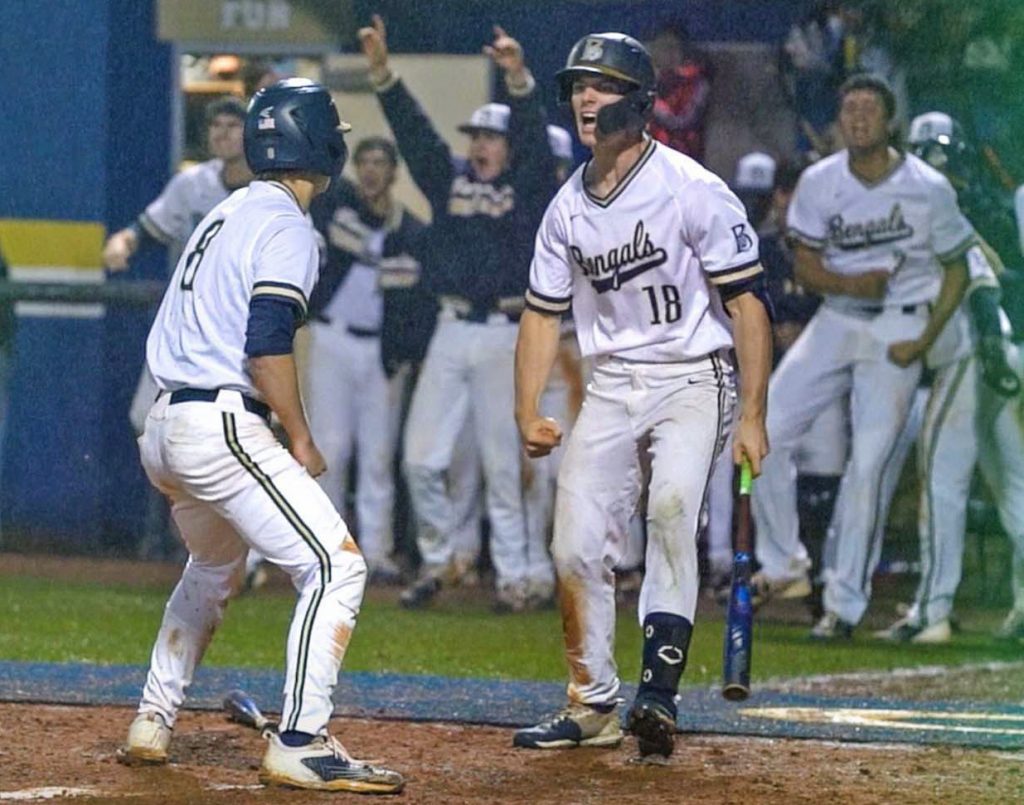 BLYTHEWOOD – It took time for the Blythewood baseball team to get to Summerville starting pitcher Thayer Tavormina in the misty drizzle of Friday night.
But when the Bengals broke through for two runs on the right-hander to tie the game at 3 in the fifth inning, they made sure to keep the momentum going.
Blythewood got two more runs on Stephen Lang-Spittler's triple to left in the bottom of the sixth, and closer Zac Cowan set down the Green Wave in order in the seventh to secure a 5-3 victory.
"That's a really talented team over there," Blythewood head coach Banks Faulkner said. "They're not off to a real good start but they've got a lot of really good players. They're a younger team but we knew they were going to give us all they could handle."
Tavormina, a hefty sophomore at 6-2, 190 pounds, pitched a masterful four innings, giving up a run on three hits, striking out six and walking one. Green Wave batters boosted his cause with a 3-1 lead going into the bottom of the fifth.
While Tavormina struck out two more batters in that inning, Blythewood (6-0) got a rally going.
Alex Myers reached on an infield error and Tavormina walked Cowan to open the inning. Lang-Spittler struck out, but Caleb McCants got one run across with a ground-out sacrifice. John Rollings slapped a single to left to score Cowan.
Landon Penfield singled on the next play, but John Steelman struck out to end the inning.
By then Tavormina had thrown 96 pitches and was done.
"That's sort of what we do," Faulkner said of this year's team. "We do a good job of grinding at-bats. That kid was really good. He had a really good slider that we struggled to recognize."
White came on in relief to start the bottom of the sixth and struck out leadoff batter Jordan Fleming, walked Watts, and struck out Alex Myers to start the inning. Cowan, at the top of the batting order, lined a single to right to put two men on for Blythewood.
That's when Lang-Spittler pulled a 1-1 pitch to left. As the ball carried to the fence, courtesy runner Xavier Cuevas and Cowan each rounded third for home. Lang-Spittler reached third as Cowan slid home just under the throw to the plate.
After that rally, Cowan finally took the mound after Simmons threw two pitches to start the seventh. Cowan took over and struck out Tavormina, got Gage Lewis to fly out to centerfield, and struck out P.J. Morlando to get the game in the books.
"I think he got some dirt in his eye when he slid home (scoring the fifth run the inning before)," Faulkner said. "He probably wasn't ready, but he was able to get to the mound and he's our guy."
Starting pitcher Ben Blackwell gave up three runs, two earned, on three hits. He struck out five and walked three. He gave up a solo home run to Gage Lewis in the fifth.
"He was solid," Faulkner said. "We know what we're going to get from Ben, he's going to throw a lot of strikes We really thought the home run he gave up was a really good pitch, it just sort of got up and went."
Alex Simmons came on in the fifth in relief and worked 1 2/3 innings for the win. He struck out two and set up Cowan's save opportunity.
"Alex Simmons was excellent," Faulkner said. "We feel like when we can get to Cowan that we're in pretty good shape."
Blythewood is in the midst of a busy week.
The Bengals traveled to Nation Ford and beat the Falcons 8-1 Monday.
They beat Charlotte Catholic 10-9 Tuesday, with Kevin Steelman and Zac Cowan both homering and Jordan Flemming bringing home the tying and winning run when he reached base on an error in the bottom of the seventh.
Blythewood plays at Summerville today and plays host to Nation Ford Friday.
The Bengals play host to Nation Ford Friday.
Summerville – 0-0-2-0-1-0-0 — 3, 3, 2
Blythewood – 0-1-0-0-2-2-X — 5, 7, 1
WP: Alex Simmons. LP: Tripp White.
Hitters: S – Gage Lewis HR. B – Landon Penfield 2-3. John Rollings 2-4. Stephen Lang-Spittler 3B.
Blythewood – 3-0-2-0-0-2-1 — 8, 9, 1
Nation Ford – 0-1-0-0-0-0-0 — 1, 5, 2
WP: Davis Wright.
Hitters: B – Zac Cowan 2-4, 2B (2). John Rollings 2-4, 2B. Kevin Steelman 2B.
Charlotte Christian – 3-0-1-0-3-1-1 — 9,10, 2
Blythewood – 0-4-4-0-0-0-2 — 10, 7, 0
WP: Kevin Steelman. LP: Calvert Clark.
Hitters: B – Zac Cowan 2-4, HR, 3RBI. Kevin Steelman HR, 3RBI. Justin Fleming 2B. Caleb McCants 2B. Landon Penfield 2B.