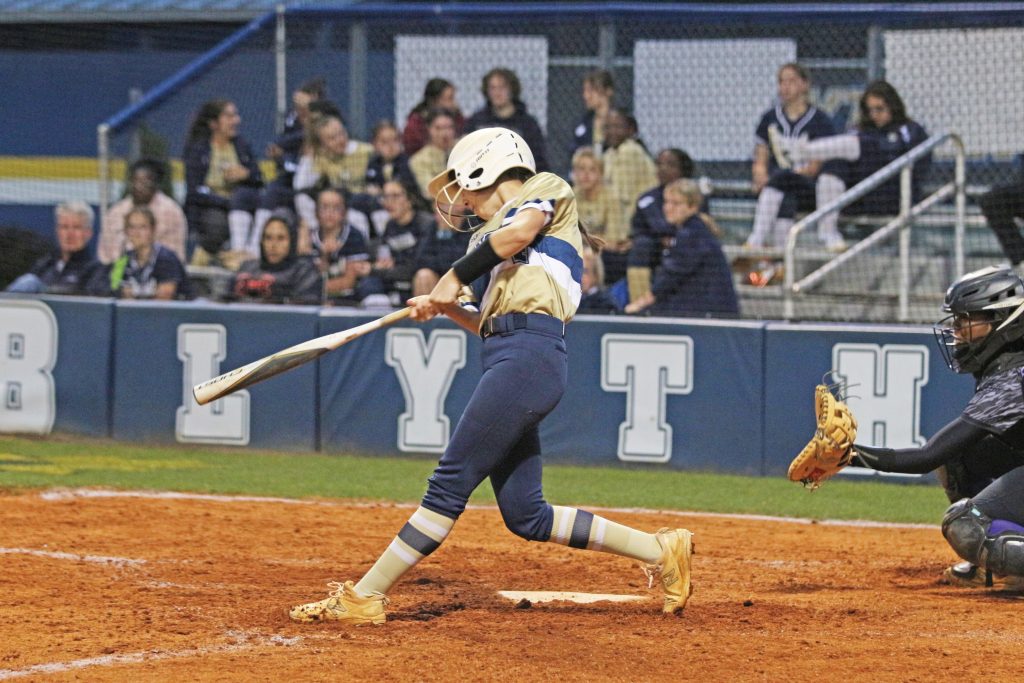 BLYTHEWOOD – The Blythewood softball team's bats are hot at just the right time.
The Bengals won their sixth straight victory and picked up their second Region 4-5A win Friday night, finishing with a 14-3 defeat of Spring Valley in five innings.
Blythewood saw its winning streak snapped with a 13-4 loss to 2019 5A state champion Lexington Monday night, but the Bengals got back on the winning side with another region victory Tuesday, a 10-0 win over Ridge View.
"We feel like batters one through nine can contribute," Blythewood head coach Jordan Atkinson said. "We've had timely hitting, smart baserunning, and we're being aggressive."
Blythewood (9-3) lost just three seniors to graduation last year and with this year's solid core of players comes experience and know-how that is especially evident at the plate.
"We talked about being the aggressor at the plate, not being passive," Atkinson said. "Overall, we hit line drives and put the ball on the ground. We've had success with that, and when we bunt and play small ball, we have success there too."
Blythewood jumped on Spring Valley early Friday night, getting four runs on three hits in the first inning and seven runs on four hits in the second.
The Bengals sent 10 batters to the plate in the first. After Lauren Hardy was hit by a pitch and Maya Van Zyl reached base on a one-out walk, Josie Smythe doubled both baserunners in to give Blythewood a 2-0 lead.
Maddi Bell's single brought Smythe to third, and Haley McCoy doubled to score Smythe and put Bell at third. Neilah Browne drew a walk to load the bases, and Bell scored when Raygan Saygers drew a walk to make it 4-0.
Hardy, batting for the second time in the inning, popped out to retire the side.
Hardy, the starting pitcher who struck out two in the first inning, retired the side in order.
Blythewood's plate savvy paid off again. The Bengals sent 11 batters to the plate.
Velez was hit by a pitch, and Van Zyl and Smythe drew walks to load the bases with no outs. Bell sacrificed Velez home on a ground out, and Van Zyl scored on a wild pitch to McCoy. McCoy's walk put runners at first and third with one out.
With the Bengals up 6-0, Spring Valley starting pitcher Kiarra Thomas left the circle for reliever Emma Wargel. Even so, the offense kept on coming.
Browne's single scored Smith, and after Segars struck out, Sanders' single scored McCoy to make it 8-0.
With Browne at second and Sanders at first with two out, Hardy doubled both runs in to make it 10-0. Velez then singled Hardy in for an 11-0 lead.
Van Zyl, who walked earlier in the inning, grounded out at first to end the inning.
Blythewood gave up three Spring Valley runs on three hits in the top of the third, but Hardy regained her composure and shut the Vikings out over the next two innings.
"She's competing, doing what we ask her to do," Atkinson said of the team's leading pitcher. "She gave up a home run (in the third) but she shut them down and the defense played great behind her."
Hardy gave up three hits, all in the third, and struck out seven. She walked just one.
The Bengals picked up a run in the fourth and two runs in the fifth to invoke the 10-run mercy rule and end the game.
Against Lexington Monday, all four of Blythewood's runs came in the third inning.
With the Bengals down 4-0, Ashlee Hoile and Segars opened the inning with back-to-back singles. After Hardy struck out, I'yanna Velez singled in Hoile to make it 4-1. Van Zyl's 1-out, 3-run homer tied the game at four.
Blythewood looked to get more runs after Josie Smythe struck out for the second out. McCoy singled, but Bell flied out to centerfield to end the inning.
Lexington scored five runs in the top of the fourth, and three more in the sixth, and one in the seventh, while Wildcats relief pitchers Mackenzie Mathis and Haley Manz kept the Bengals scoreless after the third.
Lexington starting pitcher Riley Ford gave up all four Blythewood runs, but struck out six in her four innings of work.
The Wildcats (10-0) got two home runs and four RBI from Sarah Gordon, who had three hits. Livi Warren also homered and doubled with 2 RBI. Ford and Sam Craig each had three hits, and Peri Rouillard and Jessica Senn had two hits. Senn also had 3 RBI.
The Bengals got back to their winning ways Tuesday night with a 10-0 shutout of Ridge View in five innings. Haley McCoy doubled and homered for Blythewood, and drove in four runs. Velez and Hardy also doubled and each had two hits. Hardy got the win, throwing a one hitter in four innings of work. She struck out six.
Blythewood (9-3, 3-0) is at Chapin Friday.
Spring Valley – 0-0-3-0-0-X-X — 3, 6, 1
Blythewood – 4-7-0-12-X-X — 14, 13, 0
WP: Lauren Hardy LP: K. Thomas
Hitters: B – Lauren Hardy 3-4, 2B (2). Josie Smythe 2-3, 2B. Neilah Browne 3-3. Haley McCoy 2B.
Lexington – 0-1-3-5-0-3-1 — 13, 18, 0
Blythewood – 0-0-4-0-0-0-0 — 4, 9, 2
WP:Riley Ford. LP: Lauren Hardy
Hitters: Haley McCoy 2-3. I'yanna Velez 2-4. Maya Van Zyl HR.
Ridge View – 0-0-0-0-0-X-X — 0, 1, 5
Blythewood – 0-0-5-5-X-X-X — 10, 10, 0
WP: Lauren Hardy. LP: Jayla Robertson.
Hitters: B – Haley McCoy 2-3, 2B, HR, 4 RBI. I'yanna Velez 2-3, 2B. Lauren Hardy 2-4, 2B.