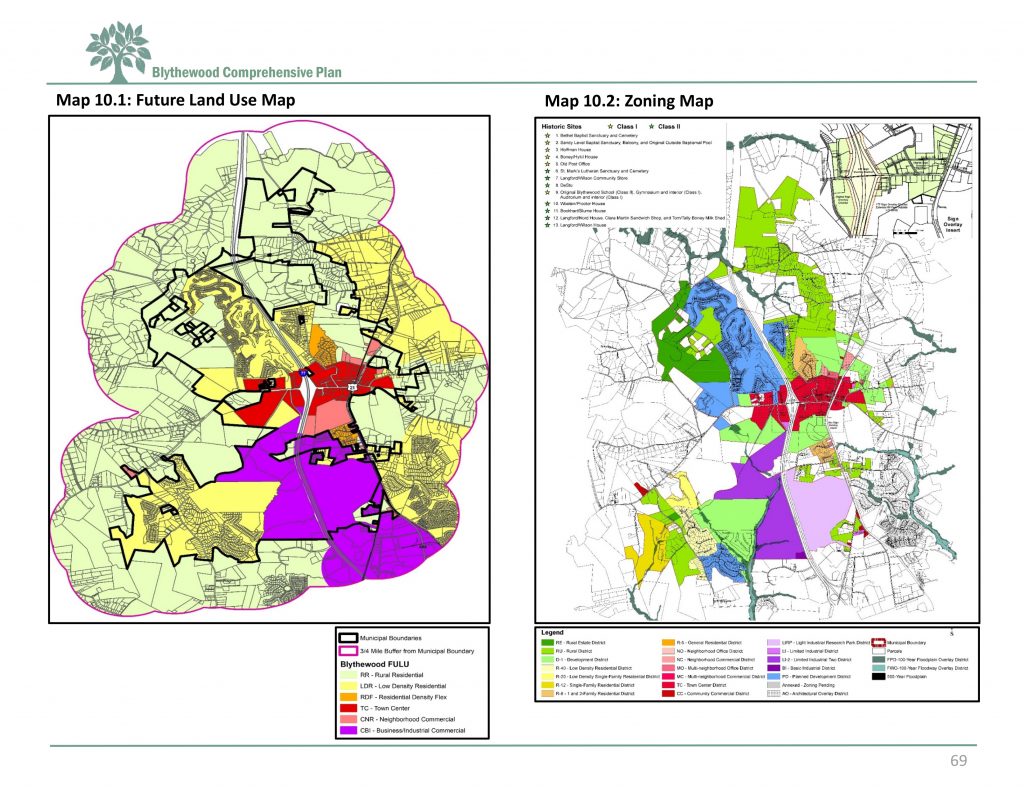 BLYTHEWOOD – In a series of final votes Monday night, town council adopted the Blythewood Comprehensive Plan for 2020-2030. They approved an ordinance to revise the Town's business license ordinance to allow for early payment, approved funds for Traditions (an outside agency), and approved a vendor to replace the floor covering in the Manor.
Comprehensive Plan
"There are no changes in the Comprehensive Plan since the first reading," Town Administrator Carroll Williamson told council. "Now, the planning commission will be focusing on specific aspects of the plan, like the design of McNulty Street and Creech Road Extension. What normally follows the approval of the comp plan is a rewriting of the zoning ordinance. So we'll start focusing on that as well."
Outside Agency Funding
During the FY2021-22 budget work sessions and discussions, town council identified specific outside agencies to receive funding but approved the budget without a specific amount allocated to each agency.
The total amount allocated was $37,000. The nonprofit organization Transitions was designated to receive $5,000.
Agencies receiving these funds must request the funds and provide the town with information about how they plan to spend the money.
Besides Transitions, the Town also provides funds for Christian Assistance Bridge, Big Red Barn, Bethel-Hanberry Athletic Alumni Association, Greater Blythewood Chamber of Commerce, Blythewood Soccer Club and Camp Discovery.
There is still $11,500 to be distributed to four other agencies the Town allocated funds to last fiscal year: Jeep Rogers YMCA, Senior Resources/Meals on Wheels, Community Keys of Columbia and Stone House Ministries. However, the four agencies have not yet provided the town with information as to how they will spend the money nor have they requested the funds, according to Williams.
"I've emailed each of them twice and haven't gotten any response at all from any of them," Williams said.
New Flooring for Manor
Council voted unanimously Monday night to replace the eight-year-old carpet in the Manor with a luxury vinyl flooring which Steve Hasterok, Conference Center Director, suggested is what most wedding venues are using now.
"The vinyl planks have a much longer shelf life than carpet, and damaged planks can easily be replaced. You can't easily replace bad spots in broadloom carpet," Hasterok said. "Also, The Manor does a lot of business based on its appearance. We think this [vinyl plank] is a very attractive option. Most of our competition has gone to this," he said.
The Town received two bids: Quintech Solutions at $39,613 and Bonitz at $42,570.
Staff recommended approval of the Bonitz bid even though it was the higher bid.
"They installed the carpet we have now and they have been very attentive to our needs throughout the process and have been here numerous times to discuss this project with us," Hasterok said.
Council approved the bid unanimously.