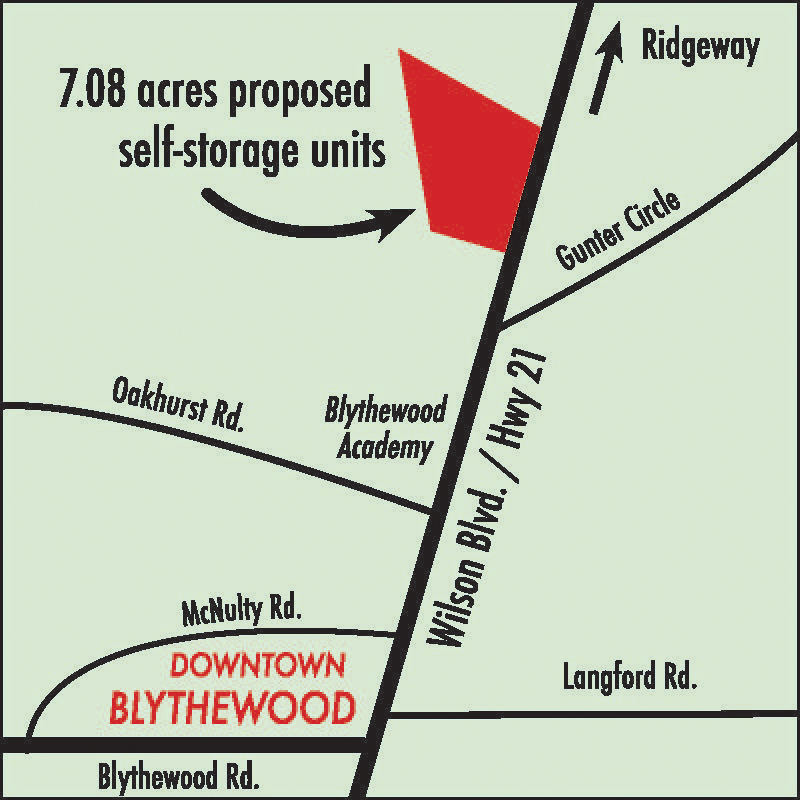 BLYTHEWOOD – Blythewood planning commissioners shuttered plans for a proposed self-storage facility within the town.
On Monday, the commission voted unanimously to recommend against rezoning about 7 acres in the 11000 block of Wilson Boulevard. Blythewood Town Council will have the final say.
Taimi Ta'ala had requested to rezone from Development District (TC) to Commercial Development District (CC)/Architectural Overlay District (AO), which would have allowed the self-storage business to operate.
Plans called for a 300-unit facility that would have operated from 8 a.m. to 6 p.m., according to Ta'ala.
In addition to traditional storage bays, the business would also include overnight parking for RVs, boats and other large vehicles, Ta'ala said.
Five residents spoke on the rezoning, all in opposition.
Blythewood resident Robert McLean, who spoke during the February meeting, and who lives nearby, reiterated his opposition.
McLean thought the storage facility would clash with nearby residential development. He also feared the proposed zoning was ambiguous, which could lure other incompatible businesses.
"This property is in the gate way into Blythewood from the north," he said. "It's one of the first things you'd see coming into Blythewood itself."
Caroline Lomas said the area is primarily residential, which she said makes self-storage incompatible.
"I would like for you all to consider the men and women who live in that area," she said.
Jamie McLean, another resident who lives nearby, noted the proposed zoning would also permit tattoo parlors, nightclubs, sexually oriented businesses and other undesirable businesses.
"All of these fall under that same designation," McLean said. "That's not what we're looking for in Blythewood."
Ta'ala said his only plans are to operate a self-storage facility.
Janet Thames, a neighbor to the north of the property, said business and residential districts should have a distinction.
"There are plenty of places in the Blythewood area, besides this residential area, where this business could take place," Thames said. "I am vehemently opposed to this."
"It will have buildings [that are] climate controlled and drive up, and also locks specifically for RVs and boats," the applicant said. "That is the primary plan for now."
The "for now" reference caught the attention of Commissioner Marcus Taylor, who mused whether Ta'ala's answer left the door open for future modifications.
"I was just asking because you said 'for now,'" Taylor said.
"Yes because as of now, I can't do anything to it (the property) until you change the zoning. So right now, that's the plan for it," Ta'ala said.
Commissioner Martin Wells asked if the proposed storage facility was comparable to any others in the area.
"Would it be a recognizable brand that may be in existence elsewhere?" he asked.
The applicant said the facility was the only one he plans to operate.
Commissioner Ken Coleman wanted to know whether the storage facility would adequately facilitate the flow of traffic.
"Have you considered your ingress and egress route for people that will be utilizing your storage areas, to not disrupt the local areas around it?" Coleman asked.
Ta'ala said it would.
"Speaking to my architect, they say we'll only have one entrance and one exit at the far north of that lot," he said.
Then Commissioner Erica Page asked the applicant to further describe the layout.
"With it having the overnight RVs and trucking, will you have flood lights, I mean huge lights, for people to see?"
"The whole area will be covered with lights and security cameras for all the people who live there," Ta'ala replied.
Commission Chair Malcolm Gordge called for a motion to recommend the zoning change to town council. When no one made a motion, Gordge asked if there was a motion to recommend against. Martin made a motion against and the vote was 7-0 against recommending for rezoning.
The issue will go before town council for a vote on March 28.