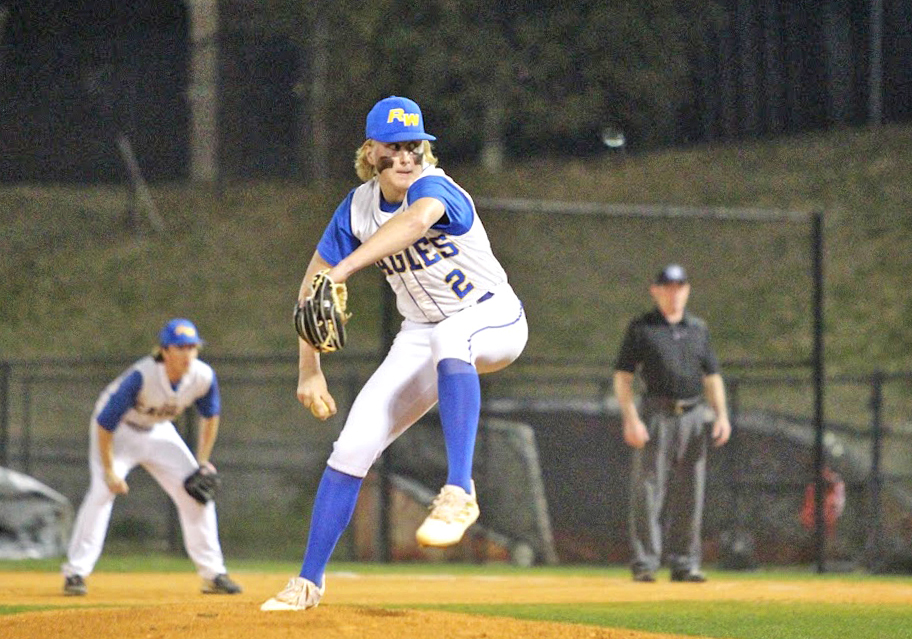 BLYTHEWOOD – The Eagles and the Griffins traveled across the Fairfield County line last week to match up as opponents in the National Restoration Brokerage Invitational pre-season tournament finale at Westwood High School.
"We always get excited for the opportunity to play Fairfield Central," Richard Winn head coach Paul Brigman said. "Many of the boys from both teams grew up together in the rec league programs in Fairfield County, and have lifelong friendships from their younger days playing together. It makes the game special for the players and definitely brings out a great level of competitiveness for us all."
Richard Winn put up a run in each of the first two innings before the Griffin bats came alive in the top of the third.
B Baker was hit by a pitch to lead off the Eagles in the bottom of the first. Baker stole second and third before scoring on a passed ball to put the Eagles up 1-0. A leadoff walk by Brian King in the second inning put him in position to score an RBI on a Lawson Wade single to left. The Eagles led 2-0 after two.
Adam Gonzalez led off for the Griffins with a single in the top of the third, but was thrown out stealing second by Austin Lancaster. Nygel Woodard and Graeme Douglas each singled. Cialen Gadson drew a walk from Landon Caulder to load the bases. Woodard scored off of a wild pitch before Gambrell doubled to center, scoring Douglas and Gadson. A groundout ended the inning with the Griffins up 3-2.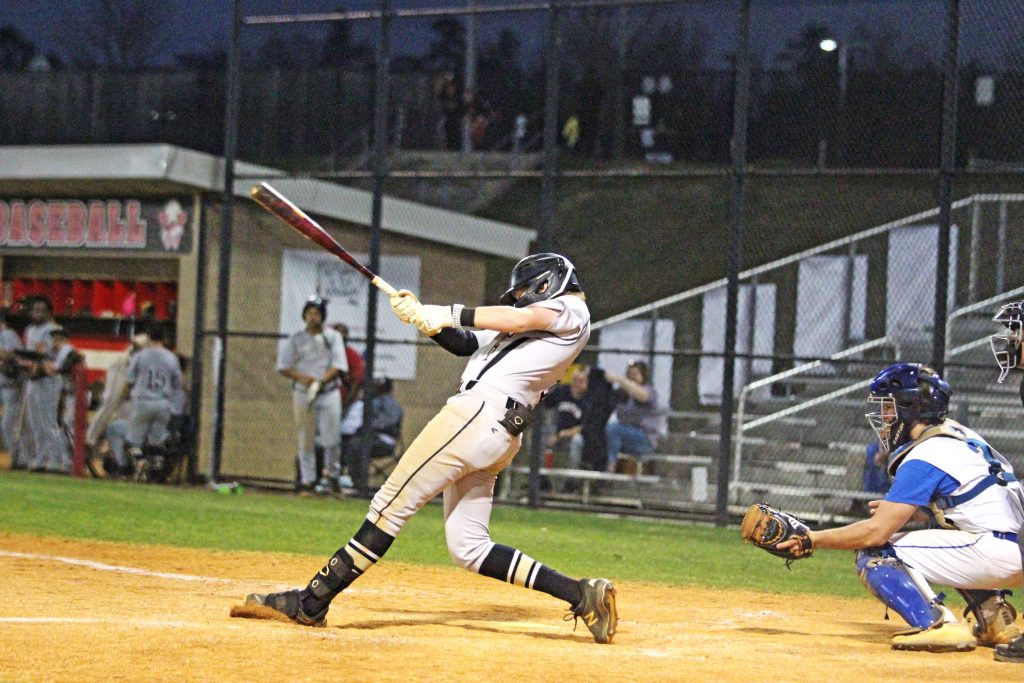 Two costly Griffin errors aided the Eagle cause and notched the game at 3-3 going into the fourth. However, the Griffins' defense played stellar the next two innings and turned two double plays. With just one out and Eagle runners on first and second, the Griffins opted to intentionally walk Rob Wilson to load the bases in the bottom of the fifth. The decision proved to be a good one for the Griffins as RWA's Brian King grounded into a double play to end the inning.
The teams remained tied going into the Eagles' final at-bat in the bottom of the seventh. With two outs, second baseman Jacob Chaisson singled to left field to keep the game alive. Then Lancaster also singled before Griffin starting pitcher Jonathon Warren reached his pitch count limit after 6.2 innings. Woodward, an eighth grader, took the mound in relief of Warren. Woodward walked Wilson, his first batter, and loaded the bases. With Charlie Bonds at bat, a Griffin throwing error allowed Chaisson to score the Eagles' winning run, 4-3.
"We relied heavily on our pitching to get the win," Brigman added. "Landon Caulder pitched great as our starter, and put us in a position to win. Rob Wilson was strong in relief. The game was a tight one, and we were fortunate to make the big plays in the end to help us win the game."
Caulder threw 66 pitches in 4.1 innings. He allowed 4 hits and 3 runs, walked 3 and struck out 5. Wilson faced 10 batters in 2.2 innings of work. He allowed no hits and struck out 4.
For the Griffins, Warren faced 30 batters in 6.2 innings from the mound. He allowed 5 hits, walked 4 and struck out 6. Woodard walked one.
In a ceremony following the game, Eagle Berry Bonds and Griffin Cialen Gadson were named to the All-Academic Team. Wilson (RW) and Warren (FC) were selected to the All-Tournament Team.
The Eagles are scheduled to host their first region competition on Friday against Wardlaw Academy. First pitch is set for 6 p.m.
The Griffins picked up their third win (3-2) in Tuesday's 23-5 victory over Lower Richland on the road. They will host C.A. Johnson on Thursday at 6:30 and Lower Richland on Friday at 7.
FCHS – 0-0-3-0-0-0-0 – 3, 4, 4
RWA – 1-1-1-0-0-0-1 – 4, 4, 1
WP: Wilson LP: Woodard
Hitters – FCHS: Gambrell 1-3, 2B, 2RBI; Gadson 1-2; Gonzalez 1-3; Woodard 1-3; Douglas 1-1. RWA: Chaisson 2-4; Lancaster 1-3; Wade 1-3, 1 RBI.
---
Prior to their game against the Griffins, Richard Winn faced off with York Prep.
Eagle shortstop Rob Wilson had a big night at the plate to lead his team to a 10-5 victory over York Prep. Wilson doubled in the second inning and then blasted a grand slam in the third while going 3-for-4 and collecting 5 RBI on the night.
The Eagles first run came in the top of the second when Lawson Wade singled and scored on a triple off the bat of teammate Berry Bonds. Richard Winn recorded 10 hits to the Patriots' 8.
Freshman Charlie Bonds got the start on the mound and collected his first varsity win. Bonds allowed 6 hits and 3 runs in his three inning start. Sophomore Miller Stuck came in to relieve Bonds and pitched the last three innings to earn the save. The Eagles committed 4 errors while the Patriots played a flawless defense.
"I thought our guys did a great job of bouncing back from an emotional game against Chester to play really well against York Prep," Brigman said. "We were able to get our sticks going early, and got a great pitching effort from a couple of our younger pitchers, Charlie Bonds and Miller Stuck. The win allowed us to end up undefeated in pool play of the tournament, which was one of our goals going in."
Eagles closed out play in Westwood's tournament with a record of 3-0-1.
RWA – 0-5-5-0-0-0-X – 10, 10, 4
YP – 0-3-0-0-0-3-X – 5, 8, 0
WP: C. Bonds LP: Hutto
Hitters: Baker 1-2, RBI; Chaisson 1-4; Lancaster 1-1, 2RBI; Wilson 3-4, 2B, HR, 5RBI; King 1-4; Wade 1-3; B Bonds 1-2, 3B, RBI; C Bonds 1-2.