WINNSBORO – Over the past week of diamond duels, RWA Coach Paul Brigman's varsity baseball team has outscored their three opponents 42-22 runs. The Eagles' bats have been hot, cranking out 43 hits to their opponents 15. The three victories over Newberry (14-9) on March 25, Wardlaw (15-0) on March 28, and PAC (13-6) on March 29 boosted the team's overall record to 8-0-1 and 4-0 in region play.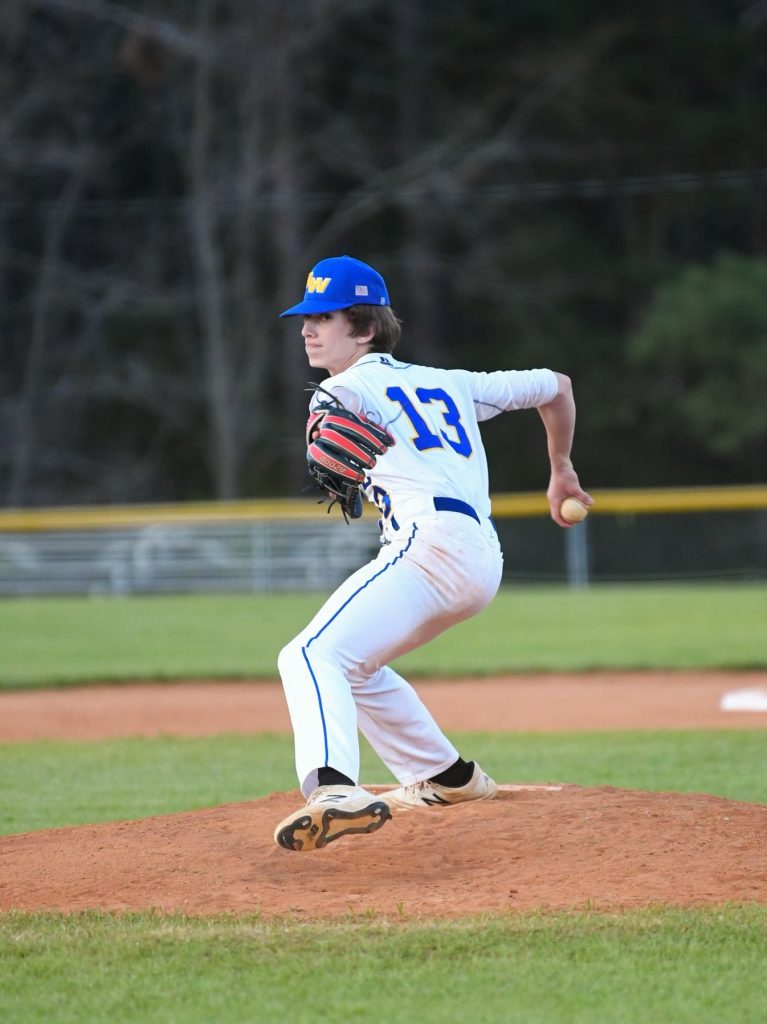 The Eagles hosted region foe Newberry on Friday and allowed the visitors to jump out 2-0 in the first inning. The visiting Newberry Eagles tacked on two more runs in the top of the second to expand their lead 4-0 before Richard Winn could battle back to tie the game at 4-4 in the bottom of the inning.
Landon Caulder led off the bottom half of the second with a triple, and then teammate Lawson Wade followed him with a double to score Caulder. With one out, Miller Stuck singled to bring Wade across the plate. Stuck then stole second and advanced to third on a passed ball. B Baker drew a walk and stole second. Jacob Chaisson hit a sacrifice fly to score Stuck, and Austin Lancaster singled to bring Baker home to tie the game up at 4-4.
Starting pitcher Berry Bonds struck out the side in the top of the third. Caulder led off the bottom of the third with a solo homerun to put his team up 5-4. The Eagles tacked on 2 more runs to end the third with a 7-4 lead.
The Newberry bats got hot in the top of the fourth to score four runs and retake the lead, 7-8, but the lead didn't last long as RWA scored one in the bottom of the inning to tie the game at 8 all.
Newberry could only manufacture one more run in the final three innings while the Richard Winn squad put up three runs in both the fifth and sixth to lock in the 14-9 victory.
Head coach Paul Brigman said while it was a good region win for the team, he sees room to grow.
"We did not play our best defensively, but I felt like we swung the bats probably as good as we have all year," Brigman said. "It will be important for us to continue to get better as we go deeper into the season.
"Offensively Landon Caulder led us," he said. "He had a big home run when we were down early and really jump started our offense."
Caulder was one single short of hitting the cycle and also collected the win, coming in as a relief pitcher in the fourth. Miller, Caulder, Wade, and Rob Wilson (2) had doubles, and Ethan Steward and Caulder hit triples, in addition to Caulder's HR. B Baker, Steward, Wilson and Wade all collected stolen bases.
Eagle shut out Wardlaw
Monday's shutout 15-0 victory over the visiting Wardlaw Patriots was ignited by Wilson's two home runs and the team's 12 total hits. The Eagles scored seven runs in the first, four in the second, and four in the third to wrap up the victory on the 15 run rule.
"We bounced back from a sloppy performance in our last game, and really seemed to have better focus against Wardlaw," Brigman said. "We were able to jump out early offensively, and backed it up tonight with a strong defensive effort as well.
"It seems like every game lately we have a different guy lead us, and in this game it was Rob Wilson. His home run early set the tone, and his second one put the game away. We need to continue to get better as we get closer to playoff time."
Seven Eagle players collected at least one base hit. Baker (2-3), Lancaster (2-3), Caulder(2-2), and Wilson (3-3) got multiple hits. Steward, Lancaster, Caulder, Baker, and Brian King. Baker, King, and Travis Bonds got stolen bases.
Stuck got the win on the hill as he faced 10 batters and threw 28 of 43 pitches for strikes with no hits. The Patriots used three pitchers to face 24 batters and give up 12 hits. J. Graham took the loss for Wardlaw.
Eagles defeat PAC
The Eagles traveled to Cayce on Tuesday and racked up win number 8 on 18 hits to defeat PAC. Eight players recorded hits, seven of them had multiple hits. Caulder (3-5), Chaisson (3-5), King (2-4), and Wade (2-5) had singles while Wilson (2-5) and Steward (2-4) hit doubles, and Lancaster (2-4) blasted a triple. Baker went 1-4.
Brigman said his squad always looks forward to playing PAC because of the challenge it provides the team.
"We can usually count on a competitive game and to see better pitching, which we need to experience before playoff time. Once again we were carried by our offense.
"Austin Lancaster continued to be our leader at the plate with a big triple that keyed our big inning. Landon Caulder was solid on the mound for us once again. I believe that our team has really come together over the last couple of weeks, and that we are getting very close to playing to our potential, which is all we can ask of the kids," he said.
Caulder got the win on the mound going four innings, allowing six runs and striking out five while facing 25 batters. Bonds took the mound in relief in the fifth and sixth innings to pitch to eight batters, and Wilson pitched to the last five Patriot batters in the seventh.
The Eagles will host the W.W. King Knights at 6 p.m. on Tuesday, April 4, at Billy Ladd Field.
NA – 2-2-0-4-0-1-0 – 9, 11, 2
RW – 0-4-3-1-3-3 – 14, 13, 2
WP: Caulder. LP: Graham
HITTERS: Baker 2-2, RBI; Chaisson 1-4, RBI(2); Lancaster 2-5, RBI(2); Wilson 2-4, 2B(2); Caulder 3-4, 2B, 3B, HR, RBI(2); Wade 1-3, 2B, RBI; Steward 1-2, 3B; Stuck 2-4, 2B.
WA – 0-0-0-X-X-X-X – 0, 0, 4
RW – 7-4-4-X-X-X-X -15, 12, 3
WP: Stuck. LP: Lee
HITTERS: Baker 2-3, 2B; Chaisson 1-3; Lancaster 2-3, 2B, RBI; Wilson 3-3, HR(2), RBI(5); King 1-2, 2B; Caulder 2-2, 2B, RBI(2); Steward 1-2, 2B, RBI(3).
RW – 0-7-0-0-1-3-2 – 13, 18, 3
PAC – 0-1-1-2-2-0-0 – 6, 11, 7
WP: Caulder. LP: Gay
HITTERS: Baker 1-4; Chaisson 3-5, RBI(2); Lancaster 2-5, 3B, RBI(2); Wilson 3-5, 2B; RBI(2); King 2-4, RBI; Caulder 3-5; Wade 2-5; Steward 2-4, 2B.