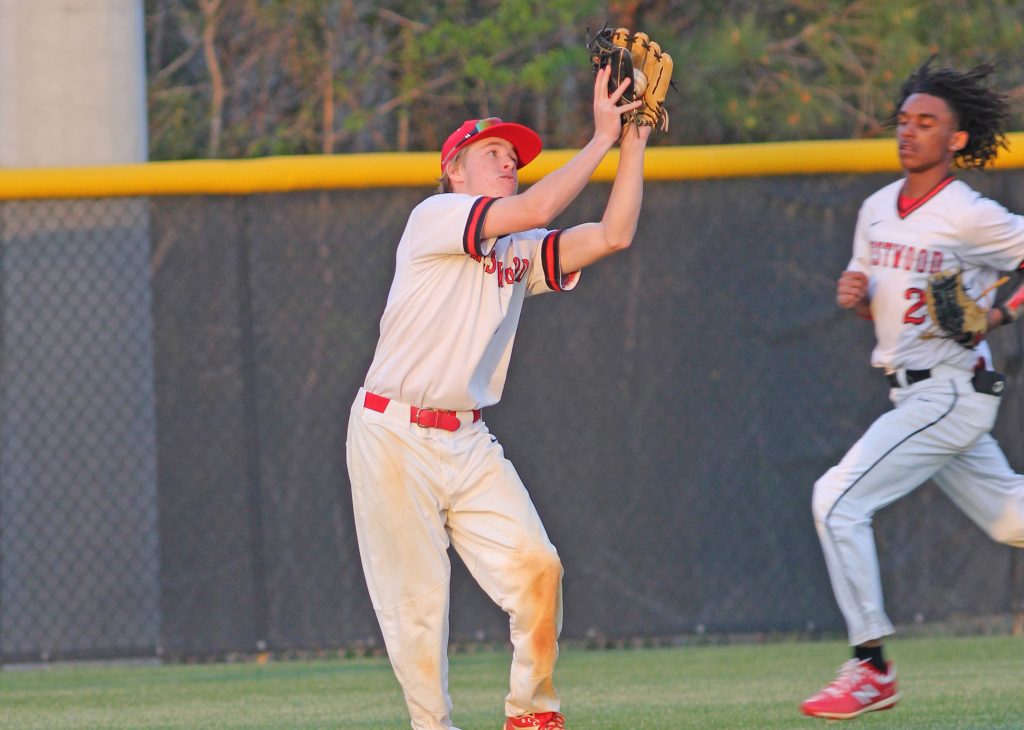 BLYTHEWOOD – The Westwood baseball bats were once alive and making contact earlier in the season. Lately they've been swinging their way back to the dugout.
Lugoff Elgin was the latest team to confound the Redhawks offense. Three Demons pitchers struck out a combined 14 Westwood batters, and the Redhawks stranded eight baserunners—four in scoring position—in an 8-0 shutout Tuesday night at Westwood.
It was the Redhawks' fourth straight loss after opening the season 6-0. Most recently Westwood fell 4-3 at Colleton County Friday night, and didn't bounce back well in a 12-2 five-inning loss to A.C. Flora Saturday afternoon.
Against the Demons Tuesday night, Westwood head coach Mike McDermott wasn't pleased at his team's lack of effort.
"This is the first game we've had where we couldn't put the ball in play consistently," McDermott said. "We failed in every aspect tonight. It was just tough. They (Lugoff-Elgin) put the ball in play, they did what they had to do, and we just never bounced back."
Lugoff-Elgin's Cobe Evans led off the game with a double. Two batters later he came home on Banks Munn's one-out infield single.
Westwood looked to get something started in the bottom half of the first, especially noting starting pitcher Jake Morris' trouble with locating pitches.
Morris walked leadoff batter Xavier DeJesus, but had enough control to strikeout John Janco and Liam Ginnery.
During Zach Gore's at-bat, DeJesus made his way to third base on wild pitches. When Morris walked Gore, Westwood had runners at first and third.
Colby Linn worked on getting a piece of Morris' pitches, working up the count and fouling off a pitch. But when Linn whiffed for the third time, the inning was over.
Gore, Westwood's starting pitcher, threw a clean second inning, and while he gave up a hit to Riley Ward, catcher Micah Henryhand threw out Ward as he tried to steal second. Tyler Robertson and Evans both popped out to end the inning.
Cam Brown finally got something from Morris to hit in the bottom of the second as he punched a one-out single into short right. Henryhand followed up with a walk.
Morris's walk of Henryhand was the end of his night. Skiler Jackson came on in relief and struck out Brandon Grindstaff and DeJesus to retire the side.
The Redhawks even had a chance to score in the bottom of the third inning. After Lugoff-Elgin got a run in the top of that frame to take a 3-0 lead, the Redhawks had two men on base with nobody out.
Janco drew a walk and Ginnery was hit by a pitch, but Gore flied out to Max Branham in leftfield, and Jackson struck out Linn and Sam Williams to retire the side.
After that chance, it was too late for Westwood to make a dent in the game. Lugoff-Elgin scored three runs in the fourth, and a run each in the fifth, sixth, and seventh innings to put the game on ice.
Jackson worked 4 2/3 innings, giving up two hits and striking out nine.
Bowling came on in relief of Jackson to start the bottom of the seventh and struck out one. Westwood ended the game when Jackson got Janco to hit into a 6-4-3 double play.
Westwood (6-4) is at Lugoff-Elgin Friday.
"We're gonna get back to work," McDermott said. "Our mentality has been pretty good up until the last couple of days. It's like we're reverting back to thinking we're just going to win, and go through the motions. We're going to reset tomorrow and work hard, and I have a feeling Friday they'll be ready to go."
WHS – 0-0-0-0-0-3-0 — 3, 6, 1
Colleton – 0-2-0-0-1-1-X — 4, 8, 1
WP: Dandridge LP: Liam Ginnery
Hitters: C – Poe 2-3. Hadwin 2-3. Breland 2B. Cromer 2B.
WHS -0-0-0-0-0-2 — 2, 7, 5
Flora – 6-0-0-0-1-5 — 12, 9, 2
WP:West. LP: Coby Linn
Hitters: F –Bates 2-4, 2B. Daniels 2-4. Sears 2B.
L-E – 1-0-1-3-1-1-1 — 8, 14, 0
WHS -0-0-0-0-0-0-0 — 0, 3, 0
WP: Skiler Jackson. LP: Zach Gore
Hitters: L – Cobe Evans 3-5, 2B. Banks Munn 3-3, 2B, 2 RBI. Jay Bowling 2-3. Riley Ward 2-4. Zeke Meshach 3B, 2 RBI. Jake Morris 2B.