CHESTER – After Matthew "Mac" Huey, 20, had spent the afternoon of Dec. 28, 2021, repairing a dirt bike in his grandfather's shop off Ashford-Ferry Road in Blackstock, he hopped on the bike to take it for a test ride. When his grandfather, Jimmy Huey, saw Mac wasn't wearing a helmet, he urged his grandson to put one on, but Mac insisted he was only going down the road and coming right back.
Two hours later, when Mac, an avid dirt track race car driver hadn't returned, his family and friends began looking for him. It was after dark when his two uncles and an aunt found him, barely breathing, in a hay field across from his grandparent's home.  His aunt, Michelle Huey, administered CPR while her husband Mike called 911 and another uncle, Robbie Huey, called Mac's dad Bill Clowney
Below is a detailed account, as told by Mac's mother Sarah Clowney, of the accident and of the beginning of what will be a long road toward an as yet unknown level of recovery.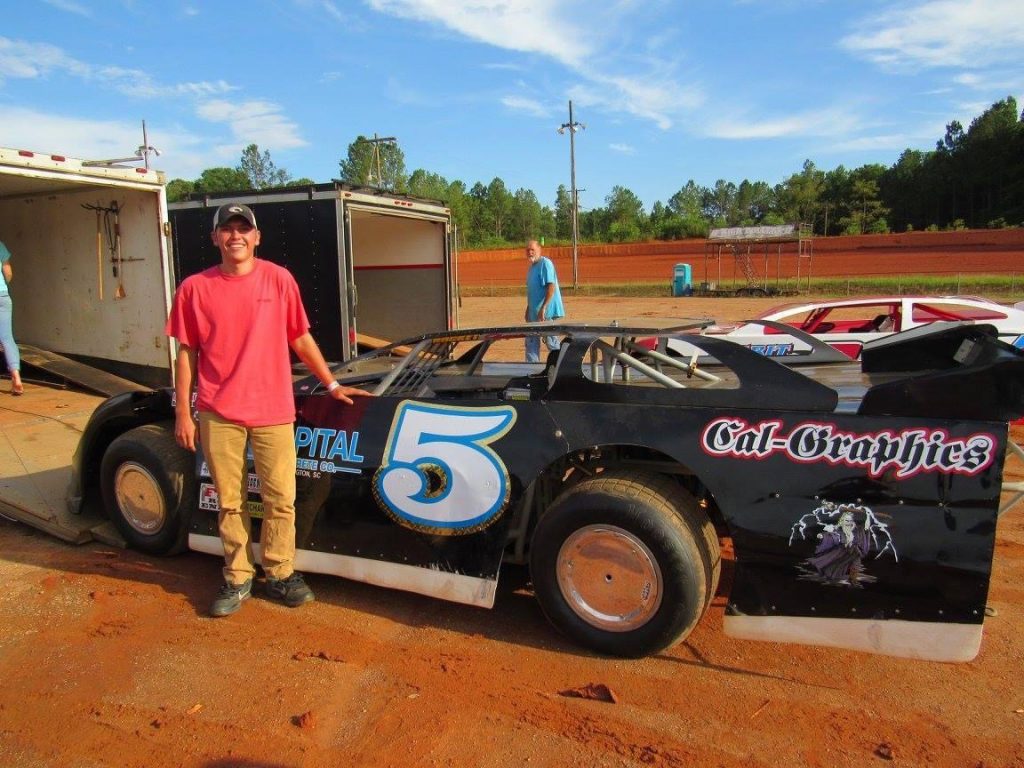 Mac was found lying face up, beside his bike, with his arm twisted behind him. Dirt under his fingernails indicated that he might have tried to push himself over onto his stomach.
I was on the way home from Lexington when Bill called. The despair in his voice confirmed my worst fears. I cried out, "Is he breathing? Tell me now! Is he alive?"
"He is alive," Bill said, "but he is hurt really bad."
When we arrived at the field, Mac was in an ambulance awaiting a medivac helicopter. Mac looked at me with tears in his eyes. Minutes later, he was transferred to the helicopter, and Bill and I drove to Prisma Health Richland Hospital in Columbia.
I screamed and sobbed the whole way, pleading with God to take it off of Mac and place it on me instead. It was a living nightmare, the worst feeling that I have ever had.
After a long wait while doctors examined Mac, we were told that he had a lacerated liver and bleeding in his brain and had to be intubated. Bill and I waited hours for the results of more tests and scans, and that's when we decided to share Mac's story on social media, to lift as many prayers for him as possible.
Mac was finally moved into a room, and the next day I stayed with him most of the day. About 3 p.m., I was told that Mac tested positive for COVID and I had to leave. That was devastating for me. I was told it would be 21 days before I would be allowed to see him again. Desperate for connection with my son, I called and facetimed him every day.
The neurosurgeon continued to order CT scans of Mac's head daily to assess the bleeding on his brain. On Dec. 31, he had to have an emergency hemi-craniectomy, because his brain was swelling against his skull and causing seizures. The left portion of his skull had to be removed to relieve the pressure.
After the surgery, Mac's doctor told us it went well, but he repeatedly emphasized how severe the injury was, and that he would most likely never be the same Mac that we had known. All that mattered to us, though, was that he was alive. Bill and I were allowed to go to the door of Mac's room and see him through the window. He was totally sedated, with his head shaved and a semi-circular incision from the middle of his forehead to above his left ear.
That night, we solemnly welcomed in the New Year with family and friends, holding a candlelight vigil where Mac's accident occurred. We stood in a circle, singing hymns and praying for a miracle.
On Jan. 4, we were told Mac needed a tracheostomy, and a feeding port installed in his stomach. Having to make these decisions and choices for him was horrible. One doctor told me Mac's injuries were unsurvivable. Another one explained that he had been a physician in that hospital for over 20 years, and had seen patients with far greater injuries than Mac's walk out of the hospital. He urged us to never give up hope, and he even read the twenty-third Psalm to me.
Mac's COVID restrictions were lifted on Jan. 13, and we were able to visit regularly. He began to show considerable improvement as he once again had contact with us. Mac did something different and new every day. He squeezed my hand, then began to make hand signals. He used a communications board to point to different things he wanted to say. He spelled his name on the board. I brought in an iPad for him to watch Netflix and late model dirt track racing. He learned after just a few days how to operate the iPad.
There have been many days of difficult forward movement towards recovery. Mac is currently at the Shepherd Center in Atlanta, and has progressed to speaking, writing, and eating real food.
After a few days of practice with the Lokomat robotic walking machine (that reminds me of a Stormtrooper), Mac was able to walk down the hallway with the assistance of his therapists. He then began walking using an assistive device during therapy. To get around right now, he uses a wheelchair that he is able to push with his left hand and pull with his left foot. The anticipated plan of care is that he will most likely be in a wheelchair when he leaves Shepherd Center.
Still, though, his cognitive abilities were so damaged that he has a difficult time with short term memory and he has trouble with higher-order functioning such as sequencing, cause and effect, and making inferences. His doctors say he will likely need supervision around the clock.
We have been sustained and overwhelmed by the amount of love and support we've received from our friends and neighbors. Small businesses have offered financial support, and Mac's peers hosted a truck show fundraiser. Several churches in the community have been so loving and kind in helping us. Many people have poured out love through financial donations and prayer.
We are amazed and so grateful at the love and kindness that has been shown to our son.
A Beef Hash pre-order pickup sale ($15/quart) is planned for Saturday, March 19 from 11 am – 4 pm at the Feasterville Volunteer Fire Department, 2785 Clowney Road, Blair. Pre-order online at https://forms.gle/pPwNupTfX6f3uHyx7 (If too late for pre-orders, donations can be made to the First Citizen's Bank in Chester). Hash may be available on Saturday as long as supplies last – call 803-374-3966 that morning to check availability.
A second fundraiser is planned for Mac in Chester at Chester Freedom Ministries, 729 Village Drive on Saturday, April 2. There will be three Bluegrass bands, a silent auction, raffles, and a barbeque plate dinner. All the money donated and raised through fundraisers goes towards Mac's health care costs.
Donations can be made to the First Citizen's Bank in Chester.