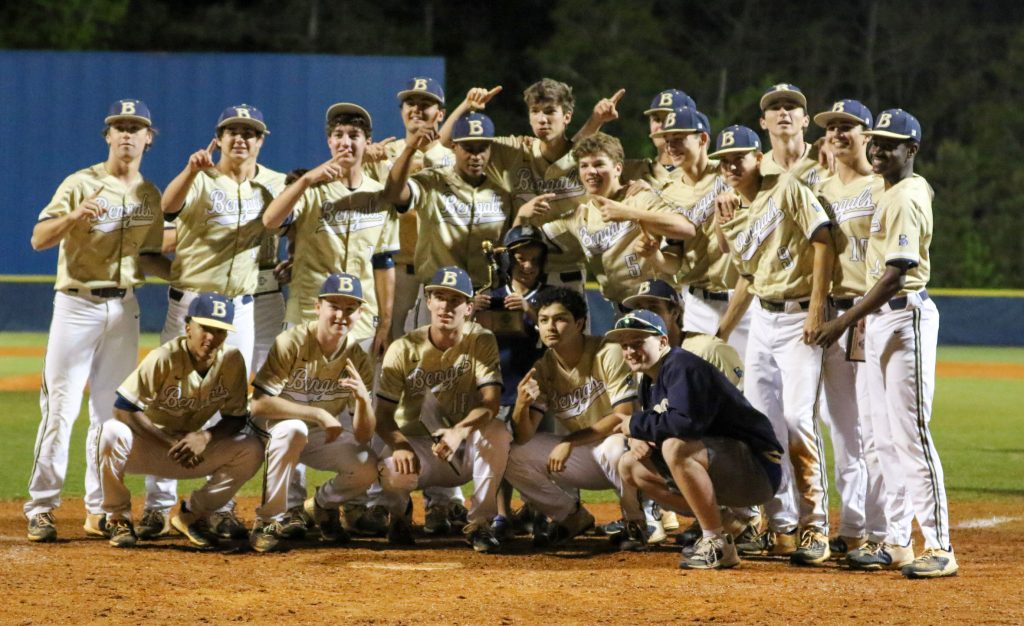 BLYTHEWOOD – The Blythewood baseball team isn't in danger of overlooking teams on what's left of its regular season schedule.
What the Bengals are reveling in isn't overconfidence, but rather a sureness of taking care of business whenever they take the field.
Blythewood (21-1) showed its mettle last week, winning its second straight South Carolina Diamond Invitational tournament, and outscoring opponents 37-6 over four games.
"I'm really happy with how we played this week," Blythewood head coach Banks Faulkner said Friday night. "We've been a mature team all year. We come to work and we've been really consistent.
Blythewood took the championship in short order Friday night, putting up 14 runs in the first three innings in a 14-1 victory in five innings over Chapin. It was the team's 20th victory of the season, clinching its third 20-win season in four years, including the 2020 season that was cancelled because of Covid.
The Bengals beat 2019 5A state champion Dutch Fork 6-3 last Tuesday to open the tournament, and followed that win up with a 5-1 win over defending 5A state champion Hillcrest the next night.
After blanking T.C. Roberson 14-0 Thursday, Blythewood set itself up to play Chapin in the championship game. The Eagles hardly put up a fight.
Chapin starting pitcher Wyatt Butcher got shaken right off when he walked lead-off batter Alex Nevils and hit Caleb McCants. Zac Cowan legged out a bunt single to load the bases with nobody out.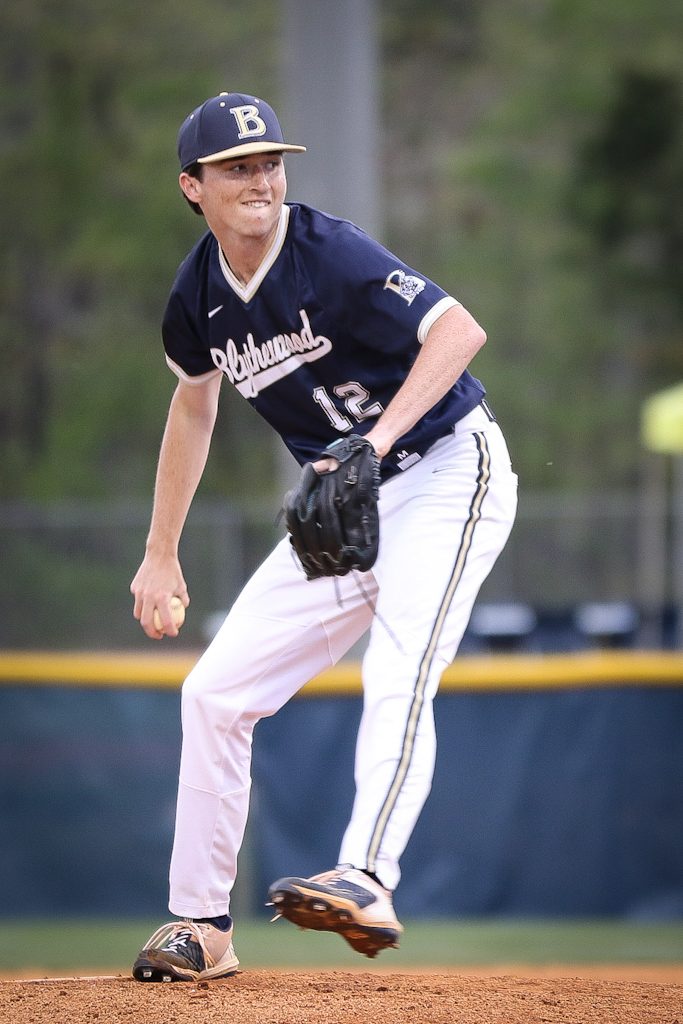 The inning ended abruptly for the Bengals. John Rollings flied out, Stephen Lang-Spittler was out on a sacrifice fly on which Nevils tagged up and scored the first run of the game, and Landon Penfield grounded out.
"We let him wiggle off the hook in the first," Faulkner said. "I thought we gave away a few at bats in the first and even in the second, but we kept playing."
Chapin scored its one and only run in the top of the second, but Butcher and his reliever, Jack Cannon were awash in Blythewood baserunners in the bottom of that frame.
The Bengals sent 12 batters to the plate and came away with six runs on five hits. Blythewood scored all six runs with no outs. Cannon and the Eagles finally got out of the inning with two strikeouts and a groundout, but Chapin walked into another mess in the bottom of the third.
In that frame Blythewood sent 10 batters to the plate. Cowan struck first with a 3-run home run over the right field fence with nobody out. After Myers reached base on an infield error that scored Lang-Spittler, Flemming connected for Blythewood's second 3-run homer of the inning.
Three Eagles errors and two hit batters kept the inning alive before Nevils, who walked twice and was hit with a pitch in his first three at-bats, grounded out to end the inning.
That was all the offense Blythewood needed. Starting pitcher Jacob Hardy kept things quiet on the mound for the Bengals, giving up a run on four hits, striking out four and walking none. Alex Simmons came on with two out in the fourth and retired the side, and Luke Duncan pitched the fifth inning to close out the game on the 10-run mercy rule.
"I thought we had some tired at-bats, but we've played four games in four days," Faulkner said. "Right now it's about trying to get as healthy as possible and getting ready for what we hope is a long playoff run."
The season starts now for the Bengals, who will have played three games against Ridge View this week, will play host to Spring Valley Monday and A.C. Flora Wednesday to close out the regular season. The 5A playoffs begin May 3.
"I started sensing a little bit last night (Thursday night in the rout over T.C. Roberson) that it was time. I told them it's time to kick this thing into fifth gear and let that thing eat in the fast lane," Faulkner said. "We're getting ready for May 3rd."
Tuesday
Ridge View – 0-0-0-0-X-X-X — 0, 1, 4
Westwood – 0-13-1-1-X-X-X — 15, 15, 0
WP: L. Penfield. LP: A Garrick.
Hitters: RV– Caldwell 1-1. B – Alex Nevils 1-3, HR, 4 RBI. Caleb McCants 202, RBI. Zac Cowan 2-3, 2B, RBI. John Rollings 1-2. Stephen Lang-Spittler 1-2, HR, 2 RBI. Kevin Steelman 1-2. Zach Brown 1-1. Alex Myers 2-2, 2B. H Collins 1-2, 2B. Camden Watts 2-2, 2B, 3 RBI. Carson Weathers 1-3, RBI.
SCDI: Friday
Chapin – 0-1-0-0-0 — 1, 4, 4
Blythewood – 1-6-7-0-X — 14, 11, 0
WP: Jacob Hardy. LP: Wyatt Butcher
Hitters: C – Matt Lively 3B. B – Zac Cowan 2-3, HR, 4RBI. John Rollings 2-4, 2B. Landon Penfield 2-3, 2 RBI. Justin Flemming HR, 3 RBI.
SCDI: Thursday
TC Roberson – 0-0-0-0-0 — 0, 4, 1
Blythewood – 1-8-3-0-X — 12, 11, 0
WP: Landon Penfield. LP: Simpson.
Hitters: B – Caleb McCants 3-3, 2B, HR, 3 RBI. Zac Cowan 2-2, 2B, 3RBI. John Rollings 2-2, 2 RBI. Kevin Steelman 3-3, 2 RBI.
SCDI: Wednesday
Blythewood – 1-0-1-1-0-1-1 — 5, 10, 1
Hillcrest – 0-0-0-1-1-0 -0 — 2, 6, 2
WP: Kevin Steelman. LP: Colin Elmore
Hitters: B – Zac Cowan 2-3, HR, 2 RBI. Alex Myers 2-3, 2 RBI. Stephen Lang-Spittler 2-4, Alex Nevils 2B. H – Perry Dyer 2B. Connor Nash 2B.
SCDI: Tuesday
Dutch Fork – 0-0-1-0-0-2-0 — 3, 8, 1
Blythewood – 0-0-0-0-4-2-X — 6, 4, 1
WP: Davis Wright. LP: Hunter Phipps
Hitters: D – Brennan Ottone 3-3, 2 RBI. B – Justin Flemming 2-2, 2B, 2 RBI. Zac Cowan 2B, 3 RBI.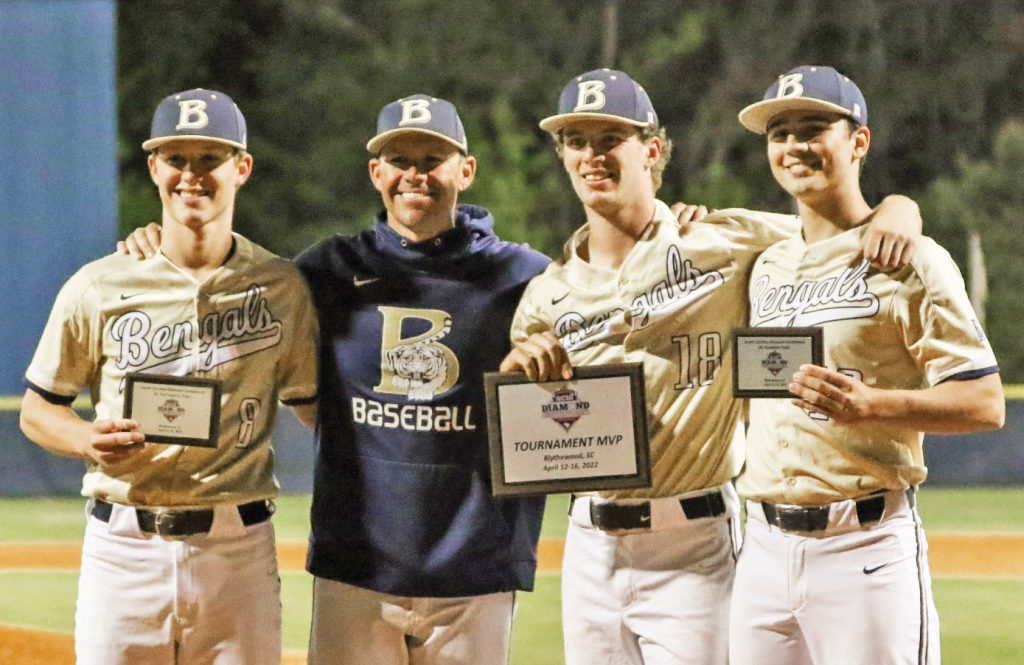 ---
Blythewood using SCDI as springboard to postseason
BLYTHEWOOD – When Blythewood pitcher Luke Duncan got Gray Wells to hit into an infield groundout and close out the Bengals' 14-1 victory over Chapin Friday night, one thing was for certain: the team is laser-focused on a long postseason run and contending for the 5A state championship.
Especially so, since last season's 23-5 effort fell far short of their goal of returning to the 5A championship series since falling to Dutch Fork in that matchup in 2019. A year after the 2020 season was cancelled because of Covid, the top-seeded Bengals went 1-2 in the upper state District 2 bracket, falling to J.L. Mann twice.
"We're very jacked up about last year, that's been our fuel," outfielder and No.2 hitter Caleb McCants said. "It made us mad and we're out for revenge."
After the final out of the Chapin game, the team celebrated winning a second straight South Carolina Diamond Invitational Tournament championship. McCants was named SCDI's Most Valuable Player and shortstop and No.3 hitter Zac Cowan was named to the all-tournament team.
"This team is really special and I think we all know that," said Cowan, a Wofford commit. "We've been pretty fortunate to have our core together since we were in seventh grade, and it's been a big factor in how we've handled ourselves. We play really well together."
McCants, who committed to Coker, and Cowan are the core of 10 seniors who have made their mark on the team for at least the past three seasons. Among those, College of Charleston commit Kevin Steelman, left-hander and Spartanburg Methodist commit Davis Wright, and another Coker commit, Jacob Hardy, anchor the pitching rotation.
Together, the seniors in the lineup and on the mound are the spearhead of a dedicated team that has years of experience playing together.
"A lot of us have been playing together since we were kids, even those who are two years younger than us," McCants said. "We've played for years with these coaches coaching us to be our best every day. We've bought into it and we work our butts off day after day."
The team showed as much in the tournament. The Bengals took on their 2019 state championship rival Dutch Fork and outlasted the Silver Foxes strong pitching to win 6-3. The next day they took on defending 5A state champion Hillcrest and won 5-2.
"We feel like we played some teams that are playoff caliber teams," Blythewood head coach Banks Faulkner said. "We had two games that had a playoff-like environment, and those are the games that we know we're going to have to win in May, so it was a great preparation for us."
The other two games showed the potential dominance of the Bengals' lineup that can bunt and leg out singles as well as go deep for extra bases. They blistered T.C. Roberson 12-0 Thursday and eased past Chapin 14-1 in the championship game.
The competition in the 10-team tournament also featured four other teams from the Midlands, Dutch Fork, Chapin, Brookland-Cayce, Lexington. Those teams went a combined 13-4 in the tournament.
"Midlands baseball is no doubt the best baseball in the state," Faulkner said. "That's why I came from Summerville six years ago. There's a lot of quality teams here."
As for the quality of the Bengals, the team knows what's at stake in the final stretch of the regular season. They may have clinched a Region 5-5A championship, but they make it obvious in games and in the statistics that they're playing for more.
"We're a lot more confident, a lot more mature, and we have a lot of returners," Cowan said. "So our main focus is coming to work every day knowing that we're really good. We know who we are."
The SCDI merely showed the field just exactly why Blythewood is the top-ranked baseball team in the state beyond all classifications.
"It's great to be over here," Faulkner said of Blythewood and the tournament. "We have a lot of people come in and work so hard and take so much pride in this tournament. They did a great job and it's great to be home, I'm looking forward to being here a lot over the next month."