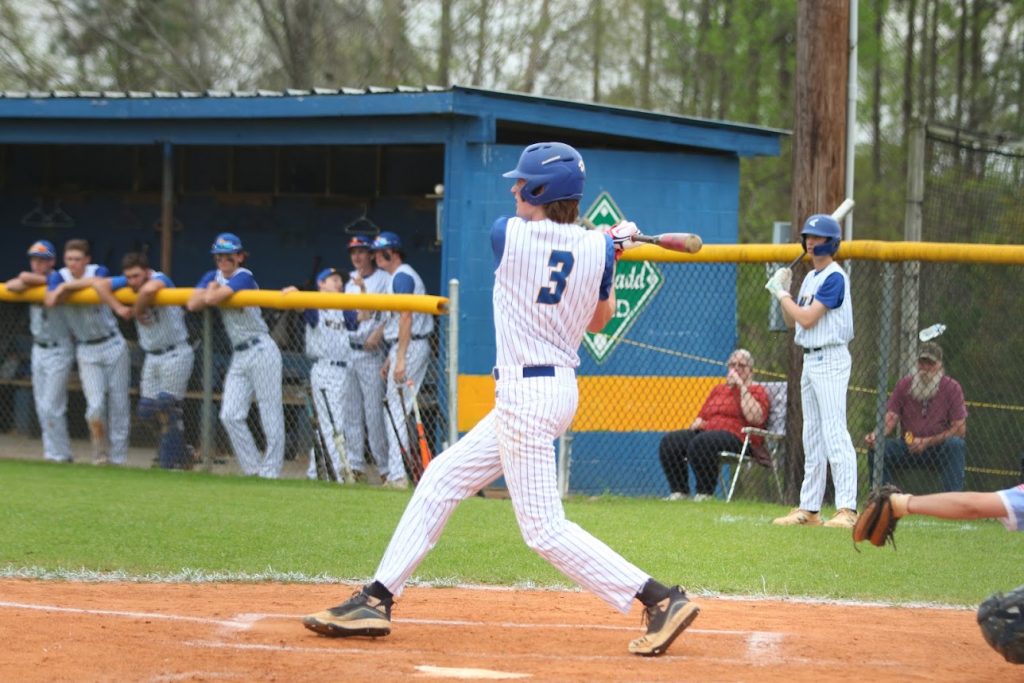 WINNSBORO – In just a little over a two week span, the Richard Winn Eagle baseball team has compiled an impressive 81 hits and 78 runs to their five opponents' total 43 hits and 33 runs. The Eagles blanked their most recent opponent, King Academy, 10-0, to improve their overall record to 10-0-1.
Monday's region game against the Knights from Batesburg was the first meeting this spring between the two teams as their originally scheduled competition had to be postponed due to inclement weather.
The game went scoreless through one and a half innings before the Eagle bats got hot to score four runs in the bottom of the second. Senior outfielder Brian King led off the inning with a homerun blast to center field. Landon Caulder followed with a single, stole second, and scored on Lawson Wade's hit to left field. Wade advanced to second and third on passed balls, and then senior starting pitcher Berry Bonds put a single into play to score Wade. Before the inning ended, Jacob Chaisson added another single to score Charlie Bonds who was pinch running for his brother Berry.
The Eagles went on to score a run in each of the next three innings to go up 7-0 heading into the top of the sixth. The Knights led off with a single in the sixth, but the second batter hit into a fielder's choice. The next King player singled, but progress around the base path came to an abrupt halt when the fourth batter hit into a double play to foil their advance.
Eagle Ethan Steward led off the bottom of six with a double, and then B Baker drew a walk. With just one out, a single off Austin Lancaster's bat brought Steward home (8-0). Next Wilson walked, King got on base on an error, and Baker scored (9-0). Caulder had a 3-0 count at the plate when pinch runner Travis Bonds scored on a passed ball to end the game early on the 10-run rule.
B. Bonds got the start on the mound and the shutout victory. He not only had flawless second and third innings to strike out the six batters he faced, but he also went on to strike out three more batters while facing a total of 25 batters in the shortened six inning game. Bonds threw 91 pitches, 62 of them as strikes, with no walks. The Knights managed to get six hits off Bonds, but the Eagle defense hung tough to keep them distanced from home plate.
Richard Winn will get back into action following the Spring Break week when they travel across the Broad River to duel on the diamond against the Newberry Eagles on April 18 at 4:30 p.m.
KA – 0-0-0-0-0-0-X – 0, 6, 3
RW – 0-4-1-1-1-3-X – 10, 12, 1
WP: B Bonds. LP: C List
Hitters: Chaisson 2-4, RBI(2); Lancaster 1-4, RBI; Wilson 1-3, 2B; King 2-4, HR, 2B, RBI(2); Caulder 1-2; Wade 2-3, RBI(2), B Bonds 2-2, RBI; Steward 1-1, 2B
SB: Caulder, Baker, C Bonds, Wade