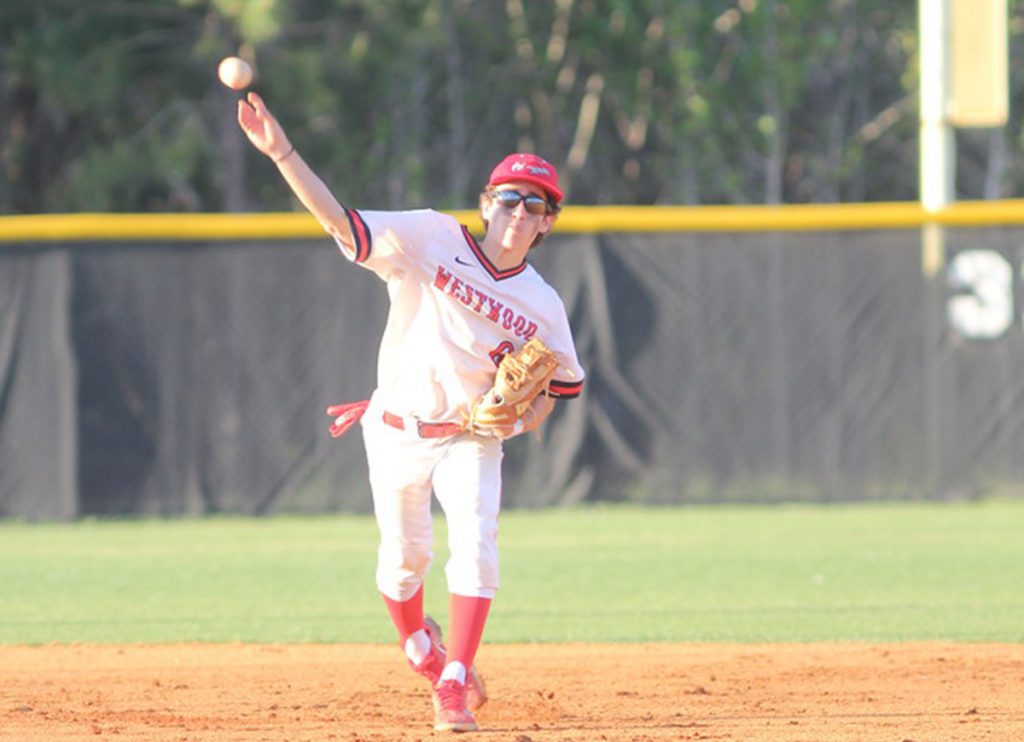 GILBERT – The Westwood baseball team snapped a 7-game losing streak with a 9-7 victory over Newberry Saturday afternoon in the Sandlapper Classic playing out at Gilbert High School.
The Redhawks built a 6-0 lead before the Bulldogs got a run across in the bottom of the fourth. Westwood made it 9-1 with a 3-run fifth, and held off a 6-run rally in the bottom of the sixth to close out the win.
Zach Gore went 3-for-3 and John Janco went 2-for-4 and drove in two runs. Liam Ginnery went 2-for-3 and Donnie Weston had 2 RBI.
Westwood dropped back-to-back games against Dreher going into the tournament, a 13-2 loss Thursday at Westwood and a 10-5 loss at Memorial Stadium complex Friday.
Gore homered and drove in the team's only two runs Thursday.
Sam Williams went 3-for-3 with a home run and 2 RBI Friday. Janco and Gabriel Espinoza both went 2-for-3.
The Redhawks lost the next two games in the tournament, a 7-3 loss to Gilbert Monday and an 11-5 loss to Spring Valley. In both games Westwood watched an early lead get away.
Against Gilbert, Westwood scored three runs in the bottom of the first to take a 3-1 lead. The Redhawks led off that inning with three straight singles from Xavier DeJesus, Donnie Weston, and Janco. Janco's single scored DeJesus for the first run. Weston later scored on a throwing error as Liam Ginnery batted to make it 2-1.
Ginnery flied out, but Gore singled to move Janco to third. Janco scored on Colby Linn's sacrifice fly.
Brandon Grindstaff grounded out to end the inning—and the scoring for Westwood over the next five innings. The Indians put up four runs in the second and two more in the fifth to seal the win.
Westwood held a 4-2 lead on the Vikings going into the sixth inning Tuesday. Spring Valley got a run in the sixth, then took advantage of a late-game meltdown in the seventh. The Vikings scored eight runs on two hits, three Westwood errors, five walks and a hit batter to take an 11-4 lead. The Redhawks scored a run in the bottom of the sixth.
DeJesus and Janco had two hits apiece against Gilbert. DeJesus had three hits and Ginnery had two hits and drove in two runs against Spring Valley.
Westwood (7-9) played Cardinal Newman Wednesday in the final game of the tournament. The Redhawks get back into the regular season with a home game against White Knoll April 18.
Thursday
Dreher – 0-2-3-0-0-4-4 — 13, 16, 1
Westwood – 0-0-0-0-0-0-2 — 2, 2, 2
WP: Shane Keup. LP: John Janco.
Hitters: W – Zach Gore HR, 2 RBI.
Friday
Westwood – 1-0-0-0-2-0-2 — 5 10 1
Dreher – 1-1-0-4-4-0-X — 10, 9, 1
WP: Nolan Cook. LP: Colby Linn.
Hitters: W – Sam Williams 3-3, HR, 2 RBI. John Janco 2-3. Gabriel Espinoza 2-3. D – Ethan Campbell 2-3, 2B. Caleb Gipson 2-3, 2B. Jack Painter 3B, 3 RBI. Jordan Simons 2B, 2 RBI.
Saturday
Westwood – 0-1-2-3-3-0 — 9, 9, 4
Newberry – 0-0-0-1-0-6 — 7, 5, 4
WP: Liam Ginnery. LP: Colby Bickley.
Hitters: W – John Janco 2-4, 2 RBI. Liam Ginnery 2-3. Zach Gore 3-3. Donnie Weston 2 RBI. N – Jake Wilber 2-2, 2B. Bryce Satterwhite 2-3, 2B. Ryan Barnett 2B.
Monday
Gilbert – 1-4-0-0-2-0 — 7, 8, 1
Westwood – 3-0-0-0-0-0 — 3, 7, 2
WP: Toby Redd. LP: Kendell Gandy.
Hitters: G – Connor Schumpert 2-3. Dylan Massey 2B, 3 RBI. Jake Torbett 2 RBI. W – Xavier DeJesus 2-2. John Janco 2-3.
Tuesday
Spring Valley – 0-0-1-1-0-1-8 — 11, 7, 0
Westwood – 0-0-0-1-3-0-1 — 5, 9, 8
WP: Wyatt Tucker. LP: John Janco.
Hitters: S – Brent Gibbs 2-4, 2 RBI. Ethan Rumpel 2-4. J.G. Lashley 2B, 2 RBI. Connor Beck 2 RBI. W – Xavier De Jesus 3-4. Liam Ginnery 2-4, 2 RBI. JaQuez Scarborough 2B. Donnie Weston 2B.