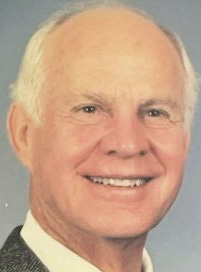 WINNSBORO – William Claude Marthers, Jr., 96, of Winnsboro passed away on Wednesday, December 15, 2021.  Born in Fairfield County in the Longtown community, he was the son of the late William Claude and Frances Warren Marthers, Sr. 
Funeral services were held at 11 o'clock AM Saturday, December 18, 2021, at Crooked Run Baptist Church. Burial followed in the church cemetery. The family received friends on Friday evening from 5-7 o'clock PM at Pope Funeral Home.
Mr. Marthers graduated from Mt. Zion Institute. He graduated from Clemson College in 1952 with a BA in Agriculture – Animal Husbandry. He loyally served in the Army during WWII in the South Pacific and Tokyo. He achieved the rank of sergeant and also served as the manager of the Officer's Club during this time. His hobby was working but he occasionally found time to ride his Oklahoma Mustang Bulldogging horse Black Devil. He instilled his interest in horses in Jennifer and his respect for animals in Jennifer and Claudie. He loved sharing his time with his "sweetheart" wife, Faye, at their "little cottage by the sea". He loved the beach lifestyle.
Mr. Marthers was the first businessman on 321 bypass in 1954! There he established Marthers' Shell Station. This was the very first business on the bypass even preceding the building of the hospital. Many others were to follow. He was the owner of a construction company as well as other entrepreneurial adventures. Mr. Marthers was known in Fairfield County as "Mr. Claude". He was a strong business man but fair. Never meeting a stranger, his kind heart and deeds are remembered throughout where he traveled.
He married his, sweetheart, Veda Faye Brooks November 28, 1953. They have two children, Jennifer Brooks Marthers, and William Claude Marthers, III.
In lieu of flowers, the family requests donations to the Fairfield Animal Control, For : "New Shelter Fund", P.O. 60, Winnsboro, SC 29180.