Since this story was published, Blythewood lost Wednesday's elimination game to Fort Mill 2-1. The Bengals season ends at 30-3; Fort Mill advances to the State Championship series. See The Voice's May 26 edition for a complete story on Wednesday's game.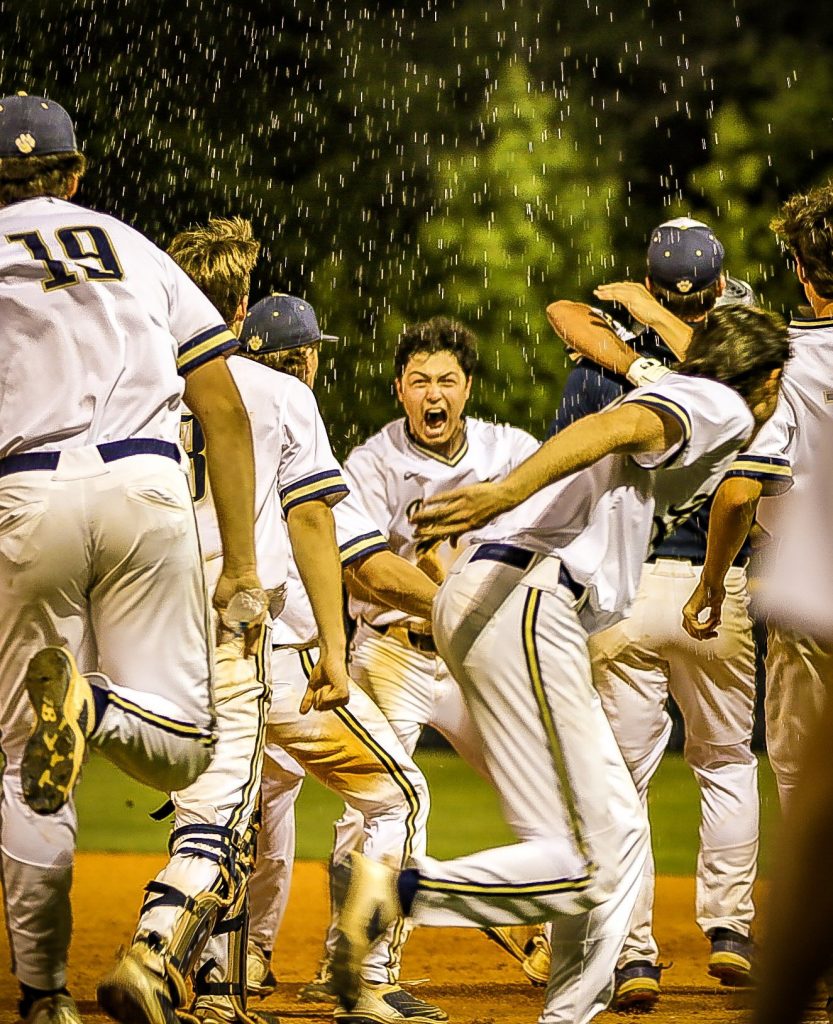 BLYTHEWOOD – Justin Flemming didn't have a remarkable night at the plate for most of Monday night.
Blythewood's No.9 batter, known for his pop even if at the bottom of the lineup, flied out and struck out twice going into the seventh inning.
As fortune would have it, the Bengals needed a little punch from him if they wanted to escape with a victory.
Flemming did that on Jay Dillard's first pitch to him, and the fired-up Blythewood crowd exploded.
With Alex Myers at third and Harrison Collins at first, Flemming squared off to bunt and tapped the ball toward the first-base side. Dillard jumped off the mound but slipped, and Myers easily scored Blythewood's game-winning run in an 8-7 walk-off victory over T.L. Hanna that stunned the Yellow Jackets supporters and drove the Blythewood fans to a loud celebration.
"I had a pretty bad game, I overthrew the catcher and let two runs score," Flemming said. "Coach (Banks Faulkner) called me in a conversation and said we had to get a bunt down. I went up and did my job and it feels great, walking off in a victory, storybook ending right there."
Faulkner gave the bunt instructions immediately to Flemming.
"That's us," he said. "We have runners at first and third with one out, we're going to safety (squeeze), and we executed it to perfection."
The Yellow Jackets were eliminated from the upper state tournament, while Blythewood (30-2) traveled to Fort Mill Wednesday to take on the Yellow Jackets for the upper state championship, where the Bengals needed to beat Fort Mill twice to stay alive. Scores were not available at press deadline.
"This team believes," Faulkner said. "They've believed all year. We talked about belief way back in May last year, unwavering belief no matter what happens, and that's just what we've been talking about all year, you gotta believe, you gotta believe, you gotta believe. They truly believed that they were going to win that game despite everything that happened."
Fort Mill defeated Boiling Springs 7-0 Thursday and T.L. Hanna 4-3 in eight innings Saturday to get to the championship game.
The postseason looked dreary for the Bengals early on. T.L. Hanna's 3-run fourth inning gave the Yellow Jackets a 4-1 lead, as starting pitcher Jackson Brooks 2-hit the Bengals through four frames.
Brooks came off the mound early in the bottom of the fifth, and the move to Carson Becheller on the mound gave Blythewood a needed spark.
"We just kept battling. We were making so many soft outs the whole tournament," Faulkner said. "We finally got the lefty (Brooks) out of the game and had some guys step up and get some good swings."
Brooks had walked Alex Nevils, and the Bengals lit into Becheller. Caleb McCants doubled to left and John Rollings drew a walk to load the bases with nobody out.
Stephen Lang-Spittler then drove a high fly ball off the fence in straightaway centerfield for a 2-run double that scored Nevils and McCants and closed the gap to 4-3.
Rollings scored the third run of the inning on Landon Penfield's sacrifice fly, and Xavier Cuevas, the courtesy runner for Lang-Spittler, scored on Kevin Steelman's ground double to rightfield that gave Blythewood a 5-4 lead.
Myers popped out and Watts grounded out to retire the side, but the inning recharged the Blythewood crowd, if only for a moment.
T.L. Hanna scored three runs in the sixth inning, chasing relief pitcher Jacob Hardy from the mound after three batters in favor of closer Zac Cowan.
Cowan inherited the bases loaded with nobody out. Hardy hit leadoff batter Walt Smith, gave up a single to Walker Klugh, and Alston Dove reached on a fielder's choice with no defensive play made.
Brody Winter hit a sacrifice fly to Flemming in rightfield, and Flemming fired the ball back to Cowan, standing behind the plate. The throw came to late to get Smith, who scored from third, but Cowan threw to Watts at third, looking to get Klugh. Watts dropped the ball and Klugh stood up and darted for home.
Dove then scored on Dillard's sacrifice fly to make it 7-5, but Cowan got Knox Whitten to ground out to end the inning.
Dillard came on the mound to start the sixth and gave up a hit, but otherwise sat the Bengals down.
The final inning seemed in doubt for Blythewood, but Cowan recovered from an awkward sixth inning and struck out the side in the top of the frame and got the Blythewood crowd loud again.
Lang-Spittler led off Blythewood's seventh with a bang. Spittler took a 2-0 count and drove the third pitch just over the leftfield fence for a solo home run that cut the lead to 7-6.
"I wasn't thinking longball, I just wanted make solid contact, make something happen, try to get on base," Lang-Spittler said. "I just happened to get all of it and it got out of the park, so that was awesome."
The manufacturing began. After Penfield struck out, Steelman singled to leftfield and Myers reached on an infield error.
Watts took a 2-1 count, but after a brief pause, Faulkner put in Harrison Collins to pinch hit.
"Just a gut. It was a gut," Faulkner said. "We felt like there was a play there. We just rolled the dice. Harrison is a young kid who has a bright future, but it was sort of a hunch."
The gut feeling worked, Collins punched a slow ground ball into the gap between shortstop and third base, and it was enough to drive in Steelman for the game-tying run.
That play brought in Flemming with one out, Myers at third and Collins at first. Flemming's bunt closed out the night.
The win capped a frustrating turn in the upper state tournament for the Bengals, who lost 2-1 at T.L. Hanna to open the upper state tournament. Blythewood recovered to shut out Boiling Springs Saturday to set up Monday's slugfest.
Following Monday's win, Faulkner said his team would give Fort Mill everything they've got on Wednesday.
"We just want to get on the bus and go up there and see what we've got," he said. "We've got our pitching lined up, one and two, and we're starting to swing the bat again. So we'll go up there and take our chances. I'm happy to continue to get a few more days with these guys, they're an awesome group."
Monday
TL Hanna – 0-1-0-3-0-3-0 — 7, 7 1
Blythewood – 0-1-0-0-4-0-3 — 8, 11, 2
WP: Zac Cowan. LP: Jay Dillard
Hitters: H – Walker Klugh 3-3, 2B. Fletcher Cothran HR. Brody Winter 2B. B – Kevin Steelman 3-3, Stephen Lang-Spittler 2-4, 2B, HR, 3 RBI. Alex Nevils 2-3. Caleb McCants 2B.
Saturday
Boiling Springs – 0-0-0-0-0-0-0 — 0, 3, 1
Blythewood – 0-0-1-0-1-0-X — 2, 6, 0
WP: Kevin Steelman. LP: Ashton Smith.
Hitters: BS – Corben Childers 2B.
Thursday
Blythewood – 0-0-1-0-0-0-0 — 1, 3, 1
TL Hanna – 0-0-1-0-0-1-X — 2, 3, 1
WP: Fletcher Cothran. LP: Davis Wright.
Hitters: B – Alex Nevils HR. Justin Flemming 2B. H– Jay Dillard 2B.